Hatsune Miku & Kagamine Rin/Len VOCALOID2 & Windows Vista/XP (できる初音ミク&鏡音リン・レン VOCALOID2 & Windows Vista/XP 対応) was a book produced with the release of the Kagamine Rin & Len software and featured both them and Hatsune Miku.
About
[
]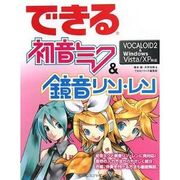 The book was released in Jan 2008 as a guide on how to enter lyrics and use the VOCALOID2 software on the operating systems Windows Vista and Windows XP. It covered how to tune the voice to make the vocals sound like a real human being singing and was packed with knowledge on how to finish a song.
[

]
Merchandise directory

Figures
Miscellaneous

Official literatures

Fan literatures

Manga

Books

Series novels

Misc.