Background
[
]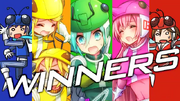 "Astro Troopers" is an electronic song sung by Hatsune Miku. The Astro Troopers themselves are the Crypton Future Media, Inc. Vocaloids, who are portrayed as video games heroes. It is implied that it is all in their imaginations; there are several shots of them together in regular clothing in a messy room, drowsily playing retro video games on several televisions.
The song's PV is artistically ambitious, featuring both 16-bit and regular cartoon-style art. It contains references to numerous video games, including Zero Wing, Super Mario Bros., and Space Invaders, Xevious, as well as to various internet memes like All your base are belong to us and the infamous Gachimuchi.
This song has entered the Hall of Fame. It peaked on the Weekly VOCALOID Ranking at spot #5 during weeks #239[1] and #240.[2]
Lyrics
[
]
Japanese (日本語歌詞)
Romaji (ローマ字)
(Give me your justice!)
(Give me your peace!)


銀河を駆け抜けるTroopers 正面突破のInvaders
ginga o kakenukeru Troopers shoumen toppa no Invaders
問答は無用 進め 視線をDespoil!(Despoil!)
mondou wa muyou susume shisen o Despoil! (DESPOIL!)
揺らぐ事が無い圧倒Winners 満場一致のDominators
yuragu koto ga nai attou Winners manjouicchi no Dominators
声上げろ 我らアストロ・トルーパー
koe agero warera asutoro toruupaa


今からそう遠くない時代 長い夜は明け
ima kara sou touku nai jidai nagai yo wa ake
キカイワタシミライ 夢見てたでしょ
kikaiwatashimirai yumemite ta desho
人間は分かんない 接触不良?
ningen wa wakan nai sesshoku furyou?
命令をしたら アレレ喜んでいる(Why?Why?Wh,Why?)
meirei o shi tara arere yorokon de iru (Why? Why? Wh,Why?)


世界平和済み 数世紀経ったアーミー
sekai heiwa zumi suu seiki tatta aamii
インスタント救世主降臨 アフターストーリー
insutanto kyuuseishu kourin afutaa sutoorii
逆らう敵あらばドタマぶち抜いて
sakarau teki ara ba dotama buchi nui te
All your base are belong to us
旗を上げろ
hata o agero


銀河を駆け抜けるTroopers 正面突破のInvaders
ginga o kakenukeru Troopers shoumen toppa no Invaders
問答は無用 進め 視線をDespoil!(Despoil!)
mondou wa muyou susume shisen o Despoil! (Despoil!)
揺らぐ事が無い圧倒Winners 満場一致のDominators
yuragu koto ga nai attou Winners manjouicchi no Dominators
見せつけろ 我らアストロ・トルーパー
misetsukero warera asutoro toruupaa


今からそう遠くない時代 長い夜は明け
ima kara sou touku nai jidai nagai yoru wa ake
スペースデブリで 今日も度胸試しトライ(Try!Try!Tr,Try!)
supeesu deburi de kyou mo dokyou tameshi torai (Try!Try!Tr,Try!)


世界平和済み 数世紀経ったアーミー
sekai heiwa zumi suu seiki tatta aamii
インスタント救世主降臨 アフターストーリー
insutanto kyuuseishu kourin afutaa sutoorii
逆らう敵あらばドタマぶち抜いて
sakarau teki ara ba dotama buchi nui te
All your base are belong to us
闇を斬り裂け
yami o kirisake


銀河を駆け抜けるTroopers 正面突破のInvaders
ginga o kakenukeru Troopers shoumen toppa no Invaders
問答は無用 進め 視線をDespoil!(Despoil!)
mondou wa muyou susume shisen o Despoil! (Despoil!)
揺らぐ事が無い圧倒Winners 満場一致のDominators
yuragu koto ga nai attou Winners manjouicchi no Dominators
声上げろ 我らアストロ・トルーパー
koe agero warera asutoro toruupaa


銀河を駆け抜けるTroopers 正面突破のInvaders
ginga o kakenukeru Troopers shoumen toppa no Invaders
問答は無用 進め 視線をDespoil!(Despoil!)
mondou wa muyou susume shisen o Despoil! (Despoil!)
揺らぐ事が無い圧倒Winners 満場一致のDominators
yuragu koto ga nai attou Winners manjouicchi no Dominators
見せつけろ 我らアストロ・トルーパー
misetsukero warera asutoro toruupaa
我らアストロ・トルーパー
warera asutoro toruupaa
立ち上がれトルーパー
tachiagare toruupaa


(Give me your justice!)
(Give me your peace!)
Derivatives
[
]
Ritsuka's cover

| | |
| --- | --- |
| Producers | |
| Categories | Human Cover |
MARiA's cover

| | |
| --- | --- |
| Producers | |
| Categories | Human Cover |
Melochin's Dance Cover

| | |
| --- | --- |
| Featuring | Hatsune Miku |
| Producers | |
| Categories | Dance Cover |
Other media appearances
[
]
Discography
[
]
This song was featured in the following albums:
Gallery
[
]
References
[
]
External links
[
]
Official
[
]
Unofficial
[
]