Song title
"ヒカリザクラ"
Romaji: Hikarizakura
English: Light Cherry Blossom
Published December 24, 2009, with 92,500+ Niconico views
Featuring
Producers
Links
Background
Edit
"

Merry Loud Christmas!

"




—Author's comment
A couple hopes to reunite, but they begin to loose hope while they're waiting under a clock and they believe they've been abandoned. However they don't notice that the other person is standing on the other side of the clock.
A cover by Miku and Gumi was featured on Darvish-P's 5150 album.
Succeeding versions
Edit
Live-P and Nio-P's ver

Featuring
Live-P, Nio-P
Author(s)

Darvish-P (music, guitar), Live-P (lyrics, mix, video), Paraiso (illust)

Category
Self-cover; human cover

Description

A cover by Live-P and Nio-P.
Miku and Gumi's ver

Featuring
Hatsune Miku, GUMI
Author(s)

Darvish-P

Category
Self-cover; VOCALOID cover

Description

This cover is featured in Darvish-P's

5150

album.
Singer + Color
Rin
Both
Len
Japanese (日本語歌詞)
Romaji (ローマ字)

あなたの姿

 

あなたの声を

anata no sugata

anata no koe o

取り消したはず

 

微かに残る

torikeshita hazu

kasuka ni nokoru



吐息の痕を 追いかけてゆく
toiki no ato o oikakete yuku
この眼に映る 恋者方
kono me ni utsuru koimonokata



ああ

aa

季節はただ来る

kisetsu wa tada kuru

<回想、灼熱、完成、協調 慢心を生み出す環境、経験を押し付ける感情>

<kaisou, shakunetsu, kansei, kyouchou, manshin o umidasu kankyou, keiken o oshitsukeru kanjou>




風は今更 リースを揺らして

叫び出す

kaze wa imasara riisu o yurashite

sakebidasu

<轟音、倒壊、春風、後悔>

<gouon, toukai, shunpuu, koukai>



ヒカリザクラ咲く頃
hikarizakura saku koro
二人変わらずと信じてた
futari kawarazu to shinjiteta
果たすことなく真っ白になった約束
hatasu koto naku masshiro ni natta yakusoku



塊状の恋と

 

背徳の影と

kaijou no koi to

haitoku no kage to

最悪な夜と

 

慟哭の鏡

saiaku na yoru to

doukoku no kagami



問いかけ過ぎて 揺らぐ輝き
toikake sugite yuragu kagayaki
「春まで待つ」とCloseしなかった
"haru made matsu" to close shinakatta



ああ 今も違う未来

aa ima mo chigau mirai

<再会、想定、対面、表情、終着をさえぎる執着、存在が目障りな現在>

<saikai, soutei, taimen, hyoujou, shuuchaku o saegiru shuuchaku, sonzai ga mezawari na genzai>

抱きしめているあなたへ今更

dakishimete iru anata e imasara

<結局、結局、結局、結局>

<kekkyoku, kekkyoku, kekkyoku, kekkyoku>

届かない
todokanai


待ち合わせの時間を
machi awase no jikan o
過ぎてもあなたはまだ来ない
sugite mo anata wa mada konai
時計の下で眺める空 あなたは空彼方
tokei no shita de nagameru sora anata wa sora kanata


ヒカリザクラ咲く頃
hikarizakura saku koro
二人変わらずと信じてた
futari kawarazu to shinjiteta
果たすことなく真っ白になった約束 今日だけは
hatasu koto naku masshiro ni natta yakusoku kyou dake wa
Other media appearances
Edit
Doujinshi
Edit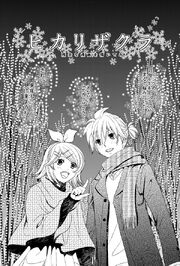 A short Doujinshi was published online by Paraiso, the illustartor for the PV.
Rin and Len have been separated for half a year, Len having gone away. One day Rin recieves a text from Len telling her to meet him under the clocktower 08:30 pm on Christmas Eve. She replies that she will and goes to meet him. Unfortunetly, they wind up waiting at the opposite sides of the tower. Len wintesses Kiyoteru waiting for someone and they both cheer eachother up. Rin also witnesses Meiko having waited for a long time and decides to wait with her, only for her boyfriend Kaito to come running into her and apologizes for making her wait, and the heartwarming reunion makes Rin feel all the lonlier. As time passes, Rin and Len try to walk around the clocktower to check for the other but barely miss each other, and the more they wait the more they feel separated.
Derivatives
Edit
Hanapoko's cover

Featuring
Pokota, Hanatan
Author(s)

Pokota

Category
Human cover

Description

Pokota and Hanatan's cover that ended up becoming more popular that the original song.
External links
Edit
| | |
| --- | --- |
| | Official |
| | |
| --- | --- |
| | Lyrics |
Community content is available under
CC-BY-SA
unless otherwise noted.