ピアノソロ 中級 ピアノで弾く 初音ミク、鏡音リン・レン、巡音ルカの歌 is a piano music sheet selection focused on Hatsune Miku, Megurine Luka, Kagamine Rin and Len.
About
[
]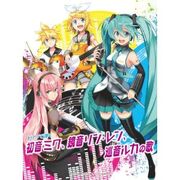 The collection is a selection of 10 popular songs with Miku, Rin, Len and Luka as the lead. It is for intermediate level piano players.
Songlist
みくみくにしてあげる♪【してやんよ】/ika feat. / 初音ミク
ハジメテノオト/malo feat. 初音ミク / 初音ミク
愛言葉/DECO*27 feat.初音ミク
ダブルラリアット/アゴアニキ feat.巡音ルカ
1925/ T-POCKET feat.初音ミク
右肩の蝶 / のりぴー feat.鏡音リン
ココロ / トラボルタ feat.鏡音リン
タイムマシン / 1640mP(164×40mP) feat.初音ミク
ARiA / とくP feat. 初音ミク
初音ミクの激唱/Storyteller(GAiA×cosMo@暴走P) feat.初音ミク
[

]
Merchandise directory

Figures
Miscellaneous

Official literatures

Fan literatures

Manga

Books

Series novels

Misc.