For the song by Masa, see 狐の嫁入り (Kitsune no Yomeiri).
❕

This subject has questionable content, such as: Murder, view at your own risk.
Discussions for questionable content are here and more subjects are categorized here.

❕
Song title
"狐ノ嫁入リ"
Romaji: Kitsune no Yomeiri
English: A Fox's Wedding (A Fox's Bride)
Published August 13, 2011 (album)
February 27, 2012 (PV), with 505,200+ Niconico views
Featuring
Producers
Links
Background
Edit
Kitsune no Yomeiri tells a story about a fox demon (Rin) falling in love with a human. She used her magic to be with him, transforming into a human female and set out to find him. However one day while she awaits him she notices he's together with another woman. Overcome with grief of his rejection, she murders the other girl believing it's the only way they can truly be together.
The title refers to the sunshower phenomenon in Japanese folklore; they believed that sunshowers occur every time two fox demons (or a fox demon) get married, which is believed as a good omen. In Japanese folklore fox demons were mischievous tricksters and seducers/seductresses that trick humans by using their magic, and the Sanzu River is equivalent of the river Styx.
This sing was first released on 10story's before recieving it's own PV, it was later featured on OSTER projects's own Attractive Museum.
Japanese (日本語歌詞)
Romaji (ローマ字)
とある夏の夜の夢に酷く胸を灼かれては
toaru natsu no yo no yume ni hidoku mune o yakarete wa
心掻き乱されるパラノヰア
kokoro kakimidasareru paranoia
獣 故の性分か甘い蜜に従順な
kemono yue no shoubun ka amai mitsu ni juujun na
この身焦がし今宵も 下弦の月を睨む
kono mi kogashi koyoi mo kagen no tsuki o niramu


二つの世を分け隔つ物 この手で切り刻む為に
futatsu no yo o wakehedatsu mono kono te de kirikizamu tame ni
水鏡に写る姿さえも変えて見せよう
mizukagami ni utsuru sugata sae mo kaete miseyou


通り雨で終わるなら
tooriame de owaru nara
泣いて泣いてそれでも泣いて
naite naite sore de mo naite
大きな湖(うみ)になったなら
ookina umi ni natta nara
貴方は溺れてくれますか
anata wa oborete kuremasu ka


侘びしき秋の夕暮れも 舞い散る雪へと移ろう
wabishiki aki no yuugure mo maichiru yuki e to utsurou
馳せる想いの丈も降り積もる
haseru omoi no take mo furitsumoru
一目いま一目よ と急く心を宥めては
hitome ima hitome yo to seku kokoro o nadamete wa
玉響の逢瀬へと足早に闇を駆ける
tamayura no ouse e to ashibaya ni yami o kakeru


梅の華 簪(かんざし)にして 打った芝居の数よりも
ume no hana kanzashi ni shite utta shibai no kazu yori mo
暇乞いの侘びしさに幾度も枕濡らす
itomagoi no wabishisa ni ikudo mo makura nurasu


通り雨で終わるとも
tooriame de owaru to mo
愛し愛しそれでも愛し
aishi aishi sore de mo aishi
千里の山も越えたなら
senri no yama mo koeta nara
私を愛してくれますか
watashi o aishite kuremasu ka


宿命に抗いながら 恋唄紡ぐ春の夜に
shukumei ni aragainagara koiuta tsumugu haru no yo ni
愛しき人 微笑むその先に女の影
itoshiki hito hohoemu sono saki ni onna no kage


通り雨に過ぎずとも
tooriame ni sugizu to mo
愛し愛し愛し疲れて
aishi aishi aishitsukarete
化かし合いに勝てぬなら
bakashiai ni katenu nara
いっそ二人で
isso futari de
三途の舟場を越えて
sanzu no funaba o koete
共に餓鬼の籍に入ろうか
tomo ni gaki no seki ni irou ka
髑髏(されこうべ)さえも愛しい
sarekoube sae mo itoshii


此が私の嫁入り
kore ga watashi no yomeiri


血潮の湯浴み済んだら 程なく参ります
chishio no yuami sundara hodonaku mairimasu
Other Media Appearances
Edit
Story Version
Edit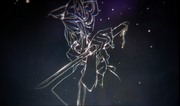 In style with the 10story's album, a narrated version written by OSTER project and read by Miyuki Sawashiro was released alongside the song. It is also told from the point of view from the Kitsune, where she swears that if she can't marry her love in the mortal world, she will marry him in hell.
Manga Adaptation
Edit
A two volume Manga adaptation was created by Yuuko Satou and published by Comic Walker was released in 2014.
This adaptation tells the story of the siblings Len and Rin Kitagami. Rin is Len's older sister and is constantly trying to seduce him, much to his distress. Len is the heir of the country Musashi but ever since their father's death, they've been an easy target for neighboring countries. As their sixteen's birthday approaches, their uncle suggests that Len marries the Daughter of Lord Kaidou (KAITO) of an enemy country, Owari. Rin then grows angered as she wanted Len for her own, but he is willing to do anything to save the country. When they finally meet the daughter, Miku, they are distraught to find that she resembles Hatsune, their deceased childhood friend.
Derivatives
Edit
Hanatan's Cover

Featuring
Hanatan
Author(s)

Hanatan

Category
Human cover

Description

A cover of the song sung by Hanatan.
External links
Edit
| | |
| --- | --- |
| | Official |
| | |
| --- | --- |
| | Downloads |
| | |
| --- | --- |
| | Articles |
| | |
| --- | --- |
| | Lyrics |
Community content is available under
CC-BY-SA
unless otherwise noted.