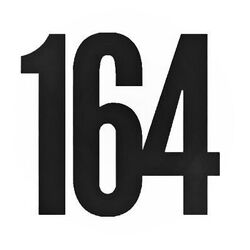 Affiliations
[
]
External links
[
]
Official
[
]
Unofficial
[
]
164 (read Ichirokuyon, イチロクヨン[1][2]), real name Takemoto Hiroshi (竹本広志), is an acknowledged "VOCAROCK" producer. His producer alias, 164, is a wordplay on his real name: 1 (hi), 6 (ro), 4 (shi).[2]
The name of his personal circle, 203soundworks, is made up of his producer name of 164 plus the pronunciation of Miku's name (39, the character "mi" (ミ) is read as three and the character "ku" (ク) as nine Japanese, creating 203.
His debut work shiningray became a sudden hit when exceeding 100,000 views. His later works hold a stable view count, some of which have entered the Hall of Fame. He is most recognized for his song Amanojaku, which has received over 6 million views on Niconico.
He was born on March 10.[1]
Works
[
]
| Links | Title | Featuring | Date | Roles |
| --- | --- | --- | --- | --- |
| | "shiningray" | Hatsune Miku | September 28, 2008 | music, lyrics |
| | "unused impulse" | Hatsune Miku | November 06, 2008 | music, lyrics |
| | "sleeping beauty" | Hatsune Miku | December 4, 2008 | music, lyrics, video |
| • | the end/164 | Hatsune Miku | January 02, 2009 | music, lyrics |
| • | anonymous bigname | Hatsune Miku | January 05, 2009 | music, lyrics |
| • | forbidden canvas | Hatsune Miku | April 07, 2009 | music, lyrics |
| • | heavenly blue | Hatsune Miku | May 13, 2009 | music, lyrics |
| • | planetarium | Hatsune Miku | June 10, 2009 | music, lyrics |
| • | afterall | Hatsune Miku | August 06, 2009 | music, lyrics |
| • | 1st music | Hatsune Miku | September 27, 2009 | music, lyrics |
| • | lost | Hatsune Miku | October 19, 2009 | music, lyrics |
| • | piano | Hatsune Miku | October 24, 2009 | music, lyrics |
| • | good bye monochrome | Hatsune Miku | December 01, 2009 | music, lyrics |
| • | madder sky | Kagamine Rin | January 09, 2010 | music, lyrics |
| • | ボクソラウミキミ (Boku Sora Umi Kimi) | Hatsune Miku | April 19, 2010 | music, lyrics |
| • | ジーニー (Genie) | Kagamine Rin & Len | June 01, 2010 | music, lyrics |
| • | 走馬燈 (Soumatou) | Hatsune Miku | June 06, 2010 | music, lyrics |
| • | 希望の橋と自由の魔法 (Kibou no Hashi to Jiyuu no Mahou) | Kagamine Rin | June 16, 2010 | music, lyrics |
| | "タイムマシン" | Hatsune Miku | September 13, 2010 | lyrics, arrangement, tuning |
| • | 4時44分 (4-ji 44-fun) | GUMI | October 20, 2010 | music, lyrics |
| • | 極悪人 (Gokuakunin) | Hatsune Miku | October 23, 2010 | music, lyrics |
| • | とことこ (Tokotoko) | GUMI | November 15, 2010 | music, lyrics |
| • | ジブンインチモニター (Jibun Inch Monitor) | Hatsune Miku | December 22, 2010 | music, lyrics |
| • | CUL makes Revolution! | CUL | December 22, 2010 | music, lyrics |
| • | memory | Hatsune Miku | February 18, 2011 | music, lyrics |
| • | オーバードーズ (Overdose) | Kagamine Rin | February 19, 2011 | guitar solo |
| • | inori | GUMI | March 19, 2011 | music, lyrics |
| | "天ノ弱" | GUMI | May 28, 2011 | music, lyrics |
| • | 絶望のエチュード (Zetsubou no Étude) | Kagamine Rin | July 29, 2011 | mastering |
| • | 未来線 (Miraisen) | Hatsune Miku | September 29, 2011 | music, arrangement, tuning |
| • | ビフォーアフター (Before After) | Hatsune Miku | October 07, 2011 | music, lyrics |
| • | リセット (Reset) | Hatsune Miku | October 29, 2011 | music, lyrics |
| • | NARAKA | GUMI | January 06, 2012 | music, lyrics, arrangement |
| • | AI | GUMI | February 03, 2012 | music, lyrics |
| • | theory | GUMI | February 24, 2012 | music, lyrics |
| | "サイコロジック" | GUMI | April 10, 2012 | music |
| | "見世物ライフ" | Megurine Luka | July 17th, 2012 | lyrics, guitar |
| • | NO STARS | GUMI | August 17, 2012 | music, lyrics |
| | "ザ・ピュアソング" | Hatsune Miku | November 19, 2012 | music |
| | "青" | MAYU | November 30, 2012 | music, lyrics |
| • | トオリスガリノダレカ (Toori Sugari no Dareka) | GUMI | December 21, 2012 | music, lyrics |
| | "ミスターデジャブ" | MAYU | February 21, 2013 | music, lyrics |
| • | 迷妄少年と小世界 (Meimou Shounen to Shousekai) | GUMI | May 24, 2013 | music, lyrics |
| | "end tree" | GUMI | July 8, 2013 | music, lyrics, guitar |
| • | Rebirth | GUMI | August 05, 2013 | music, lyrics |
| • | BLURRY | GUMI, MAYU | August 26, 2013 | music, lyrics |
| • | 青春ウォーカー (Seishun Walker) | Kobayashi Matcha, Masaoka Azuki | January 14, 2014 | n/a |
| • | 神巫詞 (Kamiuta) | MAYU | January 20, 2014 | music, lyrics |
| • | ソイネ (Soine) | GUMI | January 27, 2014 | music, lyrics |
| • | 例えば、今此処に置かれた花に (Tatoeba, Ima Koko ni Okareta Hana ni) | GUMI | May 09, 2014 | music, lyrics |
| • | STATIC | GUMI | July 25, 2014 | music, lyrics |
| • | HOMEROOM | flower | August 01, 2014 | music, lyrics |
| • | ゲンガイパラノイア (Gengai Paranoia) | Hatsune Miku | August 01, 2014 | mastering |
| • | アイアドミット (I Admit) | Hatsune Miku | October 18, 2014 | mastering |
| • | 掌中の珠 (Shouchuu no Tama) | GUMI | November 13, 2014 | music, lyrics |
| • | 嫌われ者の詩 (Kirawaremono no Uta) | Hatsune Miku | September 15, 2016 | music, lyrics |
| | "残響" | GUMI | December 22, 2016 | music, lyrics |
| • | オセロ (Othello) | GUMI | January 04, 2017 | music, lyrics |
| • | 瞬いては消えて行く (Matataite wa Kiete Yuku) | GUMI | January 18, 2017 | music, lyrics |
| • | U | Megurine Luka | September 02, 2017 | acoustic guitar |
| • | Hatsune | Hatsune Miku | December 08, 2017 | lyrics, arrangement, tuning |
| • | 時間 (Jikan) | GUMI | February 22, 2018 | music, lyrics |
| • | 僕はまだ死ねない (Boku wa Mada Shinenai) | Hatsune Miku | September 28, 2018 | music, lyrics |
| • | Jumble Jungle | Kagamine Len | December 05, 2018 | music, lyrics |
| • | 終わりにしよう (Owari ni Shiyou) | Hatsune Miku | February 26, 2019 | music, lyrics |
| • | 狂者の行進 (Kyousha no Koushin) | GUMI | May 03, 2019 | music, lyrics |
| • | 今回の騒動について (Konkai no Soudou ni Tsuite) | GUMI | September 12, 2020 | music, lyrics |
| | "S・K・Y(2020 ver.)" | Kagamine Rin | May 11, 2020 | distortion guitar |
| • | GALAXY (Under my identity) | GUMI | June 26, 2020 | music, lyrics |
| | "「1」" | Megurine Luka | April 21, 2021 | music, lyrics, arrangement |
Albums
[
]
Discography
[
]
| Affiliation | Title | Featuring | Date | Roles |
| --- | --- | --- | --- | --- |
| EXIT TUNES | EXIT TUNES PRESENTS THE COMPLETE BEST OF 164 | Hatsune Miku | December 16, 2009 | music, lyrics |
| 40 Meter Hashi | "コタエアワセ" | Hatsune Miku and GUMI | January 16, 2011 | arrange, lyrics, tuning |
| 203soundworks, EXIT TUNES | MEMORY -164 from 203soundworks- | Hatsune Miku | March 02, 2011 | music, lyrics |
| 203soundworks, EXIT TUNES | THEORY -164 feat.GUMI- | Hatsune Miku | March 07, 2012 | music, lyrics |
| • | THEORY | GUMI | March 7, 2012 | music, lyrics |
| • | BLURRY | MAYU, Hatsune Miku, GUMI | September 04, 2013 | music, lyrics |
| • | THIS IS VOCAROCK | MAYU, Hatsune Miku, GUMI | July 16, 2014 | music, lyrics |
| EXIT TUNES | End of the World (album) | MAYU, Hatsune Miku, GUMI, Kagamine Rin | November 19, 2014 | arrangement |
| • | Sevenly | Hatsune Miku, GUMI | January 18, 2017 | music, lyrics |
| • | IVIIV | Hatsune Miku, GUMI | December 12, 2018 | music, lyrics |
Compilations
[
]
Affiliation
Title
Featuring
Date
Roles
EXIT TUNES
"EXIT TUNES PRESENTS STARDOM 2"
Hatsune Miku, Kagamine Len, Kagamine Rin, Megurine Luka, Korosuke, Yanagi Mami, Meramipop, Team.Nekokan
August 19, 2009
arrangement
EXIT TUNES
"EXIT TUNES PRESENTS THE COMPLETE BEST OF azuma"
Hatsune Miku, Kagamine Rin & Len, Megurine Luka, KAITO
December 2, 2009
music, lyrics
EXIT TUNES
"EXIT TUNES PRESENTS Supernova"
Hatsune Miku, Kagamine Len, Kagamine Rin, Megurine Luka, Camui Gackpo, KAITO, and MEIKO
December 2, 2009
music, lyrics
EXIT TUNES
"EXIT TUNES PRESENTS Supernova 2"
Hatsune Miku, Kagamine Len, Kagamine Rin, GUMI, Megurine Luka, and Kaai Yuki
March 3, 2010
music, lyrics
EXIT TUNES
"EXIT TUNES PRESENTS SUPER PRODUCERS BEAT"
Hatsune Miku, Kagamine Rin, Megurine Luka, and KAITO
April 7, 2010
music, lyrics
V.L.P.

V.L.P

Hatsune Miku, Megurine Luka, GUMI
May 09, 2010
music, lyrics
EXIT TUNES
"EXIT TUNES PRESENTS Supernova 3"
Hatsune Miku, Kagamine Len, Kagamine Rin, GUMI, Megurine Luka, and MEIKO
July 7, 2010
music, lyrics
creazuma
"Try!"
Hatsune Miku, Kagamine Len, Kagamine Rin, GUMI, Megurine Luka, Camui Gackpo, and BIG AL
August 14, 2010
music, lyrics
EXIT TUNES
"EXIT TUNES PRESENTS Vocaloanthems feat. 初音ミク"
Hatsune Miku, Kagamine Rin & Len, Megurine Luka, KAITO, and MEIKO
September 15, 2010
music, lyrics, arrangement, tuning
Innovate Sounds
"Innovator-gaku"
Hatsune Miku, Kagamine Rin, GUMI, and Megurine Luka
October 31, 2010
music, lyrics
EXIT TUNES
"EXIT TUNES PRESENTS Supernova 4"
Hatsune Miku, Kagamine Len, Kagamine Rin, GUMI, Megurine Luka, MEIKO, and VY1
December 15, 2010
music, lyrics
EXIT TUNES
"EXIT TUNES PRESENTS Supernova 5"
Hatsune Miku, Kagamine Rin, GUMI, and Megurine Luka
April 29, 2011
music, lyrics
TRUE SAND RECORD
"Qusic"
Hatsune Miku, Kagamine Len, Kagamine Rin, GUMI, Megurine Luka, Camui Gackpo, and Kaai Yuki
June 12, 2011
music, lyrics
Sony Music Direct
"VOCALOID BEST from ニコニコ動画 (あか)"
Hatsune Miku, Megurine Luka, Kagamine Rin & Len, GUMI, Camui Gackpo, and KAITO
June 22, 2011
music, arrangement
EXIT TUNES
"EXIT TUNES PRESENTS GUMitive from Megpoid"
GUMI
September 7, 2011
music, lyrics
EXIT TUNES
"EXIT TUNES PRESENTS Supernova 6"
Hatsune Miku, Kagamine Len, Kagamine Rin, GUMI, Megurine Luka, and Camui Gackpo
September 9, 2011
music, lyrics
EXIT TUNES
"EXIT TUNES PRESENTS 煌千紫万紅大雅宴 feat. 神威がくぽ from がくっぽいど"
Camui Gackpo
October 5, 2011
music, lyrics
•

初音ミクライブパーティ2011 39's Thanks Live in Tokyo / Sapporo (Hatsune Miku Live Party 2011 39's Thanks Live in Tokyo / Sapporo)

Hatsune Miku, Megurine Luka, Kagamine Rin & Len
November 16, 2011
music, lyrics
EXIT TUNES
"EXIT TUNES PRESENTS Vocalocluster feat. 初音ミク"
Hatsune Miku, Kagamine Len, Kagamine Rin, Megurine Luka, Camui Gackpo, KAITO, GUMI, and MEIKO
October 19, 2011
music, arrangement, tuning
EXIT TUNES
"EXIT TUNES PRESENTS Vocalodream feat. 初音ミク"
Hatsune Miku, Kagamine Rin, GUMI, Megurine Luka, Kagamine Len, Camui Gackpo, KAITO, and MEIKO
January 18, 2012
music, lyrics
EXIT TUNES

天ノ弱 (Amanojaku)

Hatsune Miku, GUMI
February 01, 2012
music, lyrics
EXIT TUNES
"EXIT TUNES PRESENTS Supernova 7"
Hatsune Miku, Kagamine Len, Kagamine Rin, GUMI, Camui Gackpo, and SF-A2 miki
April 18, 2012
music, lyrics
EXIT TUNES
"EXIT TUNES PRESENTS Megurhythm feat. 巡音ルカ"
Megurine Luka
July 18, 2012
music, lyrics
EXIT TUNES
"EXIT TUNES PRESENTS Vocaloconnection feat. 初音ミク"
Hatsune Miku, GUMI, Kagamine Rin, Kagamine Len, Camui Gackpo, KAITO, Megurine Luka, MEIKO, and IA
August 1, 2012
music, lyrics
EXIT TUNES
"EXIT TUNES PRESENTS GUMing from Megpoid"
GUMI and Kagamine Rin
September 5, 2012
music, lyrics
•

GUMI ROCK

GUMI, VY1, VY2
September 26, 2012
music, lyrics
EXIT TUNES
"EXIT TUNES PRESENTS Supernova 8"
Hatsune Miku, Kagamine Len, and GUMI
October 3, 2012
music, lyrics
EXIT TUNES

EXIT TUNES PRESENTS Storytellers RPG

Hatsune Miku, Kagamine Rin, Kagamine Len, Megurine Luka, GUMI
November 07, 2012
music, lyrics
FARM RECORDS
"VOCAROCK collection 4 feat. 初音ミク"
GUMI, Hatsune Miku, IA, Kagamine Rin, Megurine Luka, and Kagamine Len
November 28, 2012
arrange
EXIT TUNES
"EXIT TUNES PRESENTS VOCALOID™3 Library MAYU SPECIAL 2CD"
MAYU
December 5, 2012
music, lyrics
EXIT TUNES
"EXIT TUNES PRESENTS Vocalosensation feat. 初音ミク"
Hatsune Miku, GUMI, Kagamine Rin, Megurine Luka, Kagamine Len, IA, Camui Gackpo, MEIKO, KAITO, MAYU, and Lily
February 20, 2013
music, lyrics
KARENT

初音ミク-Project DIVA-F Complete Collection

Hatsune Miku, Kagamine Rin & Len, Megurine Luka, KAITO, MEIKO
March 06, 2013
music, lyrics
Yamaha Music Communications
"The Legend of 超絶調声師"
Hatsune Miku, Kagamine Len, Kagamine Rin, GUMI, Megurine Luka, IA, Camui Gackpo, Lily
March 20, 2013
music, lyrics
Independant
"ボカロバラード・セレクション"
Hatsune Miku, Megurine Luka, and Kagamine Len
March 20, 2013
music, lyrics
EXIT TUNES Co., Ltd.
"EXIT TUNES PRESENTS GUMitia from Megpoid"
GUMI
April 3, 2013
music, lyrics
EXIT TUNES

EXIT TUNES PRESENTS Vocaloextra feat. GUMI、IA、MAYU

GUMI, IA, MAYU
June 05, 2013
music, lyrics
EXIT TUNES

EXIT TUNES PRESENTS GUMity from Megpoid

GUMI
August 07, 2013
music, lyrics
EXIT TUNES

EXIT TUNES ACADEMY BEST 2

GUMI, Hatsune Miku, Kagamine Rin & Len, MAYU
September 18, 2013
music, lyrics
EXIT TUNES
"月刊eta Vol.06"
MAYU, Hatsune Miku, Camui Gackpo, Kagamine Rin & Len, GUMI, Megurine Luka, MEIKO, and KAITO
October 2, 2013
music, lyrics
Dwango User Entertainment, Inc.
"VOCALOID 超BEST -memories-"
Hatsune Miku, Kagamine Len, Kagamine Rin, GUMI, Megurine Luka, IA, Camui Gackpo, KAITO, MEIKO, and VY2
October 3, 2013
music, lyrics
EXIT TUNES
"EXIT TUNES PRESENTS Vocaloexist feat. GUMI、IA、MAYU"
IA, GUMI, and MAYU
October 2, 2013
music, lyrics
EXIT TUNES

EXIT TUNES ACADEMY BEST 3

GUMI, Hatsune Miku, MAYU
January 01, 2014
music, lyrics
EXIT TUNES

TOTAL OBJECTION (circle)

"EXIT TUNES PRESENTS Vocalofanatic feat. GUMI、IA、MAYU"
GUMI, IA, MAYU
February 5, 2014
music, lyrics
Project TRI

魔法少女OverAge (Mahou Shoujo OverAge)

GUMI, Hatsune Miku
April 26, 2014
music, lyrics
SPUTONIC

Memories of GUMI 2009-2013 feat. Megpoid 下巻

GUMI
June 26, 2014
music, lyrics
Gynoid Co., Ltd.

debut

flower
October 01, 2014
music, lyrics
EXIT TUNES
"EXIT TUNES PRESENTS THE BEST OF GUMI from Megpoid"
GUMI
February 4, 2015
music, lyrics
EXIT TUNES

EXIT TUNES ACADEMY BEST 3

GUMI, Hatsune Miku, Kagamine Len, IA
March 18, 2015
music, lyrics
EXIT TUNES, Pony Canyon
"MAYU LOVES -First-"
MAYU
May 15, 2015
music
EXIT TUNES

EXIT TUNES PRESENTS NUMBERS

GUMI, MAYU, Hatsune Miku, Kagamine Rin, Megurine Luka, IA
June 03, 2015
music, lyrics
U/M/A/A
"VOCALOID Masterpiece Collections feat. GUMI 09-11"
GUMI
June 26, 2015
music, lyrics
EXIT TUNES
"EXIT TUNES PRESENTS Entrance Dream Music 3"
Hatsune Miku, Lily, Kagamine Rin & Len, GUMI, and IA
October 2, 2015
music, lyrics
EXIT TUNES
"EXIT TUNES PRESENTS Vocalocreation feat. 初音ミク"
Hatsune Miku, Kagamine Len, GUMI, Kagamine Rin, Megurine Luka, Camui Gackpo, KAITO, IA, MAYU, and MEIKO
September 21, 2016
music, lyrics
EXIT TUNES
"EXIT TUNES PRESENTS Vocalohistory feat. 初音ミク"
Hatsune Miku
March 15, 2017
music, lyrics, arrangement, tuning
Dwango User Entertainment, Inc.

「#コンパス 戦闘摂理解析システム」 オリジナルサウンドトラック Vol.01 ("#Compass: Sentou Setsuri Kaiseki System" Original Soundtrack Vol.01)

GUMI, IA, KYO, Hatsune Miku, Camui Gackpo, Kagamine Rin & Len
February 20, 2019
music, lyrics
EXIT TUNES
"EXIT TUNES PRESENTS Vocaloseasons feat. 初音ミク ~Autumn~"
Hatsune Miku, Kagamine Rin, Kagamine Len, KAITO, Megurine Luka, IA, and MEIKO
October 4, 2017
music, lyrics
EXIT TUNES
"EXIT TUNES PRESENTS Vocalostream feat. 初音ミク"
Hatsune Miku, GUMI, Kagamine Rin, Kagamine Len, IA, flower, Megurine Luka, Camui Gackpo, KAITO, MEIKO, and MAYU
March 20, 2019
music, lyrics
EXIT TUNES
"EXIT TUNES PRESENTS GUMIssimo from Megpoid ―10th ANNIVERSARY BEST―"
GUMI
June 19, 2019
music, lyrics
EXIT TUNES
"SPACE DIVE!! feat. GUMI from Megpoid"
GUMI
July 17, 2020
music, lyrics
Gallery
[
]
References
[
]