!

This marketing article is for AH-Software Co. Ltd.,
Additions to this page must pertain to the subject. For information on how to help, see the guidelines.  More subjects categorized here.

!
To see the marketing of the VOICEROIDs, go to this page.
MERCHANDISE
[
]
General
[
]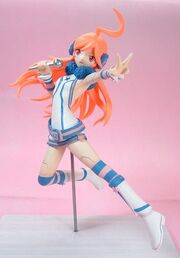 iPhone cases and keychains featuring Hiyama Kiyoteru and Kaai Yuki. Also for Kiyoteru's V4, a glasses case and a mini towel.
A mini purse with SF-A2 miki's star.
Apparel
[
]
In June 2012, merchandise for both SF-A2 miki and Yuzuki Yukari were put up for sale, including mugs and T-shirts.[1]
Audio
[
]
An album with her singing Christmas songs, VOCALOIDS★X'MAS, was also set to be released in November 2009. Notable VOCALOID song creators' works are included.[2][3] She was also used for the introduction to the Hello Kitty game, Hello Kitty to Issho! Block Crash 123! on its official page.
Figurines
[
]
Since Iroha is owned primarily by Sanrio, the Sanrio company have commissioned several figurines of this VOCALOID.
SF-A2 miki has no official figurines, however, a Garage Kit was produced by Ishii Komasuke.
Publications
[
]
Main article: ICE MOUNTAIN

A book was released about Hiyama Kiyoteru's band Ice Mountain.[4][5]
---
SOFTWARE
[
]
iOS App
[
]
They also appears in the app "AR Vocaloid Walk", a Augmented Reality app with other Vocaloids, UTAU and Derivative characters also appear in the app.[6]
LINE
[
]
AH-Software has made LINE stickers for Kaai Yuki.
Hello Kitty To Issho! Block Crash 123!!
[
]
Iroha and other Kittylers appear in a PSP and PSVITA games, Block Crash, in Japanese "ハローキティといっしょ! ブロッククラッシュ123! !". "Block Rash trailer"
  YouTube  YouTube(2)
---
CAMPAIGNS
[
]
Christmas Illustration Contest
[
]
On December 12, 2011, AH-Software held an illustration contest of Iroha with the theme Nyanglebell (Nyan and Jingle Bell).[7] Submissions remained opened from December 12 to January 10, 2012. Four winners were announced on AHS' page.
Hello Kitty
[
]
Like other Kittylers, Iroha has had the standard array of promotional merchandise. Some of these items include postcards and an illustration book. Most of these promotions are unrelated to her VOCALOID self as they are done in line with the Hello Kitty franchise.
References
[
]
[

]