ARSLOID VOCALOID4 | Songs Albums Notable Originals
---
ARSLOID (アルスロイド) is a Japanese VOCALOID that was developed and distributed by the YAMAHA Corporation, in collaboration with UNIVERSAL MUSIC JAPAN. He was released in September 2015 for the VOCALOID4 engine. He is voiced by Akira Kano, a member of the Japanese odorite group ARSMAGNA.
Concept
[
]
ARSLOID is the VOCALOID representation of Kano Akira, a member of the dance idol group ARSMAGNA. In his character biography, his personality is described: "He has a strong sense of duty, and is bright and lively. He is quick to get in a fight and always has fresh wounds. He has good reflexes and is a popular person who never runs out of requests from different clubs asking for support, starting with his specialty – basketball. On the other hand, he also has an awkward and easily lonely side. He occasionally gets hurt from pranks which don't have bad intentions."[2]
His birthday is August 5 and his blood type is O.[3]
Etymology
[
]
The name "ARSLOID" is a combination of the first part of ARSMAGNA and the -loid suffix. "Ars magna" is Latin in origin and means "the great art".
The spelling of "ARSLOID" is not the spelling found on his character image file on the VOCALOID NET website. This is likely due to a translation mistake, as nearly all of ARSMAGNA's romaji spellings use the letter "R" in place of "L".
Appearance
[
]
ARSLOID's design is based off the school uniform the 2D idol group wears from the fictional 'Chronos Senior High School'.[4]
Relations
[
]
For more on VOCALOID relationships, see the FAQ.
Izumi Sou - Member of ARSMAGNA, classmate.
Park Witt - Member of ARSMAGNA, classmate.
Sakakibara Tatsuki - Member of ARSMAGNA, classmate.
Kurou Kento - Member of ARSMAGNA, teacher.
Constantine - The group's trademark stuffed bunny.
History
[
]
Voicebanks
[
]
ARSLOID

ARSLOID was designed to be a young male vocal.
Misc. voicebanks

He is the only VOCALOID to be released with what is known as "Extended libraries". Extended libraries are semi-completed voicebanks and contain only certain sounds, in the case of "Bright" and "Soft". These would be used with VOCALOID4's key function XSY to change the main vocal, with "Soft" making sounds looser for added expression and "Bright" making them sound more cheerful. As of VOCALOID5, these have been rendered useless for their original purpose and now act as only weakened voicebanks, thus they are intended to be mostly a VOCALOID4 tool.
Music featuring ARSLOID
[
]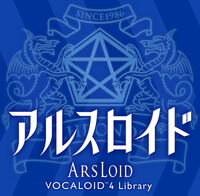 RAINBOW

| | |
| --- | --- |
| Translation | RAINBOW |
| Featuring | ARSLOID |
| Producers | DayLightP |
| Categories | Original song |
ドレミファロンド

Search for music featuring ARSLOID
[show/hide]
Reputation
[
]
Status
Google Trends
Achievements
First new male VOCALOID4
First new VOCALOID4 to have multiple voicebanks
First VOCALOID from UNIVERSAL MUSIC JAPAN
First male VOCALOID from UNIVERSAL MUSIC JAPAN
First VOCALOID to be voiced by an odorite
References
[
]
External links
[
]
| Language | Description | Site |
| --- | --- | --- |
| Japanese | ARSMAGNA official homepage | Link |
| Japanese | UNIVERSAL MUSIC JAPAN/ARSMAGNA The official webpage for UMJ'S ARSMANA | Link |
| Japanese | UNIVERSAL MUSIC JAPAN The official YouTube channel for UMJ | Link |
[

]