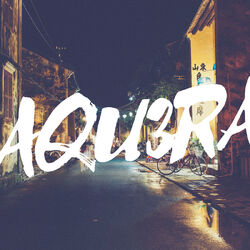 External links
[
]
Official
[
]
Unofficial
[
]

aqu3ra (read Akuera, アクエラ) is a producer who started composing VOCALOID songs in December 2018. Prior to his debut as a producer, he had made several utaite covers and gained some certain amount of popularity.
aqu3ra's music has a distinctive sound, sometimes bearing electric music elements also. He mainly uses Hatsune Miku and flower in his works, many of which have gained over 100 thousands views on YouTube.
It is noted that a number of fans would inaccurately address him as "Apu3ra". In response to this common mistake, Aqu3ra would jokingly create an alternative account Apu3ra (あぷえら), where he had posted two VOCALOID songs as well.
Works
[
]
| Links | Title | Featuring | Date | Roles |
| --- | --- | --- | --- | --- |
| • | Sleeping Awake | Hatsune Miku | December 08, 2018 | music, lyrics |
| • | Sleeping Awake - For Club (Bass Boosted) | Hatsune Miku | December 14, 2018 | arrangement |
| • | アイボリー (Ivory) | flower | January 01, 2019 | music, lyrics |
| • | ロンリーユニバース (Lonely Universe) | Hatsune Miku, flower | April 06, 2019 | music, lyrics |
| • | メーデー (Mayday) | flower | June 02, 2019 | music, lyrics |
| • | ラムネ (Ramune) | flower | July 16, 2019 | music, lyrics |
| • | チョコレートミルク (Chocolate Milk) | Hatsune Miku | September 21, 2019 | music, lyrics |
| • | ゴーストダンス (Ghost Dance) | Hatsune Miku | October 12, 2019 | music, lyrics |
| • | シックス・フィート・アンダー (Six Feet Under) | flower | January 03, 2020 | music, lyrics |
| • | Day&Night | Hatsune Miku | May 09, 2020 | music, lyrics |
| • | Snow Mile | Hatsune Miku | December 11, 2020 | music, lyrics |
| • | 解けない夏 (Tokenai Natsu) | Hatsune Miku | March 14, 2021 | music, lyrics |
| • | ミッドナイトサン (Midnight Sun) | flower | May 08, 2021 | music, lyrics |
| | "アイスドロップ" | Hatsune Miku | July 18, 2021 | music, lyrics |
Albums
[
]
Discography
[
]
| Affiliation | Title | Featuring | Date | Roles |
| --- | --- | --- | --- | --- |
| Independent | Parallel Planet | Hatsune Miku, flower | November 17, 2019 | music, lyrics |
E.P
[
]
| Affiliation | Title | Featuring | Date | Roles |
| --- | --- | --- | --- | --- |
| Independent | lonely planet | Hatsune Miku | April 27, 2019 | music, lyrics |
Compilations
[
]
| Affiliation | Title | Featuring | Date | Roles |
| --- | --- | --- | --- | --- |
| KARENT, Crypton Future Media, KAMITSUBAKI RECORDS | "KARENT presents Planet Traveler feat. 初音ミク" | Hatsune Miku, Kagamine Rin | January 22, 2020 | music, lyrics |
| Independent | Number Compilation Album | Hatsune Miku, GUMI, IA, flower, Kasane Teto | April 16, 2020 | music, lyrics |
| Independent | "Pianism" | GUMI, IA, Hatsune Miku, Kagamine Rin, Otomachi Una | June 14, 2020 | music, lyrics |
| Independent | "キメラ" | Hatsune Miku, flower, Otomachi Una, Kagamine Len, and Kaai Yuki | October 15, 2021 | music, lyrics |
| Crypton Future Media, Inc. | "「初音ミク GALAXY LIVE 2021」 OFFICIAL COMPILATION ALBUM" | Hatsune Miku | December 13, 2021 | music, lyrics |