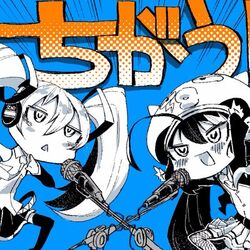 External links
[
]
Official
[
]
Unofficial
[
]
Carlos Hakamada (カルロス袴田), also known as Size-P (サイゼP) and Dynamic the Ends (ダイナミック自演ズ, Dynamic Jienzu), is a producer whose works are mainly rock. He mainly uses the banks Hatsune Miku and Otomachi Una. In terms of musical and illustration style, his works can be described as "cute and quirky".
The name Carlos originates from the famous Mexican-American musician, Carlos Santana[1].
He started on May 2013.
Works
[
]
| Links | Title | Featuring | Date | Roles |
| --- | --- | --- | --- | --- |
| • | タイムトラベラー! (Time Traveller!) | Hatsune Miku | May 01, 2013 | music, lyrics, PV |
| • | サマーソルト (Summer Salt) | Hatsune Miku | June 24, 2013 | music, lyrics, PV |
| • | アイソレイター (isolater) | Hatsune Miku | August 04, 2013 | music, lyrics, PV |
| • | ビューティフルハイプ (Beautiful Hype) | Hatsune Miku | November 25, 2013 | music, lyrics, PV |
| • | ラブソング (Love Song) | Hatsune Miku | February 10, 2014 | music, lyrics, PV |
| • | デイビリーヴドリーマー (Day Believe Dreamer) | Hatsune Miku | March 13, 2014 | music, lyrics, PV |
| • | チャイナフィーバー (China Fever) | Hatsune Miku | March 13, 2014 | music, lyrics, PV |
| • | きみにこいするえるえふおー (Kimi ni Koisuru LFO) | Hatsune Miku | April 17, 2014 | music, lyrics, PV |
| • | 恋人たちのラグナロク (Koibito-tachi no Ragnarok) | Hatsune Miku | December 24, 2014 | music, lyrics, PV |
| • | ジャスコファンタジー (Jusco Fantasy) | Hatsune Miku | September 05, 2016 | music, lyrics, PV |
| | "OhSOS!!!" | Hatsune Miku | October 3, 2016 | music, lyrics, illustration, video |
| | "ぼくらのディメンション" | Otomachi Una and Hatsune Miku | October 28, 2016 | music, lyrics, illustration, video |
| | "ちがう!!!" | Otomachi Una and Hatsune Miku | November 17, 2016 | music, lyrics, illustration, video |
| | "それでいい" | Otomachi Una and Hatsune Miku | December 19, 2016 | music, lyrics, illustration, video |
| • | 人間ばっか (Ningen Bakka) | Otomachi Una, Hatsune Miku | December 19, 2016 | music, lyrics, PV |
| | "ファミレスいこうよ" | Otomachi Una and Hatsune Miku | January 30, 2017 | music, lyrics, illustration, video |
| • | すき… (Suki...) | Otomachi Una, Hatsune Miku | January 30, 2017 | music, lyrics, PV |
| | "スーパーマーケット☆フィーバー" | Otomachi Una and Hatsune Miku | February 24, 2017 | music, lyrics, illustration, video |
| • | Genki de Ite ne. | Otomachi Una, Hatsune Miku | February 24, 2017 | music, lyrics, PV |
| • | OIKAZE | IA | March 17, 2017 | animation |
| • | あゝ、神様! (Aa, Kamisama!) | Yumemi Nemu | March 28, 2017 | illust, video |
| | "バカをやるなら" | Hatsune Miku | May 5, 2017 | illustration |
| • | いっことはんぶん (Ikko to Hanbun) | Otomachi Una | June 8, 2017 | guitar solo |
| | "きみはだいじょうぶ" | Otomachi Una and Hatsune Miku | June 9, 2017 | music, lyrics, illustration, video |
| • | マンモスをそだてよう (Mammoth o Sodateyou) | Otomachi Una | June 09, 2017 | music, lyrics, PV |
| • | いえないや (Ienai ya) | Otomachi Una, Hatsune Miku | September 23, 2017 | music, lyrics, PV |
| | "∞まわる∞" | Otomachi Una and Hatsune Miku | September 23, 2017 | music, lyrics, illustration, video |
| • | カボチャになっちゃった! (Kabocha ni natchatta!) | Hatsune Miku | October 29, 2017 | music, lyrics, PV |
| • | グルグル体操 (Guruguru Taisou) | Otomachi Una | December 08, 2017 | music, lyrics, PV |
| | "\オープンワールド!!!/" | Otomachi Una and Hatsune Miku | March 9, 2018 | music, lyrics, illustration, video |
| • | ☆.。・+すきなところ+・。.☆ (☆.。・+Suki na Tokoro+・。.☆) | Otomachi Una, Hatsune Miku | March 09, 2018 | music, lyrics, PV |
| • | 極々ギラっと!1000% (Gokugoku Kira tto!) | Yumemi Nemu | April 04, 2018 | illust, video |
| | "カンデンさせちゃうぞ" | Otomachi Una | September 14, 2018 | music, lyrics, illustration, video |
| • | ろけんろ音頭 (Rokenro Ondo) | Otomachi Una, Hatsune Miku | December 30, 2018 | music, lyrics, PV |
| • | こんな毎日だってうたになる (Konna Mainichi Datte Uta ni Naru) | Otomachi Una, Hatsune Miku | December 30, 2018 | music, lyrics, PV |
| | "ロックンロール交響曲第28番『温泉』" | Otomachi Una and Hatsune Miku | May 17, 2019 | music, lyrics, illustration |
| • | ゴリラが心配だ (Gorilla ga Shinpaida) | Otomachi Una, Hatsune Miku | May 17, 2019 | music, lyrics, PV |
| • | シャーリー (Sherley) | Otomachi Una, Hatsune Miku | March 09, 2020 | music, lyrics, PV |
| • | はじまったばっかだぜ (Hajimatta Bakkadaze) | Otomachi Una, Hatsune Miku | March 09, 2020 | music, lyrics, PV |
| • | サクラワンサゲイン (SAKURA ONCE AGAIN) | Otomachi Una, Hatsune Miku | April 29, 2020 | music, lyrics, PV |
| • | 煩悩~百八ツじゃ足んない~ (Bonnou ~Hyakuyattsu ja Tannai~) | Otomachi Una, Hatsune Miku | June 05, 2020 | music, lyrics, PV |
| • | バッターボックス (Batter's Box) | Otomachi Una, Hatsune Miku | June 05, 2020 | music, lyrics, PV |
| • | めちゃくちゃデカい犬 (EXTREME HUGE DOG) | Otomachi Una, Hatsune Miku | October 09, 2020 | music, lyrics, PV |
| • | 人生はめんどくさい (Jinsei wa Mendokusai) | Otomachi Una, Hatsune Miku | October 09, 2020 | music, lyrics, PV |
| • | トリ〇クオアトリート (Tri〇k or Treat) | Otomachi Una, Hatsune Miku | October 31, 2020 | music, lyrics, PV |
| • | ぼくらはきょうもあたらしい!!! (Bokura wa Kyou mo Atarashii!!!) | Otomachi Una | December 04, 2020 | music, lyrics, PV |
| • | ちゃいろ (Chairo) | Otomachi Una, Hatsune Miku | December 11, 2020 | music, lyrics, PV |
| • | 全部まとめてしあわせになればい (Zenbu Matomete Shiawase ni Nareba Ii) | Otomachi Una, Hatsune Miku | December 11, 2020 | music, lyrics, PV |
| • | Hey bomb | Otomachi Una | December 11, 2020 | illust, video |
| • | そんでまた腹が減る (Sonde mata Haragaheru) | Otomachi Una, Hatsune Miku | July 30, 2021 | music, lyrics, PV |
| • | 夜のすきま (Yoru no Suki ma) | Otomachi Una, Hatsune Miku | July 30, 2021 | music, lyrics, PV |
| • | みみみみっく (Mimimimikku) | Hatsune Miku | August 31, 2021 | music, lyrics, PV |
Discography
[
]
Albums
[
]
Singles
[
]
| Links | Title | Featuring | Date | Roles |
| --- | --- | --- | --- | --- |
| Independent | ちがう!!! (Chigau!!!) | Hatsune Miku, Otomachi Una | November 27, 2016 | music, lyrics |
| Independent | マンモスをそだてよう (Mammoth wo Sodateyou) | Hatsune Miku, Otomachi Una | June 09, 2017 | music, lyrics |
| Independent | カボチャになっちゃった! (Kabocha ni Natchatta!) | Hatsune Miku, Otomachi Una | October 29, 2017 | music, lyrics |
| Independent | \オープンワールド!!!/ (\Open World!!!/) | Hatsune Miku, Otomachi Una | March 08, 2018 | music, lyrics |
| Independent | ゴリラが心配だ (Gorilla ga Shinpaida) | Hatsune Miku, Otomachi Una | June 19, 2019 | music, lyrics |
| Independent | "ロックンロール交響曲第28番『温泉』" | Hatsune Miku, Otomachi Una Spicy | June 19, 2019 | music, lyrics, album art |
Compilations
[
]
| Links | Title | Featuring | Date | Roles |
| --- | --- | --- | --- | --- |
| Independent | "君の魔法でいっぱい" | Hatsune Miku, Otomachi Una, flower, IA | December 29, 2017 | music, lyrics |
| Independent | "モノカラーガールスーパーノヴァ" | Hatsune Miku, Kasane Teto, GUMI, IA, Kaai Yuki, Otomachi Una, flower, Kagamine Rin, SF-A2 miki | December 29, 2017 | music, lyrics |
| EXIT TUNES | "Una-Chance! feat. 音街ウナ" | Otomachi Una, Hatsune Miku, GUMI, and Rana | October 24, 2018 | music, lyrics |
References
[
]