For other uses, see Chika (disambiguation).
Chika VOCALOID3 | Songs Albums Notable Originals
---
Chika is a Japanese VOCALOID developed and distributed by Internet Co., Ltd. in collaboration with AMG and was released in October 2014 for the VOCALOID3 engine. She is voiced by Chiaki Ito (伊藤千晃 Itou Chiaki), a Japanese model and former member of the Japanese pop band AAA.[1]
Concept
[
]
Etymology
[
]
It is unknown why the name "Chika" was chosen, but it is likely inspired by "Chiaki", the given name of her voice provider.
Appearance
[
]
Chika's design was inspired by the outfit Chiaki wore during AAA's 5th Anniversary LIVE in 2010.
History
[
]
Marketing
[
]
On November 1, 2014, a live music video called "Charming Kiss" was released. This song featured Chika singing along with her voice provider, Chiaki Ito.
Voicebanks
[
]
Chika

Chika is the first commercially released vocal to demonstrate the new style of recording technique introduced with VOCALOID4. The technique was created by Noboru Murakami and introduce more triphones to smooth out the vocal and act as a means to capture more vocal traits. The new technique resulted in more vocal traits being captured for use within the VOCALOID engine, and even though Chika can sound like past VOCALOIDs, she does not behave like them. She ends up being the divider between the older recording techniques of VOCALOID3 and newer ones that followed in VOCALOID4.
Music featuring Chika
[
]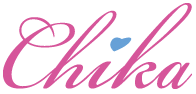 雨く、雪なく。

| | |
| --- | --- |
| Translation | Ameku, Yukinaku. |
| Featuring | Chika |
| Producers | Shivayanne |
| Categories | Original song |
いつかきっと
| | |
| --- | --- |
| Translation | Itsuka kitto |
| Featuring | Chika |
| Producers | Studio OTOJI |
| Categories | Original song |
Charming Kiss
| | |
| --- | --- |
| Translation | Charming Kiss |
| Featuring | Chika & Chiaki |
| Producers | avex |
| Categories | Original song |
| Description | A duet song between Chika and her voice provider. It's the most popular song featuring Chika with over 1,000,000 views. |
Stray Cats on the Night

| | |
| --- | --- |
| Featuring | Chika, Yuzuki Yukari (chorus) |
| Producers | HachimitsuLemonP, MOMOYO |
| Categories | Original song |
Search for music featuring Chika
[show/hide]
Reputation
[
]
Status
Google Trends
Reaction
When Chika was first released, her main problems were centered around her lack of distinction from another Internet co., Ltd VOCALOID: GUMI. Because Chika's voice shared similarities with V3 Megpoid over the same vocal range without appearing to offer anything substantial to set itself apart, she had a difficult time interesting producers. Another factor was that kokone was released in February and was based on the GUMI voice, so releasing a second GUMI-like voice in the same year resulted in some lost interest.
The other issue was that VOCALOID4's existence was leaked the same month of her release in October 2014 and later released in December. As a VOCALOID3 vocal, she lacked access to the new features such as GWL and had no additional voicebanks to take advantage of XSY, furthering her issues with GUMI comparisons. The release of the new engine saw the recording style introduced with her become a standard with many of the newer packages at the time often were offering more then her single voicebank did such as multiple voicebanks. As a result of the ill-timed release of her package, focus fell on VY1v4 and the (then) newly announced upcoming Megurine Luka V4X packages. Despite the fact overall VOCALOID4 were then same as VOCALOID3 vocals in Japanese, focus wasn't on VOCALOID3 vocals or the engine anymore.
Impact
While acknowledging that an increased amount of triphones did not necessary result in a smoother voice, it was stated that Internet Co., Ltd was working to increase the triphone amount of their VOCALOIDs. This was spoken at a VOCALOID4 conference soon after its release.[2]
While not directed at Chika herself, it was noted that her voice marked the line between the old VOCALOID3 voices and the Internet co., Ltd. voices that followed her in VOCALOID4. Chika was the first known commercialised release to use the new recording style that would be introduced in VOCALOID4. This allowed more traits to be recorded at the price of ease of use and make vocals stand out from each other. The user would notice the differences once they got to use such vocals as they would not behave the same as any other in their vocal type group.
Misc
In 2015, a survey was made based on the popularity of VOCALOIDs on the website Nico Video. For the year 2014, Chika was the 42nd most popular VOCALOID and the least popular new VOCALOID of 2014.[3]
Achievements
Has the most triphones out of all Internet Co. VOCALOID3s.
References
[
]
External links
[
]
| Language | Description | Site |
| --- | --- | --- |
| Japanese | SingerSongWriter Jp official homepage | Link |
| Japanese | VOCALOID3 Chika product page | Link |
| Japanese | AVEX (AAA) product page for VOCALOID Chika | Link |
| English | deviantArt , art and media community | Link |
| Japanese | Pixiv , art and media community | Link |
[

]