👤

Producer article work in progress.
For information on how to help, see the guidelines.  More subjects categorized here.

👤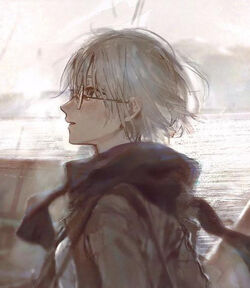 External links
[
]
Official
[
]
Unofficial
[
]
Chinozo (ちのぞー) is a VOCALOID producer who began activity in 2019. He uses Hatsune Miku, IA, and flower.
He is largely known for the hit song "Goodbye Sengen", which has earned 76 million views on YouTube as of October 2021. His other known works include "Shamer", "Arisama", and "TAMAYA".
He was born on February 25th.[1]
Works
[
]
| Links | Title | Featuring | Date | Roles |
| --- | --- | --- | --- | --- |
| • | 銀河翔女 (Ginga Shoujo) | Hatsune Miku | March 14, 2019 | music, lyrics |
| • | Over | Hatsune Miku | March 14, 2019 | music, lyrics |
| • | 感情星飛行 (Kanjouboshi Hikou) | IA | March 14, 2019 | music, lyrics |
| • | ライカーシンガーソング (Like A Singer Song) | IA | March 14, 2019 | music, lyrics |
| • | わかんないや (Wakannai ya) | Hatsune Miku | April 23, 2019 | music, lyrics |
| • | Your "RAY" | Hatsune Miku | May 10, 2019 | music, lyrics |
| • | Re:main | Hatsune Miku | June 27, 2019 | music, lyrics |
| • | 八月のデザイア (Hachigatsu no Desire) | Hatsune Miku | August 18, 2019 | music, lyrics |
| • | セラヴィ(C'est La Vie) | Hatsune Miku | September 19, 2019 | music, lyrics |
| • | ヘルヘイマ (Hellheimer) | Hatsune Miku | November 2, 2019 | music, lyrics |
| • | レナ (Rena) | Hatsune Miku | January 28, 2020 | music, lyrics |
| • | 空っぽ (Karappo) | Hatsune Miku | February 21, 2020 | music, lyrics |
| • | カナリヤラメント (Canary's Lament) | Hatsune Miku | April 1, 2020 | music, lyrics |
| | "グッバイ宣言" | flower | April 13, 2020 | music, lyrics |
| | "アリサマ" | flower | June 8, 2020 | music, lyrics |
| • | the 愚者 (the Orokamono) | Hatsune Miku | June 15, 2020 | music, lyrics |
| | "シェーマ" | flower | September 14, 2020 | music, lyrics |
| | "TAMAYA" | flower | December 11, 2020 | music, lyrics |
| • | ショットガン・ナウル (Shotgun All) | flower | July 29, 2021 | music, lyrics |
| | "ニュートンダンス" | flower, Hatsune Miku | October 16, 2021 | arrangement, mixing |
Discography
[
]
| Affiliation | Title | Featuring | Date | Roles |
| --- | --- | --- | --- | --- |
| • | レナ (Rena) | Hatsune Miku | March 1, 2020 | music, lyrics |
| Independent | "グッバイ宣言" | flower | April 24, 2020 | music, lyrics |
| Independent | "アリサマ" | flower | June 19, 2020 | music, lyrics |
| • | カナリヤラメント (Canary's Lament) | Hatsune Miku | August 21, 2020 | music, lyrics |
| Independent | "シェーマ" | flower | September 19, 2020 | music, lyrics |
| Independent | "The Deluge" | Hatsune Miku | November 15, 2020 | music, lyrics |
| Independent | "TAMAYA" | flower | December 11, 2020 | music, lyrics |
Compilations
[
]
References
[
]