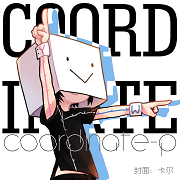 Affiliations
[
]
External links
[
]
Official
[
]
Unofficial
[
]
Coordinate-P, also known as Zuobiao-P (坐标P; Zuòbiāo-P), is a Chinese producer who made his debut in 2016. He is most known for his delicate and emotional tuning skills and in July 2017, he initially gained attention through his Xin Hua cover of "Dàhuǒ".
His most representative works are his cover of "The Love Words of the Dance with Life and Death" featuring Xin Hua and his cover of "Ripple" featuring Chiyu.
His birthday is September 27. He is an authorized user of Zhang Chuchu and Yuecheng.[1]
Works
[
]
| Links | Title | Featuring | Date | Roles |
| --- | --- | --- | --- | --- |
| | "虚空之女" | Luo Tianyi | July 22, 2018 | tuning |
| | "Misty Party" | Xingchen, Chiyu, Shian | January 3, 2020 | tuning |
| | "听力考试现在开始" | YANHE | June 15, 2019 | tuning |
| | "To B Continued" | Luo Tianyi, Xingchen, Hatsune Miku (V3 English, V4 Chinese), YANHE, Yuezheng Ling, Mo Qingxian, Yuezheng Longya, Zhiyu Moke, Xin Hua | June 28, 2019 | Xin Hua tuning |
| | "顶层世界" | Yuezheng Ling | August 30, 2019 | tuning |
| | "千年之烛" | Luo Tianyi | December 20, 2019 | tuning |
| | "七年之痒" | Luo Tianyi, Yuezheng Ling, YANHE | January 10, 2020 | special thanks |
| | "一直在一起" | Luo Tianyi V4 Meng | September 12, 2020 | special thanks |
| | "丛林法则" | Xingchen, Cangqiong, Shian | September 30, 2020 | tuning |
| | "恒星坠落之时" | Xingchen, Chiyu | July 2, 2021 | tuning |
Albums
[
]
Compilations
[
]
| Affiliation | Title | Featuring | Date | Roles |
| --- | --- | --- | --- | --- |
| Qidian Project | "华哉有夏" | Luo Tianyi, YANHE, Yuezheng Ling, Yuezheng Longya | May 16, 2018 | tuning |
| Medium⁵ | "天马行空" | Xingchen, Chiyu, Shian | August 6, 2019 | tuning |
| Medium⁵ | "森罗万象" | Xingchen, Chiyu, Haiyi | October 6, 2019 | tuning |
| Medium⁵ | "丛林法则" | Xingchen, Shian, Cangqiong | February 28, 2020 | tuning |
| Medium⁵ | "吉光片羽" | Xingchen, Chiyu, Cangqiong | June 12, 2020 | tuning |
| Medium⁵ | "海纳百川'" | Xingchen, Shian, Haiyi | December 20, 2020 | tuning |
| Beijing Photek S&T Development Co., Ltd. | "平行四界 X-1'" | Xingchen, Chiyu, Shian, Cangqiong, Haiyi, Muxin, Minus | June 4, 2021 | tuning |
References
[
]