👤

Converting producer article to a new layout. What is being worked on: Working on Discography section
For information on how to help, see the guidelines.  More subjects categorized here.

👤
🖒

This producer is retired.
Any changes should be notified to ensure that edits meet this wiki's policies and guidelines.  Discussions for the retired are here and see more subjects categorized here.

🖒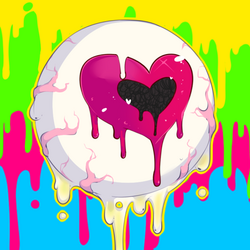 Affiliations
[
]
External links
[
]
Official
[
]
Unofficial
[
]
Creep-P (also known as "Eyeris", previously known as "Krypt Creeper") was a producer known for their electronic/pop songs with dark themes.
One of their most notable and known works was "Lavender Town Syndrome", based on the urban legend of the same name. The first version of the song made with Macne Coco Black reached 51,000 views. A version with OLIVER was posted later, however it was removed by copyright. After other versions were posted: a version with SONiKA (which reached 130,000 views) and a version in Japanese with MAYU.
Creep-P also created a few UTAU voicebanks such as: Jimmie Chews, MONBOM, Shiroai Sya and Kuroamai Syo.
As of July 17, 2020, Creep-P announced that they have retired from doing any vocal synth-related works.[1]
Works
[
]
Past Works
[
]
Main article: /2012+
Current Works
[
]
| Links | Title | Featuring | Date | Roles​ |
| --- | --- | --- | --- | --- |
| | "Don't Touch Me" | KAITO V3 | February 18, 2017 | music, lyrics |
| | "NOVOCAINE" | v4 flower | June 26, 2017 | music, mixing, PV |
| | "return?" | CYBER SONGMAN | June 29, 2017 | Cyber Songman rendering |
| | "Animalistic" | DAINA | December 31, 2017 | music, lyrics |
| • | Centipede | CYBER DIVA, DAINA, flower | September 1, 2018 | music, lyrics |
| | "Something Changed" | GUMI | December 14, 2018 | music, lyrics, tuning, video |
| | "Clown" | GUMI | August 9, 2019 | music |
| | "Not as it Seems" | Hatsune Miku English | October 4, 2019 | music |
Discography
[
]
| Affiliation | Title | Featuring | Date | Roles |
| --- | --- | --- | --- | --- |
| Independent | "The Sneaky Ones" | OLIVER, Tonio, SONiKA, MAYU | January 08, 2013 | music, lyrics, album art |
| Independent | "Biohazard" | GUMI English | February 06, 2013 | music, lyrics |
| Independent | "Heart of Gold" | KAITO English | March 24, 2013 | music, lyrics, album art |
| Independent | "The Missing Ones" | MAYU, GUMI English, KAITO V3, SONiKA, SeeU, VY1v3, galaco, VY2 | January 05, 2014 | music, lyrics |
| Independent | "The Missing Ones (Deluxe Edition)" | MAYU, Megpoid English, KAITO V3, SONiKA, SeeU, VY1v3, galaco, VY2v3, Megurine Luka | January 13, 2014 | music, lyrics |
| Independent | "Creative" | AVANNA, KAITO English | March 22, 2014 | music, lyrics |
| Independent | "Creative (Deluxe Edition)" | AVANNA, KAITO English, Tohoku Zunko | June 19, 2014 | music, lyrics |
| Independent | "Kryptic Creepers Creature Features" | YOHIOloid, Tonio, OLIVER | October 31, 2014 | music, lyrics |
| Independent | "愛" | Chika | February 13, 2015 | producer |
| VOCALOTRACKS | "愛" | Chika | February 14, 2015 | producer |
| Independent | "Cul-De-Sac" | CYBER DIVA | October 31, 2015 | music, lyrics, album art |
| Independent | "Mommy" | DAINA | December 26, 2015 | music, lyrics, album art |
| Independent | "PONY" | RUBY | January 31, 2016 | music, lyrics |
| Independent | "Cry" | GUMI | May 22, 2016 | music, lyrics |
| Independent | "TV" | RUBY, OLIVER, DEX, CYBER DIVA, ARSLOID, Chika, KAITO, DAINA, AVANNA, Rana, Kaai Yuki, YOHIOloid, flower | June 19, 2016 | music, lyrics |
| Independent | "TV (Deluxe Edition)" | RUBY, OLIVER, DEX, CYBER DIVA, ARSLOID, Chika, KAITO, DAINA, AVANNA, Rana, Kaai Yuki, YOHIOloid, flower, Kagamine Rin | June 19, 2016 | music, lyrics |
| Independent | "COTTON CANDY" | Hatsune Miku | July 24, 2016 | music, lyrics |
| Independent | "TV (Physical Edition)" | RUBY, OLIVER, DEX, CYBER DIVA, ARSLOID, Chika, KAITO, DAINA, AVANNA, Rana, Kaai Yuki, YOHIOloid, flower, GUMI | October 15, 2016 | music, lyrics |
| Independent | "Tightrope" | CYBER SONGMAN | November 23, 2016 | music, lyrics |
| Independent | "PONY" | RUBY | January 12, 2017 | music, lyrics |
| Independent | "HYPERDONTIA" | flower | January 12, 2017 | music, mixing |
| Independent | "Cry" | GUMI | January 13, 2017 | music, lyrics |
| Independent | "Exorcism" | CYBER DIVA | January 13, 2017 | music, lyrics |
| Independent | "Cry" | Kagamine Len | March 11, 2017 | music, lyrics |
| Independent | "TV (Special Edition)" | RUBY, OLIVER, DEX, CYBER DIVA, ARSLOID, Chika, KAITO, DAINA, AVANNA, Rana, Kaai Yuki, YOHIOloid, flower, Kagamine Rin, GUMI | May 22, 2017 | music, lyrics |
| Independent | "NOVOCAINE" | flower | June 26, 2017 | music, mixing |
| Independent | "Animalistic" | DAINA | December 31, 2017 | music, lyrics |
| Independent | "Centipede" | CYBER DIVA, DAINA, flower | December 14, 2018 | music, lyrics |
| Independent | "The Favorites" | CYBER DIVA, Chika, DAINA, Hatsune Miku, KAITO | October 27, 2018 | music, lyrics |
| Independent | "Something Changed" | GUMI | December 14, 2018 | music, lyrics |
| Independent | "Clown" | GUMI | August 9, 2019 | music |
| Independent | "Not as it Seems" | Hatsune Miku | October 4, 2019 | music |
Gallery
[
]
References
[
]