👤

Converting producer article to a new layout. What is being worked on: Working on song and album articles
For information on how to help, see the guidelines.  More subjects categorized here.

👤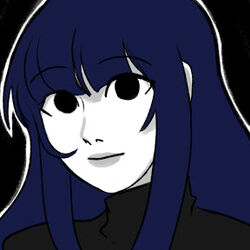 Affiliations
CIRCRUSH
NBCUniversal Music
スタジオギアナ (STUDIO GUIANA)
External links
Official
Unofficial
Cien Miller, also known as Cien M, Crusher, Omega Destroyer Dictator Crusher, and Bunny Lord, and formerly known as Crusher-P,[1] debuted in August 2010. She is an American song-writer, singer, producer, and illustrator. In the VOCALOID community, she was well-known for her horror-themed works. Her current songs are emotionally driven, thus explaining why she doesn't upload songs often.
She first gained popularity with the song "Rugrats Theory" but is most well known for the hit song "ECHO".
She is the voice provider for UTAU (turned DeepVocal) Watase Maki.
On October 22nd, 2021, Crusher revealed that she and Caja-P got married.
Works
Past Works
Main article: /2011+
Current Works
| Links | Title | Featuring | Date | Roles |
| --- | --- | --- | --- | --- |
| | "Caminar" | Hatsune Miku | April 3, 2016 | illust |
| | "Rinse, Repeat" | CYBER SONGMAN | October 30, 2016 | music, lyrics |
| | "Again" | GUMI | August 26, 2017 | music, lyrics, illust |
| | "いつまでも" | LUMi | February 23, 2018 | music, lyrics |
| | "Sleepless Nights" | GUMI and Hatsune Miku | June 25, 2018 (short ver) and March 31, 2019 (long ver) | music, lyrics ​ |
| | "Propaganda!" | Hatsune Miku V4 English | May 31, 2019 | music, lyrics, illust |
Discography
Albums
| Affiliation | Title | Featuring | Date | Roles |
| --- | --- | --- | --- | --- |
| Independent | "愛" | Chika | February 13, 2015 | illust |
| VOCALOTRACKS | "愛" | Chika | February 14, 2015 | illust |
| NBCUniversal Music | "CONCIENTIA" | GUMI, Hatsune Miku, Kaai Yuki, CYBER SONGMAN, Megurine Luka | December 20, 2017 | producer |
| Dwango User Entertainment, Inc., KARENT | "RENAISSANCE" | Hatsune Miku, Kagamine Rin, and GUMI | August 10, 2019 | compose, lyrics |
Compilations
| Affiliation | Title | Featuring | Date | Roles ​ |
| --- | --- | --- | --- | --- |
| Warner Music Group (Japan) | "Download feat. 初音ミク" | Hatsune Miku, Kagamine Rin, Kagamine Len, Megurine Luka, GUMI, Kasane Teto, MEIKO, and KAITO | December 10, 2014 | music, lyrics |
| EXIT TUNES | "EXIT TUNES PRESENTS THE BEST OF GUMI from Megpoid" | GUMI | February 4, 2015 | music, lyrics |
| EXIT TUNES | "EXIT TUNES PRESENTS Entrance Dream Music" | Hatsune Miku, Kagamine Rin, GUMI, MEIKO, MAYU, and Lily | April 15, 2015 | music, lyrics |
| Subcul-rise Record | "ベノマ" | Hatsune Miku, flower, Kaai Yuki, GUMI, Kagamine Rin | January 15, 2020 | arrangement (tenth track only) |
Gallery
References