DEX VOCALOID4 | Songs Albums Notable Originals
---
DEX is an English VOCALOID that was developed and distributed by Zero-G Limited.[1] He was released in November 2015 for the VOCALOID4 engine.
He is voiced by Sam Blakeslee (aka. Lupin), an American VOCALOID producer.
Concept
[
]
DEX and DAINA were given the theme, 'The Fox and the Hound', at the suggestion of Lupin.[2] They were intended to be counterparts that complement each other.[3] DEX was based on the Hound character of the story and has more "wolf"-like traits.[4] Lupin said that DEX and DAINA were a pair, but were not twins.[5] When asked about the aims of both DEX and DAINA, it was stated that the pair were targeted towards fans and designed to give producers the voices they needed.[6] The theme of "fox and hound" was one of many suggestions put forward, but it was the one that stayed due to a fondness among the group despite being taken lightly. The design was chosen after the team adored the primary sketches by EmissarySteel.[7]
Etymology
[
]
His original name was "Raleigh", but "Dex" was preferred due to sounding more masculine.
Appearance
[
]
DEX made his debut as a kemonomimi modelled after a wolf.[8] The choice was made to give a twist of the popular Nekomimi design seen in SeeU and Nekomura Iroha.
EmpathP remarked that they knew many would not like the designs and focused on the vocals instead.[9]
After negative reactions from distributors, DEX was also given an alternative design without the animal traits, but still retained the theme of The Fox and The Hound. This was done to appeal to non Japanese-styled art fans.[10] The alternative design featured DEX without his wolf ears and tail. The ears were replaced by black headsets with a yellow wolf on it. This version of DEX appears on the boxart.
Older concepts were revealed during a November 2015 livestream. This included DEX as a hunter instead of a kemonomimi, in case Zero-G wished to scrap the 'Fox and Hound' theme. However, Zero-G liked the designs and they were kept as alternate fantasy illustrations, complementary to AVANNA.[11] According to AkiGlancy, EmissarySteel added more detail to the hunter design than the final chosen art. The final design was cel-shaded because Zero-G preferred it.[12]
Relations
[
]
For more on VOCALOID relationships, see the FAQ.
DAINA - A complementary voicebank with feminine vocals.
Kenji Baionoto (倍音音ケンジ) - An UTAU voiced by Sam Blakeslee (aka. Lupin).
History
[
]
Marketing
[
]
DEX has been featured in VOCAMERICA since 2016 along with DAINA.
Voicebanks
[
]
DEX

A male English speaking counterpart to DAINA, sings with an American accent.
Music featuring DEX
[
]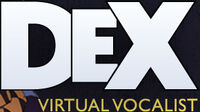 Daymare

| | |
| --- | --- |
| Featuring | DEX |
| Producers | Donut*Joy |
| Categories | Original song |
Different Seas

| | |
| --- | --- |
| Translation | Different Seas |
| Featuring | DEX |
| Producers | |
| Categories | Original song |
EAT

| | |
| --- | --- |
| Featuring | DEX |
| Producers | |
| Categories | Original song |
Search for music featuring DEX
[show/hide]
Reputation
[
]
Status
Google Trends
Sales
DEX and DAINA were put on sale within a short time of being released, noting that they were Zero-G's (then) current best selling product.[13]
Both DEX and DAINA proved to be very popular and despite their recent release, both nearly claimed the no.1 spot from AVANNA in the 2015 most popular product for Zero-G. DEX held the no.2 position. Zero-G also highlighted once again how well the pair were selling being "big news", noting their sales with the words "red hot" in red text which had never been seen before.[14]
In the 2016 yearly ranking, DEX claimed the no.2 spot, beating DAINA by two places.[15]
DEX also grabbed the 8th spot on the Sonicwire 2016 rankings out of all the VOCALOID releases sold by Sonicwire.[16]
In 2017, Zero-G added a top 10 products to the front page of their website. AVANNA, DEX and DAINA were often among the 10 top products an were often found within the 1-5 position overall.[17] At the end of the year Zero-G released its "2017 Best sellers" list, all 3 made it onto their top 20s list.[18]
Trivia
Being a werewolf, Lupin's UTAU Kenji Baionoto also had a sort of "wolf" theme, including some features that DEX himself shares.
Achievements
First male VOCALOID4 from Zero-G.
First male native English VOCALOID to be available for Mac.
One of the first Zero-G VOCALOIDs to be available for Mac.
DEX and DAINA were the first counterparts of VOCALOID4.
References
[
]
External links
[
]
| Language | Description | Site |
| --- | --- | --- |
| English | Zero-G Limited official homepage | Link |
| English | deviantArt , art and media community | Link |
| Japanese | Pixiv , art and media community | Link |
[

]