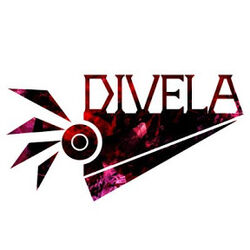 Affiliations
[
]
Osamu (voice manipulator)
External links
[
]
Official
[
]
Unofficial
[
]
DIVELA (ディヴェラ) is a Japanese music producer and arranger. Their producer name originates from the word "DIVER" (ダイバ), which can be derived to "DIVERA" (ディヴェラ), and finally DIVELA.[1]
During the early period of their career as a VOCALOID producer, they were mostly known for creating upbeat remixes of other VOCALOID titles (titled "DIVELA REMIX"). Their original songs initially achieved lower in terms of views; it was not until METEOR became the winner of the Hatsune Miku Magical Mirai 2018 Song Contest that their original works receive much more recognition.
Their notable works include METEOR and ぼかろころしあむ (Vocalo-Colliseum), both having entered the Hall of Fame.
They were born on July 28, 1997.
Works
[
]
| Links | Title | Featuring | Date | Roles |
| --- | --- | --- | --- | --- |
| • | ベークドのいず (Baked Noise) | Kagamine Rin | June 03, 2014 | music, lyrics |
| • | カラフルな雨とモノクロの記憶 (Colorful na Ame to Monochrome no Kioku) | Kagamine Rin | October 24, 2014 | music, lyrics |
| • | Dying Sun | Hatsune Miku | June 17, 2015 | music, lyrics |
| | "METEOR" | Hatsune Miku | March 28, 2018 | music, lyrics, tuning |
| • | 長葱醒魂曲 -リーク・アンチレクイエム- (Naganegi Seikon Kyoku -Leak Anti-Requiem-) | Hatsune Miku | June 12, 2018 | music, lyrics, illust |
| • | ビートシンカー (BEAT SYNCER) | Hatsune Miku | July 20, 2018 | music, lyrics |
| | "ぼかろころしあむ" | Kagamine Rin | August 5, 2018 | music, lyrics |
| • | ディザーチューン (Dither Tune) | Hatsune Miku | August 30, 2018 | music, lyrics |
| • | スターノーツ (Star Notes) | Hatsune Miku | September 23, 2018 | music, lyrics |
| • | デレレレ (Dererere) | Hatsune Miku | September 28, 2018 | music, lyrics |
| • | ミライゲイザー (Mirai Gazer) | Hatsune Miku | December 14, 2018 | music, lyrics |
| • | ビビッドヒーロー (Vivid Hero) | Hatsune Miku | February 15, 2019 | music, lyrics |
| • | トラフィックライト (Traffic Light) | Hatsune Miku | March 09, 2019 | music, lyrics |
| • | エスカトロジー (Escatology) | Hatsune Miku | March 21, 2019 | mastering |
| • | REVENGE DOLL 39 | Hatsune Miku | March 28, 2019 | music, lyrics |
| • | そこに命はありますか。(Soko ni Inochi wa Arimasu ka.) | Hatsune Miku | May 24, 2019 | music, lyrics |
| • | きみだけのよあけ (Kimi Dake no Yoake) | Hatsune Miku | August 02, 2019 | music, lyrics |
| • | ダークロムシンカー (Dark Rom Syncer) | Hatsune Miku | September 27, 2019 | music, lyrics |
| • | すすめ!さいつよ堕天使 (Susume! Saitsu yo Datenshi) | Otomachi Una | October 21, 2019 | music, lyrics |
| • | 未来最終戦争 (Mirai Saishuu Sensou) | Hatsune Miku | February 07, 2020 | music, lyrics |
| • | 追想 (Tsuisou) | Hatsune Miku, Kagamine Rin | March 21, 2020 | mixing |
| • | 救いようのない素晴らしき運命 (Sukui you no Nai Subarashiki Sadame) | Otomachi Una | May 29, 2020 | music, lyrics |
| • | エンジョイスローライフ音楽 (Enjoy Slow Life Ongaku) | Hatsune Miku | July 20, 2020 | music, lyrics |
| • | Burning!! | Hatsune Miku | July 17, 2020 | music, lyrics |
| • | 紅の約束 (Kurenai no Yakusoku) | flower, Hatsune Miku | December 12, 2020 | arrangement |
| | "天使のクローバー" | Kagamine Rin | March 30, 2021 | music |
Discography
[
]
Singles
[
]
| Affiliation | Title | Featuring | Date | Roles |
| --- | --- | --- | --- | --- |
| • | Burning! | Hatsune Miku | July 27, 2021 | music, lyrics |
Albums
[
]
| Affiliation | Title | Featuring | Date | Roles |
| --- | --- | --- | --- | --- |
| • | ミライコレクション (MIRAI COLLECTION) | Hatsune Miku | August 10, 2019 | music, lyrics |
Compilations
[
]
| Affiliation | Title | Featuring | Date | Roles |
| --- | --- | --- | --- | --- |
| KARENT | "KARENT presents 鏡音リン・レン 10th Anniversary -LODESTAR-" | Kagamine Rin & Len | December 27, 2017 | arrangement |
| KARENT | "初音ミク「マジカルミライ 2018」OFFICIAL ALBUM" | Hatsune Miku, Kagamine Rin & Len, Megurine Luka, KAITO, and MEIKO | July 25, 2018 | music, lyrics, tuning |
| • | Prhythmatic 3 | Hatsune Miku, IA | December 30, 2018 | music, lyrics |
| KARENT | "KARENT presents Snow White Record feat. 初音ミク" | Hatsune Miku | January 23, 2019 | music, lyrics |
| EXIT TUNES | "EXIT TUNES PRESENTS Vocalostream feat. 初音ミク" | Hatsune Miku, GUMI, Kagamine Rin, Kagamine Len, IA, flower, Megurine Luka, Camui Gackpo, KAITO, MEIKO, and MAYU | March 20, 2019 | music |
| • | 愛昧 (Aimai) | GUMI, IA, Hatsune Miku, Nekomura Iroha, Otomachi Una, ONE, Kasane Teto | November 17, 2019 | music, lyrics |
| Independent | "ASSAULT" | GUMI, flower, IA, ONE, Otomachi Una | December 25, 2019 | arrangement |
| • | EXIT TUNES PRESENTS Entrance Dream Music'Turbo | galaco, GUMI, Lily, Hatsune Miku, Otomachi Una, Kagamine Rin & Len, Kotonoha Akane | January 22, 2020 | music, lyrics |
| Crypton Future Media, Inc. | "「初音ミク GALAXY LIVE 2021」 OFFICIAL COMPILATION ALBUM" | Hatsune Miku | December 13, 2021 | music, lyrics |
References
[
]