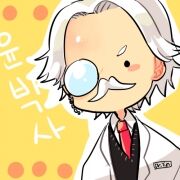 Affiliations
[
]
External links
[
]
Official
[
]
Unofficial
[
]
Dr. Yun (윤박사/尹博士; Yunbaksa) is a notable Korean producer, the founder of ST MEDiA Co., Ltd., and creator of Naver fan blog "Vocaloid Empire". He directed the SeeU and YANHE concert: The first or the last. His most notable songs are "Paparoach" and "Byeol".
He had a history of working with Chinese VOCALOIDs. For Shanghai HENIAN Information Technology Co. Ltd., he created YANHE's demo, "Mèng zhī Yǔ", and released a Chinese version of his first album with Luo Tianyi. For Shanghai Wangcheng Information Technology Co. Ltd., he made demo songs for the exclusive Chinese VOCALOID Yuecheng.
Dr. Yun headed the project creating the second Korean VOCALOID, UNI, and made her first demo song, "Boundary". He assisted with several other demo releases for her afterwards.
Works
[
]
| Links | Title | Featuring | Date | Roles |
| --- | --- | --- | --- | --- |
| | "Burn" | SeeU | January 12, 2012 | music, lyrics |
| | "From. SeeU" | SeeU | January 12, 2012 | music, lyrics |
| | "Why" | SeeU | January 12, 2012 | music, lyrics |
| | "Be My Boy" | SeeU | January 12, 2012 | music, lyrics |
| | "Diamond Venus" | SeeU | January 13, 2012 | music, lyrics |
| | "파파로치" | SeeU | April 22, 2012 | music, lyrics |
| | "시간을 멈추는 아이" | SeeU | June 23, 2012 | music, lyrics |
| | "Bullet" | SeeU | August 14, 2012 | music, lyrics |
| | "별" | SeeU | November 16, 2012 | music, lyrics |
| | "梦之雨" | YANHE | July 12, 2013 | music |
| | "舞夜序歌" | YANHE | July 25, 2013 | mastering |
| | "心之光" | YANHE | August 1, 2013 | mastering |
| | "전화받아" | SeeU | August 16, 2013 | producer |
| | "내게" | SeeU | August 27, 2013 | music, lyrics |
| | "Party! Party!" | SeeU | September 13, 2013 | producer |
| | "[Cube]" | SeeU | November 02, 2013 | producer |
| | "Pain Killer" | SeeU | November 12, 2013 | music, lyrics |
| | "세상 끝에서" | SeeU | April 8, 2014 | music, lyrics |
| | "그래 안녕" | SeeU | October 13, 2014 | music, lyrics |
| | "Boundary" | UNI | November 16, 2016 | producer |
| | "작별 카운트다운" | UNI | February 10, 2017 | assistance |
| | "Elixir" | UNI | February 20, 2017 | assistance |
| | "Looking For You" | Yuecheng | October 17, 2017 | arrange, mixing |
| | "Blind" | Yuecheng | November 9, 2017 | compose, arrange, mixing |
| | "Key To Next" | Yuecheng | December 8, 2017 | compose, arrange, mixing |
Albums
[
]
Discography
[
]
Compilations
[
]