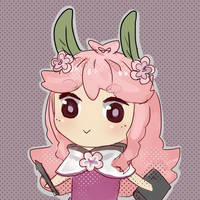 Affiliations
Edit
External links
Edit
Unofficial
Edit
Ekkoberry, also known as Echo or Ekko, is an illustrator mainly known for her collaborations with KIRA. She also occasionally makes UTAU covers under the name EchoBlossom123. Her debuts were on October 15, 2011.
Links
Title
Featuring
Date
Roles
"KANKAN☆DANCIN"
Kagamine Rin and Kagamine Len
January 1, 2016
illustration
•

The Boys

GUMI, Kagamine Rin, Hatsune Miku
January 15, 2016
illust
"SAKE★BEAT"
Kagamine Rin and Kagamine Len
March 27, 2016
illustration
"UNBREAKABLE"
RUBY
May 22, 2016
illustration
"The Day I Die"
RUBY
July 4, 2016 (album)
April 9, 2017 (PV)
illustration, PV
"Circles"
GUMI English
November 30, 2016
illust
"Burn Me Down"
GUMI
December 24, 2016
illustration
"Magical Night"
Hatsune Miku
February 23, 2017
illustration
"MONSTER"
GUMI
September 24, 2017
illustration
"B.B.F."
Hatsune Miku and Kagamine Rin
September 24, 2017
illust
"Cybernetic"
Hatsune Miku
December 20, 2017
illust
"Piece of Art"
GUMI English
December 21, 2017
illust
"Games"
GUMI & RUBY
March 1, 2018
illust, video
"Machine Gun"
GUMI
September 21, 2018
illust
"Boom Boom Boom"
GUMI and ham
January 01, 2019
illustration
Community content is available under
CC-BY-SA
unless otherwise noted.