"Ghost" redirects here. For other uses, see Ghost (disambiguation).
👤
Converting producer article to a new layout.
For information on how to help, see the guidelines.  More subjects categorized here.
👤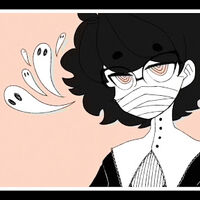 AffiliationsEdit
External linksEdit
UnofficialEdit
GHOST, also known as GHOST and Pals (formerly Marz Mitzi and Ghostie), is an illustrator, music producer and video editor whose songs utilized vocal synthesizers such as VOCALOID or CeVIO. They are known for their unique musical style.
Past WorksEdit
Main articles: /Works, 2014, /Works, 2015, and /Works, 2016
Current WorksEdit
| Links | Title | Featuring | Date | Roles |
| --- | --- | --- | --- | --- |
| | "it's dark!" | OLIVER, Fukase, Kagamine Len V4 English, Utatane Piko | January 29, 2017 | music, lyrics, illust |
| | "Two of a Kind" | Otomachi Una | February 4, 2017 | music, lyrics, pv |
| | "Don't Touch Me" | KAITO V3 English | February 18, 2017 | illust |
| | "The Distortionist" | YOHIOloid | April 9, 2017 | music, lyrics, illust, pv |
| | "Happy Days" | MAIKA | May 17, 2017 | music, lyrics, illust, pv |
| | "NOVOCAINE" | v4 flower | June 26, 2017 | music, lyics, tuning, illust |
| | "Entomologists" | Hatsune Miku | July 14, 2017 | music, lyrics, illust, pv |
| | "Appetite of a People-Pleaser" | flower | September 21, 2017 | music, lyrics, illust, pv |
| | "f*ck it" | Hatsune Miku V4X English | November 2, 2017 | music, lyrics, illust |
| | "Candle Queen" | GUMI | November 6, 2017 | music, tuning, mixing, illust, pv |
| | "Animalistic" | DAINA | December 31, 2017 | tuning |
| | "アイオライトに" | LUMi | April 25, 2018 | music, lyrics, pv |
| | "i eat eyes" | Hatsune Miku English | December 3, 2018 | music, lyrics, illust |
| | "Something Changed" | GUMI | December 14, 2018 | tuning |
| | "Those Who Carried On" | YOHIOloid and GUMI | January 11, 2019 | music, lyrics, illust |
| • | The Chattering Lack of Common Sense | GUMI and YOHIOloid | May 2, 2019 | music, lyrics, illust, pv |
| | "Honey I'm Home" | DEX | August 18, 2019 | music, lyrics, illust, pv |
| • | Entomologists | Hatsune Miku | October 31, 2019 | music, lyrics, illust, pv |
DiscographyEdit
| Affiliation | Title | Featuring | Date | Roles |
| --- | --- | --- | --- | --- |
| Independent | "The Abnormality" | AVANNA and DEX | August 4, 2016 | producer |
| Independent | "Star of the Show" | Macne Nana English | September 3, 2016 | producer |
| Independent | "Amygdala's Rag Doll" | OLIVER | October 19, 2016 | producer |
| Independent | "HYPERDONTIA" | flower | January 12, 2017 | music, lyrics, VSQx, illust |
| Independent | "Two of a Kind" | Otomachi Una | February 5, 2017 | producer |
| Independent | "The Distortionist" | YOHIOloid | April 10, 2017 | producer |
| Independent | "Happy Days" | MAIKA | May 18, 2017 | producer |
| Independent | "NOVOCAINE" | flower | June 26, 2017 | music, lyrics, tuning, illust |
| Independent | "Entomologists" | Hatsune Miku English | July 15, 2017 | producer |
| Independent | "Appetite of a People-Pleaser" | flower | September 22, 2017 | producer |
| Independent | "Candle Queen" | GUMI English | November 6, 2017 | music, mixing, VSQx, illust |
| Independent | "Thanks to You Song That I Don't Understand How People Like It I'm Forced to Listen to This S​*​*​t Everyday Cause My F​*​*​*​ing Sister Plays This Every Time Without Getting Bored of Listening to It Thanks Ghost for This Piece of S​*​*​t You Introduced Into My Life" | DAINA, DEX, GUMI, MAIKA, Macne Nana, OLIVER, Otomachi Una, YOHIOloid, flower | April 6, 2018 | producer |
| Independent | "アイオライトに" | LUMi | April 25, 2018 | producer |
| Independent | "Those Who Carried On" | YOHIOloid, GUMI | January 11, 2019 | producer |
| Independent | "The Chattering Lack of Common Sense" | YOHIOloid, GUMI | May 3, 2019 | producer |
| Independent | "Honey I'm Home" | DEX | August 18, 2019 | producer |
| Independent | "Entomologists" | Hatsune Miku V4 English | November 1, 2019 | producer |
MerchandisingEdit