Template:Lowercase Template:Navbar VoicebanksTemplate:Infobox Vocaloid
galaco (ギャラ子) is a Japanese VOCALOID developed by Internet Co., Ltd., under the YAMAHA Corporation and Stardust Music, Inc.. She was offered exclusively as a competition prize in the VOCALOID Shop, and was initially released in August 2012 for the VOCALOID3 engine. Her voice provider is Kou Sibasaki
Concept
Appearance
KEI based his design for galaco on her doll.
VOCALOID Releases
Examples of Usage
Marketing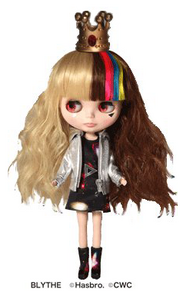 Prior to her announcement, she also had a doll made for her by BLYTHE and designed by galaxxxy.[1] The doll was only for display and not for sale, but was used in promotion.
galaco's image first appeared on T-shirts and posters in the VOCALOID Shop, however, the images of her prior to her announcement were either pixelated or appeared in silhouette form.
Clothing
A dress based on galaco's own has been produced. These outfits have been used in the dance "Galaxias!" by the popular dance group "DANCEROID"[2]
Additional information
Trivia
Due to the fact that she was only obtainable via competition, it was only possible to legally gain access to galaco by using another pre-bought VOCALOID3 voicebank, although her software itself still acted as a normal VOCALOID vocal library. She is the first case of needing a previous VOCALOID to gain access to a completely new voicebank of a new character.
Gallery
References
External links
Official :
Fandom :
Template:NavICO
VOCALOID by Voicebank gender factor
Community content is available under
CC-BY-SA
unless otherwise noted.