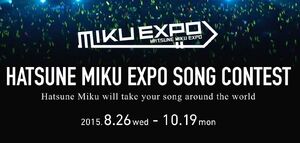 HATSUNE MIKU EXPO SONG CONTEST 2015 was the first edition of the song contest being hosted by Crypton Future Media in celebration of MIKU EXPO.
Contest Details
[
]
In celebration of MIKU EXPO, Crypton Future Media posted on the official MIKU EXPO website that a contest would be held. The contest was an original song contest that included a free 2-week trial of Hatsune Miku's V3 English bank. The contest ran from August 26 to October 19, 2015.
This is the full announcement:
""THE HATSUNE MIKU EXPO, is hosting an international songwriting competition, HATSUNE MIKU EXPO SONG CONTEST! We are looking for new original tracks sung by Miku. The song chosen to be the Grand Prize will be performed by Miku at a future HATSUNE MIKU EXPO concert!

In celebration of this contest, we will be releasing the two-week trial version of Hatsune Miku V3 English! Please use this opportunity to try out Hatsune Miku in english.

We are eagerly waiting for submissions from everyone around the world!"

"
—Official MIKU EXPO website
Submission Rules
[
]
Submissions must have vocals created in Hatsune Miku vocal software only.
Submissions must be between 3 and 5 minutes in length, in any genre.
Submissions must be original, unreleased works not tied to any publishers, independent contracts, or management groups.
Contest Rules
[
]
There are no restrictions on who can enter (participants under 18 years old must have parents' permissions).
Submission of commercial works by corporate entities is not allowed.
Submissions can be collaborative works made by a team of people, but a single representative must be chosen as a contact point.
If a copyright infringement claim is filed on any contest submission, we cannot be held liable and all responsibilites to resolve the issue will rest on the submitter.
Any works already available to the public cannot be submitted.
Please disable downloads via Soundcloud for contest submissions.
If for whatever reason any songs are submitted past the contest deadline, they will not be considered for the prizes.
Any submitted entries may be used by the contest hosts without prior notice or compensation for promotional purposes by the contest hosts.
Winners of the competition will be notified through SoundCloud message.
The Grand Prize winner submission will be rearranged by Crypton for the purpose of live performances.
The Grand Prize winner will be asked to submit 1) .wav or other lossless file format of their finished song, and 2) various data files required for live rearrangement of the song.
The rights to the Grand Prize submission will, upon selection, be transferred to Crypton Future Media. Payment for usage rights will be made.
The cities/countries where the Grand Prize entry will be performed are TBD.
This contest may undergo changes or be canceled without prior notice to its participants.
Prizes
[
]
For the grand winner:
Your song will be performed by Miku at a future Miku Expo concert!
100,000 JPY worth of products from SONICWIRE
A pair of tickets to MIKU EXPO concert where the winning entry will be performed and an opportunity to take a commemorative picture on stage with Hatsune Miku (travel expenses are not covered).
For the two runner-ups:
20,000 JPY worth of products from SONICWIRE
Winner
[
]
Winner
[
]
Runner Up
[
]
Honorable Mentions
[
]
Videos
[
]
MIKU EXPO SONG CONTEST: Apply NOW!
| | |
| --- | --- |
| Featuring | Hatsune Miku |
| Producers | HatsuneMiku (official YouTube channel) |
| Categories | Trailer |
【初音ミク】MIKU EXPO 楽曲コンテスト応募作品紹介 SONG CONTEST Roundup 9/18
| | |
| --- | --- |
| Featuring | Hatsune Miku |
| Producers | HatsuneMiku (official YouTube channel), YZYX, Fugtot Tatsuo, Ono, VerseQuence, July |
| Categories | Roundup |
【初音ミク】MIKU EXPO 楽曲コンテスト応募作品紹介 SONG CONTEST Roundup 9/28
| | |
| --- | --- |
| Featuring | Hatsune Miku |
| Producers | HatsuneMiku (official YouTube channel), AlexTrip Sands, Marshahall, Gumin, tone, ToriP |
| Categories | Roundup |
【初音ミク】MIKU EXPO 楽曲コンテスト応募作品紹介 SONG CONTEST Roundup 10/2
| | |
| --- | --- |
| Featuring | Hatsune Miku |
| Producers | HatsuneMiku (official YouTube channel), Yunosuke, Circus-P, OfJapan, Katsu, Nostraightanswer |
| Categories | Roundup |
【初音ミク】MIKU EXPO 楽曲コンテスト応募作品紹介 SONG CONTEST Roundup 10/13
Featuring

Hatsune Miku

Producers

HatsuneMiku (official YouTube channel),

CYO Style

, Yen-Mi, Shirakawa Shiro, darkbluecat, rakurui, yk!, sisouja

Categories
Roundup
【初音ミク】Ten Thousand Stars by CircusP MIKU EXPO 楽曲コンテストグランプリ【Hatsune Miku】
| | |
| --- | --- |
| Featuring | Hatsune Miku |
| Producers | HatsuneMiku (official YouTube channel), Circus-P |
| Categories | Winner |
External links
[
]