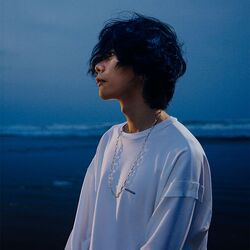 Affiliations
[
]
REISSUE RECORDS
SME Records
External links
[
]
Official
[
]
Unofficial
[
]
Kenshi Yonezu (米津 玄師 Yonezu Kenshi, born March 10, 1991[1]), also known by his producer name Hachi (ハチ), is a Tokushima-born artist, musician, singer-songwriter, and VOCALOID song producer and illustrator.
He started producing VOCALOID original songs around May 2009. Before this, he had already been producing music. The songs which he composes have a unique point of view, which is common in his songs. Similar to his musical works, his illustration style is also very characteristic, using a scribbled style, often combining abstract, surrealist, and urban elements.
In his second VOCALOID album, "OFFICIAL ORANGE", he sings an album-exclusive song, "Yuuen Shigai" (遊園市街 Urban Playground). The promotional broadcast of the song can be seen here.
On May 16, 2012, he released his third album, "diorama," moving away from VOCALOIDs by singing every song himself. He credited the album with his real name, Kenshi Yonezu, instead of his producer name, Hachi. He released three songs from the album on his Niconico account, to which they received much praise, despite not utilizing VOCALOIDs.
On July 21, 2017, he returned to the VOCALOID world by making the theme (Suna no Wakusei) for Hatsune Miku Magical Mirai 2017. After this, he went back to being a solo artist.
Works
[
]
| Links | Title | Featuring | Date | Roles |
| --- | --- | --- | --- | --- |
| • | メリー (Mary) | Hatsune Miku | July 02, 2008 | music, lyrics, illust |
| | "Persona Alice" | Hatsune Miku | June 02, 2009 | music, lyrics, composition, and arrangement |
| | "THE WORLD END UMBRELLA" | Hatsune Miku | June 25, 2009 | music, lyrics, illust, video |
| | "結ンデ開イテ羅刹ト骸" | Hatsune Miku | July 5, 2009 | music, lyrics, illustration, video |
| • | Qualia | Hatsune Miku | August 04, 2009 | music, lyrics, illust |
| | "Mrs.Pumpkinの滑稽な夢" | Hatsune Miku | October 12, 2009 | music, lyrics, illust, video |
| • | 雨降る街にて風船は悪魔と踊る (Ame Furu Machi Nite Fuusen wa Akuma to Odoru) | Hatsune Miku | October 27, 2009 | music, lyrics, illust |
| | "clock lock works" | Hatsune Miku | November 29, 2009 | music, lyrics |
| • | 恋人のランジェ (Koibito no Rangge) | Hatsune Miku | December 19, 2009 | music, lyrics, illust |
| | "WORLD'S END UMBRELLA" | Hatsune Miku | February 7, 2010 | music, lyrics |
| • | 演劇テレプシコーラ (Engeki Telepsychola) | Hatsune Miku | April 05, 2010 | music, lyrics, illust, video |
| | "沙上の夢喰い少女" | Megurine Luka | May 3, 2010 | music, lyrics |
| | "ワンダーランドと羊の歌" | Hatsune Miku | July 03, 2010 | music, lyrics |
| | "リンネ" | Hatsune Miku | July 21, 2010 | producer |
| | "マトリョシカ" | GUMI and Hatsune Miku | August 19, 2010 | music, lyrics, illustration, video |
| • | Christmas Morgue | Hatsune Miku | December 07, 2010 | music, lyrics, illust, video |
| | "パンダヒーロー" | GUMI | January 23, 2011 | music, lyrics |
| | "ドーナツホール" | GUMI | October 28, 2013 | music, lyrics, guitar, video |
| | "砂の惑星" | Hatsune Miku, Kenshi Yonezu (chorus) | July 21, 2017 | music, lyrics, arrangement |
Discography
[
]
Albums
[
]
| Affiliation | Title | Featuring | Date | Roles |
| --- | --- | --- | --- | --- |
| • | 花束と水葬 (Hanataba to Suisou) | Hatsune Miku | February 07, 2009 | music, lyrics |
| • | 南方研究所映像集001 (Nanpou Kenkyujo Eizou-shu 001) | Hatsune Miku | May 09, 2010 | music, lyrics |
| • | ワンダーランドと羊の歌 (Wonderland to Hitsuji no Uta) (album) | Hatsune Miku | July 17, 2010 | music, lyrics |
| • | OFFICIAL ORANGE | Hatsune Miku, Megurine Luka, GUMI, Hachi | November 14, 2010 | music, lyrics |
Compilations
[
]
| Affiliation | Title | Featuring | Date | Roles |
| --- | --- | --- | --- | --- |
| EXIT TUNES | "EXIT TUNES PRESENTS Vocalolegend feat. 初音ミク" | Hatsune Miku, Kagamine Rin, Kagamine Len, and Megurine Luka | January 20, 2010 | music, lyrics |
| BinaryMixx Records and Sony Music Direct | "初音ミクDVD ~impacts~" | Hatsune Miku | February 10, 2010 | music, lyrics |
| EXIT TUNES | "EXIT TUNES PRESENTS Supernova 3" | Hatsune Miku, Kagamine Len, Kagamine Rin, GUMI, Megurine Luka, and MEIKO | July 7, 2010 | music, lyrics |
| EXIT TUNES | "EXIT TUNES PRESENTS Vocaloanthems feat. 初音ミク" | Hatsune Miku, Kagamine Rin & Len, Megurine Luka, KAITO, and MEIKO | September 15, 2010 | music, lyrics |
| EXIT TUNES | "EXIT TUNES PRESENTS Vocalonexus feat. 初音ミク" | Hatsune Miku, Kagamine Rin Kagamine Len, GUMI, Camui Gackpo, Megurine Luka, KAITO, and MEIKO | January 19, 2011 | music, lyrics |
| BinaryMixx Records | "VOCALOID BEST from ニコニコ動画 (あお)" | Hatsune Miku, Kagamine Rin & Len, GUMI, Megurine Luka, and KAITO | June 22, 2011 | music, lyrics |
| EXIT TUNES | "EXIT TUNES PRESENTS Vocalonation feat. 初音ミク" | Hatsune Miku, Kagamine Len, GUMI, Megurine Luka, Kagamine Rin, Camui Gackpo, KAITO, and MEIKO | July 6, 2011 | music, lyrics |
| BinaryMixx Records and Sony Music Direct | "初音ミク 5thバースデー ベスト ~impacts~" | Hatsune Miku, Kagamine Rin & Len, GUMI, Megurine Luka, KAITO, and MEIKO | August 1, 2012 | music, lyrics |
| dmARTS | GUMI ROCK | GUMI, VY1, VY2 | September 26, 2012 | music, lyrics |
| Sony Music Direct | "初音ミク -Project DIVA- F Complete Collection" | Hatsune Miku, Kagamine Len, Kagamine Rin, Megurine Luka, KAITO, and MEIKO | March 6, 2013 | music, lyrics |
| KARENT | KARENT presents 夏空シンガソン (KARENT presents Singin' out to the Summer Sky) | Hatsune Miku | August 30, 2013 | music, lyrics |
| Dwango User Entertainment, Inc. | "VOCALOID 超BEST -impacts-" | Hatsune Miku, Kagamine Rin & Len, GUMI, Megurine Luka, IA, Camui Gackpo, KAITO, MEIKO, VY1 | October 03, 2013 | music, lyrics |
| Dwango User Entertainment, Inc. | "VOCALOID 超BEST -memories-" | Hatsune Miku, Kagamine Len, Kagamine Rin, GUMI, Megurine Luka, IA, Camui Gackpo, KAITO, MEIKO, and VY2 | October 3, 2013 | music, lyrics |
| KARENT | "初音ミク「マジカルミライ 2014」オフィシャルアルバム" | Hatsune Miku, Kagamine Len, Kagamine Rin, Megurine Luka, MEIKO, and KAITO | August 6, 2014 | music, lyrics |
| Crypton Future Media, Inc. | "HATSUNE MIKU EXPO 2014 IN INDONESIA" | Hatsune Miku, Kagamine Rin, Megurine Luka, Kagamine Len, MEIKO, KAITO | October 6, 2014 | music, lyrics |
| EXIT TUNES | "EXIT TUNES PRESENTS Vocalofantasy feat. 初音ミク" | Hatsune Miku, GUMI, Kagamine Rin, Kagamine Len, IA, Camui Gackpo, MAYU, Megurine Luka, KAITO, and MEIKO | March 4, 2015 | music, lyrics |
| Sony Music Entertainment | ""初音ミク Project DIVA X -Complete Collection-"" | Hatsune Miku, Kagamine Rin, Kagamine Len, Megurine Luka, MEIKO, KAITO | June 8, 2016 | music, lyrics |
| KARENT | "初音ミク「マジカルミライ 2017」OFFICIAL ALBUM" | Hatsune Miku, Kagamine Len, Kagamine Rin, and Megurine Luka | August 2, 2017 | music, lyrics |
| Crypton Future Media, Inc. | "「初音ミク GALAXY LIVE 2021」 OFFICIAL COMPILATION ALBUM" | Hatsune Miku | December 13, 2021 | music, lyrics |
| KARENT | "初音ミク「マジカルミライ」10th Anniversary OFFICIAL ALBUM" | Hatsune Miku, Kagamine Rin, Kagamine Len, Megurine Luka, KAITO, and MEIKO | July 20, 2022 | music, lyrics, arrange |
Gallery
[
]
References
[
]