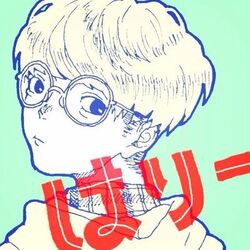 Affiliations
[
]
ROZEO EMBLEM
Evergreen Leland Studio
Kuhaku Gokko
External links
[
]
Official
[
]
Unofficial
[
]
HarryP (はりーP), also known as Tsubasa Harihara (針原翼) or simply Harry (はりー), is a VOCALOID producer from Kyoto, Japan who primarily uses Hatsune Miku. His most notable work to feature a VOCALOID is Bokura no Let-it-Be.
In parallel with his activities in the VOCALOID field, HarryP is also the vocalist and guitarist of a band named ROZEO EMBLEM. (often indicated as "Harry's band").
In 2015, he made a debut as a writer with the novel ぼくらは、そっとキスをした (Bokura wa, Sotto Kisu o Shita).
On December 2019, he formed the rock band Kuhaku Gokko (空白ごっこ) along with singer-songwriter Setsuko (セツコ) and fellow songwriter koyori.
HarryP also composes music for various singers and bands, most notably Wolpis Carter.
Works
[
]
| Links | Title | Featuring | Date | Roles |
| --- | --- | --- | --- | --- |
| • | 影とミクのワンダーストーリー (Kage to Miku no Wonder Story) | Hatsune Miku | May 28, 2011 | music, lyrics |
| • | ラビットクロノス (RABBIT×CRONUS) | Hatsune Miku | June 18, 2011 | music, lyrics |
| • | 夕焼けグレイスとオレンジドロップ (Yuuyake Grace to Orange Drop) | Hatsune Miku | June 05, 2011 | music, lyrics |
| • | ネオンのキズナ (Neon Kizuna) | Hatsune Miku | July 29, 2011 | music, lyrics |
| • | ジッパージッパー (Zipper Zipper) | Hatsune Miku | August 11, 2011 | music, lyrics |
| • | 星のティアラ (Hoshi no Tiara) | Kagamine Rin | September 24, 2011 | music, lyrics |
| • | キラと星屑 (Kira to Hoshikuzu) | Hatsune Miku | November 07, 2011 | music, lyrics |
| | "ぼくらのレットイットビー" | Hatsune Miku | February 1, 2012 | music, lyrics |
| • | 希望のうた (Kibou no Uta) | Hatsune Miku | March 10, 2012 | music, lyrics |
| | "地球の空き地" | Hatsune Miku | April 25, 2012 | music |
| • | - EARTH DAY - | Hatsune Miku | June 07, 2012 | music, lyrics |
| • | 三日月とモンスター (Mikazuki to Monster) | Hatsune Miku | July 01, 2012 | music, lyrics |
| • | HEAVEN | Hatsune Miku | August 23, 2012 | music, lyrics |
| | "東京キャスター" | Hatsune Miku | October 29, 2012 | composition |
| • | スレイプニル (sleipnir) | Hatsune Miku | December 10, 2012 | music, lyrics |
| • | 月光探検記 (Gekkou Tankenki) | Hatsune Miku | December 13, 2012 | music, lyrics |
| • | 雪の日とラブソング (Yuki no Hi to Love Song) | Hatsune Miku | February 27, 2013 | music, lyrics |
| • | ハジマリのウタ (Hajimari no Uta) | Hatsune Miku | April 16, 2013 | music, lyrics |
| • | TIME MACHINE - B.C.E. 999 - | Hatsune Miku | June 07, 2013 | music, lyrics |
| | "晴れのちメアリージェーンにて" | Hatsune Miku | August 13, 2013 | music, lyrics |
| • | NightGale | Hatsune Miku | December 03, 2014 | music, lyrics |
| | "ノンデ・パナシーア" | GUMI | December 19, 2014 | special thanks |
| | "声" | Hatsune Miku | October 28, 2015 | music |
| • | セントライト (SAINT LIGHT) | Hatsune Miku | January 28, 2016 | music, lyrics |
| • | ゼロの国 (Zero no Kuni) | Hatsune Miku | December 20, 2016 | special thanks |
| • | 晴天前夜 (Seitan Zen'ya) | Hatsune Miku | January 11, 2017 | music, lyrics |
| | "TODAY THE FUTURE" | Hatsune Miku | June 16, 2017 | lyrics, compose, arrange |
| • | before the sun | Hatsune Miku | July 20, 2017 | music, lyrics |
| | "夢よ未来へ" | Hatsune Miku | August 31, 2017 | music, lyrics |
| • | 一閃光 (Issenkou) | Hatsune Miku | December 26, 2017 | music, lyrics |
| • | アマテラス (Amaterasu) | Hatsune Miku | January 09, 2018 | music, lyrics |
| | "クロニクル" | Hatsune Miku | July 21, 2018 | music, lyrics |
| • | 泥中に咲く (Deichuu ni Saku) | Hatsune Miku | December 30, 2018 | music, lyrics |
| | "Happy!! Snow World!!" | Hatsune Miku | February 7, 2019 | music, lyrics, arrangement |
| • | 蛍 (Hotaru) | Hatsune Miku | September 07, 2019 | music, lyrics |
| • | 徒花の涙 (Adabana no Namida) | Hatsune Miku | March 25, 2020 | music, lyrics |
| • | グッドラッカーズ (Good Luckers) | Hatsune Miku | April 10, 2020 | music, lyrics |
Albums
[
]
Discography
[
]
| Affiliation | Title | Featuring | Date | Roles |
| --- | --- | --- | --- | --- |
| HARINOYAMA-SOUNDS | RESCUE OF RAINBOWS | Hatsune Miku | April 28, 2012 | music, lyrics |
| HARINOYAMA-SOUNDS | あの日見たもう一つの花の名前 (Ano Hi Mita Mou Hitotsu no Hana no Namae | Hatsune Miku, GUMI | April 28, 2012 | music, lyrics |
| HARINOYAMA-SOUNDS, MORINONAKA-STUDIO, ROZEO EMBLEM | RESCUE OF RAINBOWS | Hatsune Miku | July 08, 2012 | music, lyrics |
| ROZEO EMBLEM | 僕が最後に鳴らした音は (Boku ga Saigo ni Narashita Oto wa) | Hatsune Miku, HarryP | November 17, 2013 | music, lyrics |
| Blackout Curtain Records, KARENT | Flight Records | GUMI | December 31, 2016 | music, lyrics |
| KARENT, Troll Music | The Retrievers feat. 初音ミク〜ジブリを歌う〜 (The Retrievers feat. Hatsune Miku ~Jiburi wo Utau~ | Hatsune Miku | April 26, 2017 | music, lyrics |
| KARENT | A HUNDRED MILLION LIGHTS | Hatsune Miku | December 29, 2017 | music, lyrics |
| ELS | EVERGREEN LELAND STUDIO | Hatsune Miku | August 10, 2019 | music, lyrics |
| Kamuy Record, KARENT | The Retrievers feat.初音ミク 〜スタジオジブリの風が吹く〜 (The Retrievers feat.Hatsune Miku ~Studio Ghibli no Kaze ga Fuku~) | Hatsune Miku | August 21, 2019 | music, lyrics |
E.Ps & Split albums
[
]
| Affiliation | Title | Featuring | Date | Roles |
| --- | --- | --- | --- | --- |
| Fine Feeling | パンドラボックス (Pandora Box) | Hatsune Miku, GUMI, IA | October 28, 2012 | music, lyrics |
| ROZEO EMBLEM | waltznova ep. | Hatsune Miku, HarryP | October 28, 2012 | music, lyrics, vocal |
| Glastonbury Records, ROZEO EMBLEM | TRAVELER | Hatsune Miku, GUMI | music, lyrics | December 30, 2014 |
| Independent | OVER-THE-LIES.ep | Hatsune Miku, GUMI | October 11, 2015 | music, lyrics |
Singles
[
]
| Affiliation | Title | Featuring | Date | Roles |
| --- | --- | --- | --- | --- |
| KARENT | ぼくらのレットイットビー (Bokura no Let-it-Be) (single) | Hatsune Miku | March 29, 2012 | music, lyrics |
| Independent | 蛍 (Hotaru) | Hatsune Miku | December 31, 2016 | music, lyrics |
| ROZEO EMBLEM, KARENT | before the sun | Hatsune Miku | July 21, 2017 | music, lyrics |
| KARENT | 夢よ未来へ (Yume yo Mirai e) | Hatsune Miku | October 18, 2017 | music, lyrics |
| KARENT | TODAY THE FUTURE | Hatsune Miku | October 18, 2017 | music, lyrics |
| KARENT | TODAY THE FUTURE/夢よ未来へ | Hatsune Miku | October 18, 2017 | music, lyrics |
| KARENT | Happy!! Snow World!! | Hatsune Miku | January 15, 2020 | music, lyrics |
Compilations
[
]
| Affiliation | Title | Featuring | Date | Roles |
| --- | --- | --- | --- | --- |
| BinaryMixx Records | V Love 25~cantabile~ | Hatsune Miku, Kagamine Rin & Len, KAITO, MEIKO, Megurine Luka, IA, GUMI, Camui Gackpo | June 13, 2012 | music, lyrics |
| EXIT TUNES, PONY CANYON | EXIT TUNES PRESENTS Storytellers RPG | GUMI, Hatsune Miku, Kagamine Rin & Len, Megurine Luka | music, lyrics | November 07, 2012 |
| VOCALOID RECORDS, YAMAHA MUSIC COMMUNICATIONS, Inc. | POP★sTAR the VOCALOID | Hatsune Miku, Kagamine Rin & Len, Megurine Luka, Yuzuki Yukari, GUMI | December 19, 2012 | music, lyrics |
| TEAM Entertainment | "IA THE WORLD ~星~" | IA | April 3, 2013 | music, lyrics |
| BinaryMixx Records | TIME MACHINE (album) | Hatsune Miku, Kagamine Rin, GUMI, IA | May 29, 2013 | music, lyrics |
| ASCII Media Works | MIKU-Pack 02 Song Collection "夏服" | Hatsune Miku | June 15, 2013 | music, lyrics |
| KARENT | KARENT presents 夏空シンガソン (KARENT presents Singin' out to the Summer Sky) | Hatsune Miku | August 30, 2013 | music, lyrics |
| KARENT | KARENT presents 銀雪のアリア feat. 初音ミク (KARENT presents Shirogane Yuki no Aria feat. Hatsune Miku) | Hatsune Miku | February 05, 2014 | music, lyrics |
| KARENT | "初音ミク「マジカルミライ 2014」オフィシャルアルバム" | Hatsune Miku, Kagamine Len, Kagamine Rin, Megurine Luka, MEIKO, and KAITO | August 6, 2014 | music, lyrics |
| ROZEO EMBLEM | ENDEAVOUR | GUMI, Hatsune Miku | December 31, 2015 | music, lyrics |
| • | MIKU-Pack 17 Song Collection "Early Masterpiece Collection" | Hatsune Miku | January 15, 2016 | music, lyrics |
| EXIT TUNES | "EXIT TUNES PRESENTS Vocaloseasons feat. 初音ミク ~Spring~" | Hatsune Miku, GUMI, Kagamine Len, Kagamine Rin, IA, MAYU, Megurine Luka, MEIKO, Camui Gackpo, and KAITO | April 4, 2018 | music, lyrics |
| EXIT TUNES | 初音ミクと世界地図 (Hatsune Miku to Sekai Chizu) | Hatsune Miku | November 07, 2018 | music, lyrics |
| KARENT | "KARENT presents Snow White Record feat. 初音ミク" | Hatsune Miku | January 23, 2019 | music, lyrics |
Gallery
[
]