"Miku" redirects here. For other uses, see Miku (disambiguation).
Hatsune Miku VOCALOID2 Append English VOCALOID3 Light Vivid eVocaloid VOCALOID4 V4 English V4 Chinese | Piapro Studio | Songs Albums Notable Originals
---
Hatsune Miku (初音ミク), codenamed CV01, was the first Japanese VOCALOID to be both developed and distributed by Crypton Future Media, Inc.. She was initially released in August 2007 for the VOCALOID2 engine and was the first member of the Character Vocal Series. She was the seventh VOCALOID overall, as well as the second VOCALOID2 vocal released to be released for the engine. Her voice is provided by the Japanese voice actress Saki Fujita (藤田咲, Fujita Saki).[1][2]
There have since been numerous installments, such as additional voice libraries dubbed 'Append', as well as an upgrade for the VOCALOID3 engine, which contained an English vocal release. She received a VOCALOID4 update to her Japanese and English voicebanks in August 2016, as well as a Mandarin Chinese voicebank in September 2017.
On August 31, 2019, Miku received her first voicebank outside of VOCALOID, that being Piapro Studio with her NT release. While Crypton is focusing on their own program, they are still in collaboration with YAMAHA and will continue to sell VOCALOID products in parallel to the Piapro Studio editions.[3][4][5]
Concept
Crypton had the idea to release Miku as "an android diva in the near-future world where songs are lost."[6][7]
Etymology
The name was chosen by combining hatsu (初, "first"), ne (音, "sound"), and Miku (未来, a personal name that shares its spelling with the word for "future"). It thus means "the first sound from the future." Her name was based on her concept of that when a sound is first spoken.[8]
Her codename of "CV01" means "Character Voice 01".
Her name in Chinese is "Chūyīn Wèilái" (Simplified Chinese: 初音未来; Traditional Chinese: 初音未來).
Appearance
When KEI illustrated Miku, he was given a color scheme to work with (based on the YAMAHA synthesizers' signature blue-green colour) and was asked to draw Miku as an android. Crypton also provided KEI with Miku's detailed concepts, however, Crypton said it was not easy to explain what a "Vocaloid" was to him. KEI said he could not create an image of a "singing computer" at first, as he did not even know what a "synthesizer" was. It took him more than a month to complete the commission.[9]
Miku was originally intended to have a different hairstyle, but after trying out pigtails, KEI thought they were more suitable. Her pigtails have since become an iconic part of her design. On June 22, 2012, Hatsune Miku's twin tails even earned her the title of the Twin Tail which best represented the 2000s, marking her the best set of Twin Tails from the dawn of the 21st century. She now shares her twin tail distinction with other characters like Sailor Moon (who won best Twin Tails back in the 90s period).[10]
The digital design on Miku's skirt and boots are based on synthesizer program colours, and the bars represent actual bars within the program, following Crypton's ideas. Part of her design is based on some of YAMAHA's keyboard models, particularly the DX-100 and the DX-7.[11][12] The thin squares around her pigtails are futuristic ribbons made of a special material that floats in place. As seen in KEI's art for Miku, they are able to hold Miku's pigtails in place without having to physically touch the hair itself. The ribbons are also reported by KEI to be the hardest item on the character's design for cosplayers to recreate.
After an internet meme involving Hachune Miku, Miku was associated with a spring onion (often mistaken for a leek due to the similar appearance). This, along with KAITO's association with ice cream, started a discussion called "the Item War" within the VOCALOID fandom, where it became traditional for new VOCALOIDs to have an item assigned to them and the items were debated upon until one stuck via an Internet Meme. This occurrence has since died out.
Her VOCALOID2 Append design is often subjected to censorship. In the original design, there is a bare strip of flesh under the tie area. In many depictions, this bare strip of flesh is not shown and is covered. For example, while Max Factory models showing the uncensored version in their normal and Figma models, the Project Diva game series shy away from showing any exposure.
Relations
For more on VOCALOID relationships, see the FAQ.
History
Marketing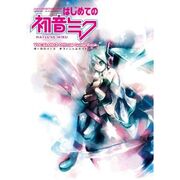 Miku's initial marketing was similar to past software synthesizers and VOCALOID voicebanks, and was standard marketing for the software at her time of release. For the most part a large proportion was centered on DTM MAGAZINE, like MEIKO and KAITO before her since the readership of the magazine had greatly influenced those two past VOCALOIDs. The only pre-planned promotion was with DTM MAGAZINES November 2007 issue - due to the inclusion of a CD with the demo of Miku on it, this particular issue sold out. When Hatsune Miku was on pre-order it was noted MEIKO and KAITO had no prospect of receiving updates and that Miku would be taking over their roles going forward.[13]
She was originally aimed only at professional producers; the amateur and Otaku market hadn't fully formed yet, and so it was not initially considered.[14][15] For a variety of reasons, Miku received unexpected commercial success. Due to Miku's popularity boom, Crypton had the chance to take advantage of early technical support for Miku and several guidebooks and magazine support were released solely focused on her vocals. This type of technical coverage was even possible long after Miku's initial release and methods of adapting her vocals are the most well documented among the VOCALOID2 era vocals.
Since the success of her voicebank led to an expansion of marketing possibilities, most of the mass marketing has come after her initial release as a response to her popularity. Even with the addition of other Character Vocals, Miku's name continues to be used as the primary source of marketing for Crypton Future Media. In March 2012, the Nomura Research Institute estimated that the sales of all "Hatsune Miku" brand goods added up into the region of ¥10,000,000,000 since her release in 2007.[16] Miku's name is now the easiest of all VOCALOIDs to market. Also owed to her popularity, many VOCALOID related products such as piano sheet music packs, books, and magazines carry her image on the front cover. Around January 28, 2013, a 3 day survey was run by Tokyo Polytechnic University. During the survey (based on ages 12–38) 95% of those entering reported knowing who Hatsune Miku was, in comparison participants barely knew who Megpoid, IA, or Aoki Lapis were.[17]
Corolla Miku, presented in 2011, wears slightly different attire compared to KEI's original design: instead of one skirt stripe and single floating ribbons, she now has two, as was intended by the client.
In 2011, Crypton began to focus on marketing Miku to U.S. audiences. On May 7, USAmazon placed a preview of Supercell's hit song, "World is Mine", as a single. When the song finally went on sale, it came 7th in the top 10 World singles list on iTunes in its first week of sales.[18] The entry was presented as "The World is Mine Feat. Hatsune Miku". Crypton had to consider who they were aiming the advertisements of Miku at (mostly the web fanbase) and had to check the differences between the Japanese and English fan communities. Since Crypton had always sold Miku as a virtual instrument in Japan, they asked their Japanese fan base if it was acceptable for them to sell her as a virtual singer to the new market audience.[19] The main purpose of the Miku English version is to allow Japanese producers to break into the West and also expand their audiences.[20]
Crypton Future Media do not approve of using Miku in politics. This is, so far, one of the biggest areas of marketing that Miku has avoided being used for.[21] However, Hatsune Miku sang the theme song for Japanese National Election candidate, Yoshikazu Tarui. Despite this, her mascot was not used; instead, a pink twin-tailed girl dubbed Android Rui replaced her.[22]
Crypton Future Media also applied for trademark on the 26th of June 2012.[23]
When the tsunami hit Japan in 2011, Miku was chosen as a character who would help represent Japan. This was because of how common her image was appearing with many younger people knowing who she was. She was already in music based textbooks and her influence on music was heavily known by the Minister for Education for Japan.[24]
The fact that products with Miku can sell out quickly makes her attractive to even slow growing industries. Products with Miku on them can even sell out in public events within 30 minutes of events opening to the public. This helps fuel marketing in even handcrafted trades, as fans are attracted to these "one of a kind" products.[25]
Starting on March 15, 2021, Crypton Future Media announced a collaboration with the "Hatsune Miku Chronicle" (初音ミク・クロニクル) art exhibition event titled "Hatsune Miku Chronicle × piapro "What If You Draw? "Hatsune Miku" Software Package Illustration Recruitment!" (もしもあなたが描いたら?「初音ミク」ソフトウェア パッケージイラスト募集!), a special recruitment for users to draw their own original character named "Hatsune Miku" while keeping the basic profile, image and color settings used for Hatsune Miku's initial artwork in 2007 with the winning illustration being made into a special software package based on the submitted work.[26] The award-winning works would be exhibited at the art exhibition "Hatsune Miku Chronicle" scheduled to be held in 2021. [27][28][29] Over the course of four months users were able to submit artwork to Piapro using the "#クロニクル_ミクif" tag.[30] Coinciding with the recruitment, Good Smile Company announced a new Nendoroid figurine based on Hatsune Miku's original concept design now known as Hatsune Miku if Ver. (初音ミク if Ver.).[31] A finalized illustration of the original design by KEI was also announced.[32] On June 29, the contest concluded and three finalists were selected.[33][34] Three awards were given: the "Best Award" was awarded to 千代[35], the "KEI Award" was awarded to 梨伊荼[36] AND the "Saki Fujita Award" was awarded to ろきの.[37] Pre-release images of the Hatsune Miku if Ver. Nendoroid were revealed on July 14th and the illustration by KEI was revealed as well as the announcement of Kagamine Rin & Len if and Megurine Luka if proposals.[38][39] The Nendoroid was placed up for pre-order starting July 15th on the official Good Smile Company store and more pre-release photos were added.[40][41]
Voicebanks
The following covers the VOCALOID software, for future releases see Piapro Studio releases.
Hatsune Miku - Original

Designed to be a cute, high pitched and young female Japanese singer, the vocal is of a non-professional vocalist and represents a voice-acted result. It has strong attack and is known for its fairly high adaptability and morphing ability. Due to its high usages among Japanese producers, the vocal was regarded as both "The VOCALOID" voicebank, as well as the "standard" vocal among VOCALOID usage, the vocal itself was meant to replace KAITO and MEIKO from VOCALOID. Miku was created to have standout vocal traits compared to MEIKO. This was also the first vocal for VOCALOID2 that was designed for VOCALOID2 itself.
Misc. versions

Her vocal was adapted to the eVocaloid chip and sold with the Pocket Miku piano.
Her vocal was also available, though restricted in "Let's sing with Miku ♪". The version of the voice is unknown. The voicebank itself was accessed via the NetVOCALOID database and was one of the few VOCALOIDs who allowed users to access the network.
Hatsune Miku - Sweet

Designed to be a sweeter sounding version of the "Original" vocal, this vocal is a voice acted result and designed to act very different from the "Original" vocal. The tone is cuter than the original and designed to make Miku sound smaller and is meant for more expressive songs.
Hatsune Miku Append (VOCALOID2), April 30, 2010
Hatsune Miku V3 (VOCALOID3), September 26, 2013
Hatsune Miku V3 (VOCALOID3, VOCALOID NEO, Piapro Studio), September 26, 2013
Hatsune Miku V4X (VOCALOID4, Piapro Studio2), August 31, 2016
Hatsune Miku - Dark

Designed to be a darker tone version of the "Original" vocal, this vocal is a voice acted result and designed to act very different from the "Original" vocal. This vocal is designed to make Miku sound moodier and is meant for more expressive songs.
Hatsune Miku Append (VOCALOID2), April 30, 2010
Hatsune Miku V3 (VOCALOID3, VOCALOID NEO, Piapro Studio), September 26, 2013
Hatsune Miku V4X (VOCALOID4, Piapro Studio2), August 31, 2016
Hatsune Miku - Soft

Designed to be a softer tone version of the "Original" vocal, this vocal is a voice acted result and designed to act very differently from the "Original" vocal. This vocal is designed to make Miku sound gentle and is meant for more expressive songs.
Hatsune Miku Append (VOCALOID2), April 30, 2010
Hatsune Miku V3 (VOCALOID3, VOCALOID NEO, Piapro Studio), September 26, 2013
Hatsune Miku V4X (VOCALOID4, Piapro Studio2), August 31, 2016
Hatsune Miku - Light

Light is a higher pitched vocal with a different tone to "original". Designed to be more operatic and angelic than the "Original" vocal with a light but the bold style of voice-acted vocal.
Hatsune Miku Append (VOCALOID2), April 30, 2010
Hatsune Miku V3 Light (VOCALOID3, Piapro Studio), September 26, 2013
Hatsune Miku - Vivid

VIVID is a high but strong pitched vocal with a different tone to "original", being lower in pitch than "Light". Designed to be more strong and powerful voice acted vocal.
Hatsune Miku Append (VOCALOID2), April 30, 2010
Hatsune Miku V3 Vivid (VOCALOID3, Piapro Studio), September 26, 2013
Hatsune Miku - Solid

Solid is a voicebank similar to "Original", but with firmer sounds and louder results and is designed for clarity.
Hatsune Miku Append (VOCALOID2), April 30, 2010
Hatsune Miku V3 (VOCALOID3, VOCALOID NEO, Piapro Studio), September 26, 2013
Hatsune Miku V4X (VOCALOID4, Piapro Studio2), August 31, 2016
Hatsune Miku - English

The English version of the Hatsune Miku vocal was also planned for Miku's original V2 vocal, though that project became Megurine Luka instead. Despite the fact this is the English version, it does not always match the tone of the "Original" voicebank. Results have varied per release due to improvements between versions with consequential versions being very different in tone and pronunciation.
Hatsune Miku - Chinese

The Chinese version of the Hatsune Miku vocal. Despite the fact this is the Chinese version, it does not always match the tone of the "Original" voicebank.
Hatsune Miku - Falsetto

A known vocal experimental voicebank related to Miku that has never been released.[42]
Music featuring Hatsune Miku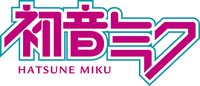 ニュース39
Translation
ニュース39 (News 39)
Featuring

Hatsune Miku

Producers

Mitchie M

(music, lyrics), TOHRU MiTSUHASHi (video), cort (MMD), nana/sevencolors (illust)

Categories
Original song
Tears
Featuring

Hatsune Miku

Producers

Tiara

(lyrics, music, arrangement, vocal), 真理歪&真理恵 (illust and movies)

Categories
Original song
未来的低音
| | |
| --- | --- |
| Translation | 未来的低音 (Wèilái de Dīyīn) |
| Featuring | Hatsune Miku |
| Producers | Yukinsnow (music), Yujiang (lyrics), Xidousha (video) |
| Categories | Original song |
天使だと思っていたのに
Search for music featuring Hatsune Miku
[show/hide]
Reputation
Status
Google Trends
Sales
The initial sales of Hatsune Miku were so high that Crypton could not keep up with the demand. In the first 12 days of sale, nearly 3,000 sales reservations were made. This was around one sale in 250 in the music software industry, quoted as "an impossible number" by Wataru Sasaki — the person in charge of the planning and production. Amazon.co.jp stated on September 12, 2007 that they had sales of Hatsune Miku totaling 57,500,001 yen, making her the number one selling software at that time.[43] It was confirmed in her first year alone, Miku sold 40,000+ units, on an average of 300 units per week.[44] Later reports came that she had sold 60,000+ copies of her software. To add perspective, normally selling 1,000 copies of a synthesizing software was considered good business.[45]
Miku's Append was not as well received as her original voicebank, though it managed to stay in the top ten products from Crypton Future Media. However, it disappeared from the list entirely from time to time. Despite this, it has been known to have reached the top 3 products on occasion, as well as to knock other CV vocals further down the charts.[46] Miku was ranked as the no.1 VOCALOID™ product they sold, and despite drifting between ranks on their product list, her Append managed to grab 2nd place.[47][dead link]
Hatsune Miku V3 English was reported as the top selling "Virtual Instrument" on Big Fish Audio's blog in August 2013.[48] In September, it came in 2nd place and went back up to 1st in October.[49][50] The English package continued throughout 2014 to remain in the 10 10 products, though drifted in ranks each month. For example, in August 2014 it was in 10th place, the following month it went up to 6th place.[51][52] In addition it also appeared in its top 10 products in 2015, even after the release of Megurine Luka V4X
Hatsune Miku V3 was reported to have over saturated Yamaha's servers with requests for activation upon release.[53] In October 2013, Hatsune Miku V3 and its bundle package disrupted the Crypton Future Media product charts, taking both the 1st and 2nd place spots between them. Other Vocaloid products sold by Cryton Future Media ended up being misplaced from their normal ranking spots. This was the first time the Vocaloid products had been impacted drastically since their charts began.[54]
On October 15th, Wat reported that there were 10,000+ orders of the Hatsune Miku V3 package on backlog.[55]
For most of 2014, Hatsune Miku's V3 and Hatsune Miku V3 complete packages held the 1st and 2nd spot of the product rankings. Even after the release of MEIKO V3, the two packages soon retook their positions and MEIKO V3 managed to only hold the top spot for a month and a half.
In both 2014 and 2015, a number of Miku products took the top 10 sales rankings of Vocaloid packages sold on Crypton's Sonicwire download store. In 2014, the Hatsune Miku English package held 7th place, while the Hatsune Miku V3 package held 2nd and the English bundle version 1st.[56] In 2015, Hatsune Miku V3 "Light" held the 10th position, the English vocal 8th, the Hatsune Miku V3 English bundle held 3rd and the Hastune Miku V3 package itself held 2nd position.[56]
However, not everything produced for Miku is highly successful. Aside from the original Hatsune Miku tone of voice, her "Dark" tone voicebank, Miku's vocals have had far less popularity with "Vivid" and "Light" being later dropped in her V4x release altogether. The voice itself had become become a "standard" vocal for the engine by her V4x release, with Miku becoming "The Vocaloid".[57] The total sales of Hatsune Miku V4X for the bundled version with Hatsune Miku V4 English and Megurine Luka V4X in 2019 was x2.5. The bundle claimed 1st place while Megurine Luka V3X held 3rd place.[58]
Reaction
Before Miku was released, VOCALOID™ was not much more than an obscure program. Nico Nico Douga played a fundamental role in the recognition and popularity of the software today. Soon after its release, users of Nico Nico Douga started posting videos with songs created using the software. According to Crypton, a popular video with a comically-altered Miku holding a spring/Welsh onion, singing Ievan Polkka, presented multifarious possibilities of using the software in multimedia content creation. Miku gained her first 1,000,000+ song on 15th October 2007 with the song みくみくにしてあげる♪ (Miku Miku ni Shite Ageru♪), in addition it also became the first Vocaloid song to reach 1,000,000 views. It achieved 1,000,000+ views in less than 26 days.[59]
Miku has remained the fan favorite among the Japanese fandom, having the strongest following and usage even after the release of much better VOCALOID2 vocals. Her popularity was so high that when GazettE's Aoi made a negative comment about her through twitter, he was immediately met with outraged fans and was forced to retract some of his statements after trying out the software for himself.[60] Indeed, most of the more popular songs of VOCALOID are sung by Miku, having more hit songs on Nico Nico Douga than any other VOCALOID.
It was stated in 2013, that videos tagged with Miku's name reached between 1,000 and 1,500 videos each month. This was by far the most videos of any Vocaloid on Nico nico Douga.[61]
According to google trends, Miku has had a fairly stable popularity since April 2008. While interest in her under the name of "初音ミク" has fallen dramatically, increase of her as "Hatsune Miku" has risen, likely due to the increase interest overseas. Oddly, despite the reported amount of registrations for Miku in the month of her release, Miku has lost much of her stable popularity using the name "初音ミク".
Despite her popularity as a Vocaloid, both Hatsune Miku and Vocaloid itself were both reportedly struggling to make an impact on the west by December 2015. Though SEGA had imported games like Project Diva X into the west, the target audience was still considered a "niche audience".[62]
One area Miku struggled in to maintain her reputation was the initial release of her Append. Some complaints stated it "no longer sounded like Miku was the one singing" for a few voicebanks. There was a divided opinion on the Appends at the time of their release, with some producers refusing to ourchase it and fans boycotting songs with usage of the vocals. Videos also did not always label "Append" for much the same reasons. This was a minor setback that did not last long, as the number of VOCALOIDs with multiple voicebanks grew greatly in VOCALOID3. By VOCALOID4 it was common for multi-voicebank releases to see sales due to the introduction of XSY. In addition, the updated Miku Append vocals were included with the main vocals of Hatsune Miku V3, and Hatsune Miku V4X with the exceptions of "Light" and "Vivid".
There is no doubt that Miku overall is the most popular of the Crypton Future Media VOCALOIDs, as the gap between her popularity and all other VOCALOIDS is much too big currently and has been since 2008.
In 2017, she was reported as the most popular cosplay character, while the song "Miku" also made it into the book for most viewed original Chiptune song on YouTube, putting her in the Guinness World Records twice.[63]
However, reactions towards her have not always been good.
Her strong association with VOCALOID has lead to the view she must be included in all things related to VOCALOID. This view itself has led to criticism. For example, critics at the VOCALOID:AI performance made notes towards and against Hatsune Miku. For a brief moment she appeared on screen during explanation on the technology. The criticism was related to the fact she had nothing to do with the VOCALOID technology demo. This was a performance was in regards to a beloved real-life singer, Hibari Misora, and that Miku was a fictitious singer fans did not come to see and did not like. The general criticism was fans were there for Hibari Misora's render of voice and image. Miku's inclusion felt out of place and included for the sake of inclusion because VOCALOID was mentioned.[64]
Criticisms towards Miku have been known to be met with harsh fan reactions, especially in Japan. GazettE's Aoi stirred up a debate in 2010 about the legitimacy of Hatsune Miku and Vocaloid music in general. He went onto explain it was crazy to think people thought of machines being equal to actual singers. This caused a backlash from VOCALOID fans. Despite deleting the tweet wherein he criticized VOCALOID and Hatsune Miku, he was told it was too late, for fans would react. He noted that he considered the synthesizers as no different to that of a Drum kit sample set, he defended his previous tweet by noting people will have different expressions toward it.[65]
Impact
Hatsune Miku's popularity had a major impact on the development of other Crypton Future Media voicebanks. Due to the huge market for her voicebank and character image, Crypton have sometimes been overwhelmed by demand. This caused delays to other VOCALOID2 projects, including the release of an additional character, CV04. How much impact her popularity has had on other VOCALOID™ voicebanks is unknown, but Crypton Future Media has many delayed voicebanks that were originally set for a VOCALOID2 release.
Project If... was largely impacted also by Hatsune Miku's popularity, even in the early planning stages. Wat also felt this was a nightmare and that the relationship between Vocaloid and humans had gone wrong.[66][67][68]
Her design has also influenced the VOCALOID™ mascot designs of other companies, creating common design influence that divides fans opinions on character design. Her design has also spawned many producer based derivatives. She is the most common VOCALOID™ vocal to receive derivatives due to the popularity of her voicebank and heavy promotions by Crypton Future Media.
Because of Miku's success, Crypton Future Media were able to open up services to allow more support for their VOCALOIDs, including websites such as Piapro and KARENT, concerts and merchandise. By 2009, some were referring to her as VOCALOID™'s first "Diva". In 2010, Crypton Future Media produced a ranking of the VOCALOIDs they sold on their website; since then, Miku has consistently led or been close to leading.
In 2014, an increase of 19.2% on the sale of Vocaloid related goods (equal to ¥8,700,000,000 or $73,800,000) was mostly credited to Hatsune Miku V3's release.[69]
Misc
In 2012, a poll was held for the London Olympic Games 2012 which asked people which singer or group they would like to see at the Olympics. Miku reached the no.1 spot, beating famous singers such as Lady Gaga and Justin Bieber. The poll was not official and was done for popularity reasons.[70]
An independent search on Nico Nico Douga revealed that most VOCALOIDs had less than 1,000 videos uploaded on Nico Nico Douga between July 1 and December 15, 2011. Miku, however, had managed to gain 9,904 uploads to the site during this period, making her number one in video submissions for VOCALOID related videos. She also had the highest number of total views during this period with 23,847,081 views and 1,943,303 mylists. However, Miku was put in 3rd place on average number of views per video with 2407.82 views per video (and 196.21 mylists). However, a comment led by the report noted that due to the popularity of the most famous producers it was much harder to assess. When the mean number was conducted, which was a more accurate report of the VOCALOIDs during this period, Miku did not make it into the top 6 VOCALOIDs despite having consistent no.1s throughout this period.[71]
In 2014 a poll was run to find the top things that made people think of "Cool Japan", 1000 people took part in the vote. In the poll, Miku came 8th, gaining 35.8% of all votes (total 358 voters).[72]
A poll released in 2015 showed that Miku was the most popular Vocaloid in 2014 on Nico Video, maintaining a popularity between 3 and 4 times greater than her closest rival, GUMI.[73]
Trivia
Because she is the first VOCALOID many got to know and the first to draw a large amount of attention, there are a number of common misconceptions about her:

Miku is often mistaken as the very first VOCALOID produced by those new or unfamiliar with the software's history, or the first VOCALOID2 released.

While she was the first VOCALOID2 to be released for the Japanese market, it was PowerFX's Sweet ANN who claimed the place as the first VOCALOID2, released 2 months prior to Miku.
When Miku became more well-known in 2010, the media also followed this misconception. On more than one occasion Crypton Future Media have labelled her as the first, though this is likely an error as they usually introduce her as "the first of the character vocal series".
However, Miku was the first VOCALOID developed specifically for VOCALOID2 as Sweet ANN, codenamed "JODIE" was originally developed for the VOCALOID engine, not VOCALOID2.

Since 2010, Miku has won the classification of "Virtual Diva" and has become a pop star in her own right. However, some reports mislabel her as "the first virtual star" when other "virtual stars" have been released prior to her existence as early as the mid-1990s, although these "stars" never rose to the level of popularity Miku has reached.[74] An example of a group of virtual singers from 2002 would be the VBirds.
Miku is also not the first VOCALOID to debut in America, as Zero-G's VOCALOIDs were already on sale prior to her arrival. However, all previous VOCALOIDs failed to make an impact in the USA.
Miku is also not the first VOCALOID2 to have an avatar; the first was Sweet ANN, who was based on a "Bride of Frankenstein" theme. However, Miku was the first to have a profile that expanded on the concept of an avatar. LEON and LOLA did not feature a character on their boxart, MIRIAM had a blurred photo of Miriam Stockley, and though KAITO and MEIKO had characters on their boxart, they were not originally meant to represent their vocals.
She was also not the first to feature in a concert; MIRIAM was the first, in 2004. However, Miku was the first to actually be featured "live" in the concert whereas MIRIAM's concert featured just her vocal.
It is also very common to see her listed as the "3rd Crypton Future Media" Vocaloid. However, like the previous examples this is also an error. She was their first Vocaloid, with many not realizing MEIKO and KAITO were produced by Yamaha and merely sold by Crypton Future Media.

Sound Horizon, a popular band that uses music to tell stories, used Hatsune Miku in their third single "Ido e Itaru Mori e Itaru Ido" and its corresponding album, "Marchen". Saki Fujita, Miku's voice actor, also does narrations.
With a total of 15 voicebanks released, Miku has the second highest number of vocals developed for the VOCALOID™ engine, first being GUMI.
Achievements
First Japanese VOCALOID2 to be released
First of Crypton Future Media's Character Vocal series
First specialized vocal of VOCALOID2
First VOCALOID to have a "true" avatar given
First VOCALOID to have a bio
Highest amount of pre-orders of a software synthesizer
Holds the highest sales figures of all VOCALOIDs
First VOCALOID to earn the status of "Diva"
Most awarded VOCALOID software released
First VOCALOID to receive an Append
Most common/popular VOCALOID
Most songs created to date
Most merchandise to date
First VOCALOID to have a videogame
First VOCALOID to be on stage
One of 3 voicebanks used by the robot HRP-4C
First to have a song with a million views
First and only VOCALOID2 by Crypton to be upgraded to VOCALOID3
First Chinese vocal from Crypton Future Media
First non-native Chinese VOCALOID
First Japanese VOCALOID to have a Chinese voicebank
First Trilingual VOCALOID (Japanese, English, Chinese)
References
External links
| Language | Description | Site |
| --- | --- | --- |
| Japanese | Crypton Future Media Inc. official homepage | Link |
| Japanese | VOCALOID2 Hatsune Miku product page for CV01 | Link |
| Japanese | Miku Append product page for CV01a | Link |
| English | Hatsune Miku V3 English product page for MV3e [dead link] | Link |
| Japanese | Hatsune Miku V3 product page for MV3 | Link |
| Japanese | Hatsune Miku V3 product page for MV3 Bundle | Link |
| Japanese | Hatsune Miku V4 product page for MV4X | Link |
| Japanese | Hatsune Miku V4 English product page for MV4e | Link |
| Japanese | Hatsune Miku V4 product page for MV4X Bundle | Link |
| Japanese | Hatsune Miku V4 Chinese product page for MV4c | Link |
| Japanese/English | Hatsune Miku The official Facebook page for VOCALOID Hatsune Miku | Link |
| Global | HatsuneMiku The official YouTube channel for VOCALOID Hatsune Miku | Link |
| English | deviantArt , art and media community | Link |
| Japanese | Pixiv , art and media community | Link |
| Japanese | Piapro , art and media community | Link |