!

This marketing article is for Hatsune Miku,
Additions to this page must pertain to the subject. For information on how to help, see the guidelines.  More subjects categorized here.

!
To see the marketing of their other VOCALOIDs, go to this page.
MERCHANDISE
[
]
General
[
]
Crypton Future Media VOCALOIDs have appeared in 2013 calendars.[1][2] And a manicure set which feature varnish corresponding to the character's color.[3]
Apparel
[
]
She has appeared on T-shirt designs, often to promote Miku herself or particular albums by Producers.
In 2011, Piapro held a contest with members to design Goth Lolita clothing for VOCALOIDs, the designs were produced by the company Putumayo. Amongst the winners were designs based on Miku's own attire.[4]
An official cosplay outfit has been produced.[5]
A Miku motif hat with mittens is currently available for pre-order. A bear face is at the back. It is produced by AmiAmi.[6]
ACOS have also produced an official cosplay outfit and wig.[7]
In December 2012, Miku items also appeared in the "earth music & ecology Japan Label".[8]
In October 2013, headphones resembling Miku's own headphones (minus logos) appeared also for sale. These were the first headphones to be produced for commercial sale to be accurately recreated from the vocaloid2 images.[9]
In 2014, official wigs for Miku and her fellow Crypton Vocaloids were shown for sale.[10]
In 2021, Bershka released a few Miku collab items including a sweatshirt, trousers & a loose T-shirt (illustrator: iXima).
Licensed apparel
[
]
PowerPuff Girls:
A special Hatsune Miku merchandise was in partnership with The Powerpuff Girls of Cartoon Network. Possibly the line was created for the 10 years of Powerpuff Girls!
And soon after the merchandise came back to celebrate the 15 years of Powerpuff Girls! [11]
Hello Kitty: Hatsune Miku and other Crypton Future Media VOCALOIDs have also featured in merchandise as part of a Sanrio + Hello Kitty crossover.[12]
Publications
[
]
A manga called Maker Hikoushiki Hatsune Mix began serialization in the Japanese manga magazine Comic Rush on November 26, 2007, published by Jive. The manga is drawn by KEI, the original character designer for Miku. A second manga called "Hachune Miku no Nichijō Roipara!" drawn by Ontama began serialization in the manga magazine Comp Ace on December 26, 2007, published by Kadokawa Shoten. Miku sometimes wears glasses in the manga, and Rin and Len call her "onee-chan" (big sister). A yonkoma webcomic made by artist Minami called Chibi Miku-san can be found on his webpage, as well as on third party sites.[13][14]
Figurines
[
]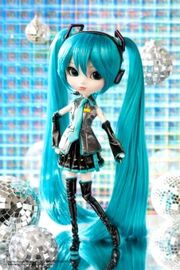 Miku's popularity has led to numerous figurines based on her image. Many are inspired by PVs made by fans and Vocaloid users.
For Miku's Append, a standard figurine was produced, as well as both Figma and Nendoroid figurines.
A special version of Miku "Snow Miku" has also seen a number of figurines. This started out as a special seasonal Nendoroid but has since been updated to add joints and become a Pullip doll alongside Kagamine Rin and Kagamine Len. After the Earthquake in Japan in 2011, both a figure and Nendoroid "support" version of Miku were made with donations going to the Japanese Red Cross for every sale. Due to the popularity of the Lucky Star Kagami cosplay scene in the OVA, both a Nendoroid and a figma version of the character dressed as Hatsune Miku were produced. A figurine from the "Soul of Chogokin" series of figurines made by Bandai were also produced as a special release. As a cross over, a figurine of Miku based on Fei-Yen from "Cyber Troopers Virtual-On: Operation Moongate" a game made by SEGA, was also released. The release was because SEGA owned the rights to produce games based on the Crypton Future Media VOCALOIDs and had also previously produced other models based on Miku as part of promotions for the game "Project Diva".
Many of the figurines have been made based on the Crypton fanbase input, such as both a standard and DX "Love is War" figurines being released in 2011. Other releases include VN02, a figurine based on the MMD "Lat" model and "The World is Mine," to name but a few examples.
She also had a Tony Taka model. A note about this particular model is that it can be stripped down until Miku was in just her underwear as her clothes were layered; these could also be removed to leave her as a makaizou model, but this will damage the model in the process.[15]
The Good Smile racing company have also produced figurines every year since 2009. These have been special releases not set for overseas shipping and can only be bought with a season ticket. She also had a couple of figurines amongst the Prize Fair figurines in September 2011.[16] She also has had several resin kits made for her. In December 2010, Brindle made two such kits. During the Winter Wonderfest 2011, a White Miku figurine was produced by Polygonia. In the Summer Wonderfest 2011, Replyfrom made a non-scale resin kit for Miku and Polygonia made a 1/7 scale model.[17][18] Honeycomb also produced an Append Miku figurine at the 2011 Winter event earlier that year and the model was tweaked and reissued for the summer event.[19][20] During the May 2011 Treasure-Festa, an Append non-scale kit was produced by Ambivalent.[21]
Snow Miku 2013 version will be sold at Sapporo during the Snow Miku event. This figure will also be sold as Hokkaido Figure Miyage, a special capsule toy, from February 2013. Snow Miku trains will also run in Sapporo from December 17, 2012 to March 17, 2013. Toy models of the Snow Miku Trains from both 2012 and 2013 will be sold at the Snow Miku event in March 2013.[22]
Unfortunately, her popularity has led to a number of bootleg goods being produced, particularly towards Nendoroid and Figma models.
She also had a Nanoblock puzzle made out of her image.[23]
Precious Memories
[
]
The Japanese trading card game Precious Memories (PreMemo) will release a Hatsune Miku starter and booster pack on March 9, 2013. Rin, Len, Luka, KAITO and MEIKO are also a part of this.[24]
---
SOFTWARE
[
]
Mobile Apps
[
]
LincEnglish
[
]
LincEnglish is currently collaborating to make use of Megurine Luka and Hatsune Miku's English voicebanks to teach Japanese kids "English". The lessons are "coming [sic] soon" according to the advertisement.[25]
LINE
[
]
There are official stickers distributed through LINE Stickers, featuring Crypton VOCALOIDs. The stickers are in a set named "Hatsune Miku: All Together". Despite all Crypton VOCALOIDs having LINE stickers, Miku has the most. A LINE sticker set has been made based off the SNOW MIKU outfits and a "Hatsune Miku: All Vocaloids" sticker set.
General applications
[
]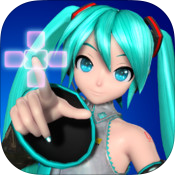 Miku Flick is a spin off to the Project DIVA series and was released in Japan on March 9, 2012, and internationally on April 12, 2012. It is available for the iPhone, iPad and iPod Touch. Only Miku is featured in this game. Miku Flick/02 is the sequel to the aforementioned game. It was released internationally on August 10, 2012. Unlike the previous however, all the other Crypton VOCALOIDs are featured in this game. Downloadable song packs (DLC) are released regularly, though these must be purchased.
Hatsune Miku Live Stage Producer is a mobile game developed by SEGA. It is the first game to be developed for Android devices and was released in Japan on November 8, 2012. The game became available on iOS in Japan on December 6, 2012. An English version has been promised by SEGA, yet no date has been given as of this time.
A app called Miku Labo was also released, this was a battery widget for the Andriod.[26]
Music Girl is an iPhone app made by the same team who made Project DIVA. It was released in July 2012 in Japan and the models seen in the video advertisement are made by Marza who had organized the MikuPa concerts.[27][28]
She also appears in the app "AR Vocaloid Walk", a Augmented Reality app. Several other Vocaloids, UTAU and Derivative characters also appear in the app.[29]
Miku Miku Hockey is a AR program. It is sold by Sony for the PS Vita and allows you to play table hockey with Hatsune Miku.[30]
Miku Miku Hockey 2.0, like its predecessor is a AR program. This version has a different icon which the AR software reacts to and has some additions such as the Snow Miku 2014 attire.[31][32]
SNOW MIKU AhR is a AR app based on the Snow Miku 2014 design.[33][34]
Hatsune Miku AR LIVE is another AR app. This reactions to a card with Miku's eye printed on it. This app if powerful enough, that if the user has a hand-drawn version of the card made in freehand, it may register it if everything is approx the same as the original card.[35][36]
Video Games
[
]
初音ミク -Project DIVA- Series
[
]
The Hatsune Miku -Project DIVA- franchise is a series of musical video games by SEGA starring Hatsune Miku as the main protagonist. The premise of the gameplay is rhythm action and players need to press a certain sequence of buttons to keep in play. The series portrays Miku as a school girl (which interestingly, is what her design was based on) who attempts to become the greatest singer in the world. Miku (along with her fellow Crypton Vocaloids) has since become an official and copyrighted SEGA character, as well as one of SEGA's major mascots.
Hatsune Miku -Project DIVA- is the first rhythm game to feature the VOCALOID Hatsune Miku. It was released on July 2, 2009, for the PSP (PlayStation Portable). It features modules of the other Crypton VOCALOIDs, though only the Kagamine vocals are in the game besides Miku. A PlayStation 3 expansion with graphical updates called Hatsune Miku -Project DIVA- Dreamy Theater was released on June 24, 2010.
Hatsune Miku -Project DIVA- 2nd is the direct sequel to -Project DIVA-. It was released on July 29, 2010, for the PSP. It gives more attention to the other Crypton VOCALOIDs, given them all at least one solo song. -Project DIVA- 2nd received it's Dreamy Theater expansion on August 4, 2011.
Hatsune Miku -Project DIVA- extend is an expansion to the previous game, -Project DIVA- 2nd. It was released on November 10, 2011, for the PSP. Like previous Project DIVA games, extend was given a Dreamy Theater upgrade on September 13, 2012 with the support of stereoscopic 3D for the first time in the series.
Hatsune Miku -Project DIVA- f is the fifth game in the series. It was released on August 30, 2012, and is the first game for the PlayStation Vita. Hatsune Miku -Project DIVA- F was released for the PlayStation 3 on March 7, 2013. Other than getting a slight graphical enhancement, the game also came have 6 new songs plus matching modules. These additions became DLC for -Project DIVA- f, and was the first game in the series to be released in the west. A direct sequel, Hatsune Miku -Project DIVA- F2nd was released in March 2014, also for the PS Vita and PS3 and was also given a Western release in November 2014.
Hatsune Miku -Project DIVA- Arcade is the Arcade version of the Project DIVA series. It was released in January 2010, for arcade machines. It is the only Project DIVA game to be released in countries outside Japan. Most of the songs are from other already released games and the song / module list is updated monthly. A sequel title Hatsune Miku -Project DIVA- Arcade Future Tone was released in November 2013.
Project mirai Series
[
]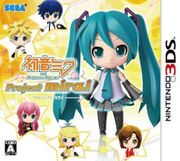 Hatsune Miku and Future Stars Project mirai (often shortened to just Project mirai) is the first VOCALOID game for the Nintendo 3DS and was released on March 8, 2012. It is also the first game to feature a non-Crypton VOCALOID. Hatsune Miku Project mirai 2 is the sequel to Project mirai. It was released on November 28, 2013, for the Nintendo 3DS with both a regular and limited edition. Project mirai 2 features a greater number of songs and costumes than the first. mirai 2 will be see Western release in early 2015 with the title mirai DX.
Unofficial Games
[
]
Mirai no Kimi to, Subete no Uta ni is a visual novel game released on December 31, 2007, and became downloadable on April 4, 2008. Rin ga Utau, Mirai no Neiro, the sequel, has a Miku side which picks up where the previous game left off. It was released on September 16, 2008, and became downloadable on April 4, 2008.
HARDWARE
[
]
Android Tablet
[
]
A Hatsune Miku Android tablet has been designed.[37]
i-Pad mini cover
[
]
Miku has had a i-Pad mini cover designed based on her.[38]
Korg Keyboard
[
]
A Hatsune Miku themed Korg keyboard was released by FamilyMart in 2014.[39]
Smartphone
[
]
It would appear that a fan is going to create the first ever Miku cell phone with Samsung. Not much else is known other than the fact that the fan's name is "Autumn-P".
A smartphone was produced for her, upon its release the phone produced by Xperia was expected to reach 30,000 units of sales.[40]
SONY
[
]
Sony Walkman;NW-S764
[
]
A limited edition of the Sony Walkman NW-S764 has been produced in association with Miku's 5th birthday.[41]
PlayStation Vita Limited Edition
[
]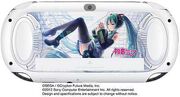 A limited edition Hatsune Miku PlayStation Vita handheld was revealed in May 2012 in association with SEGA and Crypton Future Media. The limited edition was made as part of promotions for the next Project Diva game.[42]
---
CAMPAIGNS
[
]
Events
[
]
Toyota Corolla ad and Toyota Big Air
[
]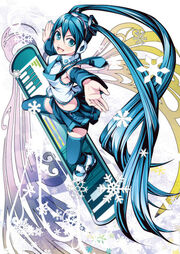 For the 2012 Toyota Big Air, Hatsune Miku will be used as part of the sponsor of the event. 3,000 more sets of limited-edition "Toyota Big Air x Hatsune Miku" tickets will be sold in advance at major subway stations starting on January 10. The first 1,000 people who present their ticket stubs at the event site on February 12 will receive a "Toyota Big Air x Hatsune Miku" original collaboration sticker. The event is also held in Sapporo.[43]
Food Marketing
[
]
Miku was also promoted by FamilyMart in Japan and a few FamilyMart figurine versions were also released in related to this by the Good Smile company.[44][45]  A promotion for with Coca-Cola was introduced and featured a competition where those entering were challenged to depict Miku in Coca-Cola's colors.[46] The wining entry was announced on the 5th of April 2012, it has since appeared in ads related to the art piece.[47][48]
Miku also had a collab with Domino's Pizza.[49] The collaboration with Domino's Pizza has made an app used for ordering pizza with Miku on the interface of the app. By ordering the pizza, customers can use the app's AR function on the pizza box to see Miku sing Luv4Night, a song produced by the Domino's crew
Misc. CAMPAIGNS
[
]
Red Cross
[
]
Hatsune Miku appeared on a poster for the Red Cross, promoting people to donate of blood to the organization.[50]
Good Smile company
[
]
Cosplay Mania Cameo
[
]
Cosplay Mania , a cosplay festival in the Philippines, is the first known appearance of Hatsune Miku in the Philippines that was officially sanctioned by Crypton Future Media, apart from Singapore. This was first announced in Hatsune Miku's Facebook page controlled by Karen-T. Her appearance will only be in the form of the said sticker.[51]
Let's Play with Hatsune Miku!
[
]
Miku will have an event/attraction in the Mitsui Greenland amusement park in Japan. Not much is known yet except that it will take place from March 16 to May 6.[52]
Wing Shop
[
]
A shop dedicated to Miku was opened in Jan 2014 called "Hatsune Miku Wing Shop".[53]
Google Chrome
[
]
The Japanese version of Google Chrome also has done an advertisement campaign to do with Hatsune Miku.[54] The Chrome advertisement on Youtube beat similar Justin Bieber and Lady Gaga ads, gaining 500,000+ views in its first 3 days, although the difference was that the view counts of Justin Bieber and Lady Gaga ads came from mostly Japan alone while the Hatsune Miku ad views came from across the world.[55]
Concerts
[
]
Miku and other Vocaloids began to appear in concerts in Japan 2009. Hatsune Miku performed her first "live" concert like a virtual idol on a projection screen during Animelo Summer Live at the Saitama Super Arena on August 22, 2009.[56][57] At the "MikuFes '09 (Summer)" event on August 31, 2009, her image was screened by rear projection on a mostly-transparent screen.[58] Miku also performed her first overseas live concert on November 21, 2009, during Anime Festival Asia (AFA) in Singapore.[59][60] On March 9, 2010, Miku's first solo live performance titled "Miku no Hi Kanshasai 39's Giving Day"「ミクの日感謝祭 39's Giving Day Project DIVA presents 初音ミク・ソロコンサート~こんばんは、初音ミクです。~」 was opened at the Zepp Tokyo in Odaiba, Tokyo.[61][62] The tour was run as part of promotions for Sega's Hatsune Miku: Project Diva video game in March 2010.[63] The success and possibility of these tours is owed to the popularity of Hatsune Miku and so far Crypton is the only studio to have established a world tour of their Vocaloids, which led to subsequent concerts to be premiered on March 9.
Later, the CEO of Crypton Future Media appeared in San Francisco at the start of the San Francisco tour where the first Hatsune Miku concert was hosted in North America on September 18, 2010, featuring songs provided by the Miku software voice.[64][65] A second screening of the concert was on October 11, 2010 in the San Francisco Viz Cinema. A screening of the concert was also shown in New York City in the city's New York Anime Festival.[66] Hiroyuki Ito, and planner/producer, Wataru Sasaki, who were responsible for Miku's creation, attended an event on October 8, 2010 at the festival.[67][68] Videos of her performance are due to be released worldwide.[69]
Miku's Los Angeles concert sold out on the 26th of May 2011. Not only was she the first singer to sell out but this was the only time AX, the company in charge of selling her tickets, had ever sold out. This also caused a huge fan outroar on the AX forums, as usually AX tickets did not sell out and because of the numerous spare tickets it had been possible to enter a concert for free if you turned up 10 minutes before the show. Because there were no tickets left, regulars who had expected to be able to get in for free on the day had not expected to be able to not get into the concert at all.[70] Because demand was so high AX are currently looking to book more seats. Previously, only the first floor seats were booked as those were the seats where viewing the Vocaloid concert's hologram-like visual was most optimal. However, they had been trying to ascertain if the balcony seats would suffice and if more tickets could be sold.[71]
On March 9, 2011, Miku's 2nd Performance, "Hatsune Miku's Live Party 2011 39's Live in Tokyo"「初音ミク ライブパーティー 2011 -39's LIVE IN TOKYO-」marked a new step in broadcasting concerts. Not only was the concert held at the same location Zepp Tokyo in Odaiba, Tokyo, it was also broadcasted into 15 others theaters within the vicinity of Japan, under the name "Hatsune Miku Live Party 2011 Live Viewing in Theater"「初音ミク ライブパーティ2011 ミクパ♪ 39's ライブビューイング イン シアター」. This particular concert did not use the traditional glass screen but a box screen to present Miku and the team.[72] The same concert was to be repeated in Yamaha's Home, Sapporo Hokkaido at Zepp Sapporo under the name "Hatsune Miku's Live Party 2011 39's Live in Sapporo"「初音ミク ライブパーティー 2011 -39's LIVE IN SAPPORO-」, but was postponed due to the Great Japan Earthquake that occurred 2 days after the Tokyo Concert.[73] It wasn't until April 27 where details of the postponed concert was given.[74]
On July 2, 2011, Miku's first concert performance in the United States was held at the NOKIA Theater in Los Angeles, California, during the Anime Expo 2011 event. The concert was based on the "Miku no Hi Kanshasai 39's Giving Day" Concert, with improvements and new songs.[75]
On August 16 to 17, the postponed "Hatsune Miku's Live Party 2011 39's Live in Sapporo"「初音ミク ライブパーティー 2011 -39's LIVE IN SAPPORO-」took place and was held for two days. It was held at the Sapporo Education and Culture Hall at Sapporo, Hokkaido. This concert had been redone and the transparent glass screen was once again implemented. The concert was not broadcasted on NicoNicoDouga unlike previous concerts.[76] It was broadcasted in the same theaters that broadcasted the last concert, but it included 2 additional theaters, one from Hong Kong and one from Taiwan.[77][78]
A sequel to the Sapporo Concert took place in Singapore on November 11, 2011 at the I Love Anisong Concert.[79] This marked her second visit to Singapore, with her performing at the 2010 I Love Anisong Concert. This was Rin, Len, and Luka's first visit, as the concert last year lacked them.
On February 10, 2012, Miku performed twice at the Snow Festival from Sapporo with a secret mini-concert that was not announced or broadcasted. This performance was the first time that she appeared singing outside.
Miku will also appear in the opera "THE END" on the 1st and 2nd of Decemeber. The outfits designed for this concert are done by Louis Vuitton and based off of the Mark Jacobs' spring/summer 2013 collection. Tickets for the event were publically put on sale on the 14th of November, however, sold out soon after.[80]
On February 9 and 10, 2013, Miku will have another concert called "初音ミク ライブパーティー 2013 in Sapporo 「ミクパ♪」 "Hatsune Miku Live Party 2013 in Sapporo 'MikuPa♪'". A two day concert in Sapporo, Japan, during Snow Miku festival. MEIKO and KAITO will make an appearance as well.[81]
2013 is the fourth year in a row a concert will take place on March 9. The event, titled "初音ミク ライブパーティー 2013 in Kansai(ミクパ♪) (Hatsune Miku Live Party 2013 in Kansai (MikuPa♪) -39's Spring the 3rd Synthesis-" will be held in the Wakayama Prefecture, in Kansai, at the Wakayama Big Whale. As this is a collaboration with WOWOW, the show will also be broadcast live over WOWOW's satellite channel. This is the first time an official Miku concert has been held in the Kansai region of Japan; previous concerts have been held in Tokyo (which is in the Kantou region of Japan) and Sapporo (which is in Hokkaido). It is expected to last for three hours.[82][83]
Concert producers create a set list that mix old songs and new, from among those popular with Miku fans and written independently of Crypton Future Media. The set includes lyrics in the local language(s). For example, the December, 2017 show in Malaysia had tunes in Malay, Indonesian, Japanese, Chinese, and English, recalls live-concert coordinator Riki Tsuji.[84]
By the summer of 2018, Miku's third North American tour was underway. This tour, promoted with a songwriting contest, features the winning song every night. Cities include Washington, D.C., where the July 12 evening concert was at the Anthem, a new music hall that is part of the extensively-redeveloped Wharf district. The venue was configured for primarily standing/dancing, with limited sold-out premium balcony seating. Towards the end of 2018, Miku is scheduled for her first European tour.[84]
References
[
]
[

]