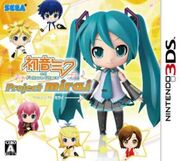 Hatsune Miku and Future Stars Project mirai is a Rhythm Game to the Nintendo 3DS released in Japan on March 8, 2012. It is a spin-off to the Hatsune Miku: Project DIVA series. Like the Project DIVA games, it's a rhythm game where you match the music by pressing the appropriate buttons. The entire VOCALOID Crew from Project DIVA returns to this game, with a special guest, making this the only current game which features another VOCALOID outside of Crypton, GUMI. It is also the first Project DIVA game to be released on a console not made by Sony.
The game uses Nendoroids as the base model and also uses Augmented reality to present itself.[1] It also will be capable of making Augmented Reality 3DS Concerts.[2] It has multiple songs, and multiple chances to switch the voices of the VOCALOID singing, presumably if the VOCALOID is accompanied by other VOCALOIDs.
The Game has many brand new features exclusive to the 3DS, which include:
Nendoroid versions of all the Crypton VOCALOIDs (MEIKO, KAITO, Miku, Rin, Len, Luka) and a special appearance from INTERNET Co.,Ltd's GUMI.
It makes use of the 3DS's Augmented Reality feature, which will put Miku into real life in conjunction with cards and the 3DS camera, creating a miniature Concert. Its AR Positioning is similar to the 3DSMii system.
Photographs/Snapshots can be taken while at the My Room option, as well as watching PVs. My Room has multiple decorations, and can be interchanged, as well as the Modules worn by VOCALOIDs.
It presents a brand new feature not available from other Diva games to the 3DS, and is a well known system of NicoNicoDouga, sidescroll commenting. Includes posting text comments or Picture Emoticons that will scroll against VOCALOID PVs, as well as a favorite comment system.
ミライポイント「MiraiPoints」 will be used as currency. Mirai Points are points you gain from playing songs to unlock a variety of features.
The game also features Meiko and Kaito singing in their unreleased VOCALOID2 vocals.
See gallery for /Modules
The modules for Project mirai consist of original appearances that are based on popular promotional videos.
Featured producers
Edit
Kuchibashi-P, kz, Sunzriver-P, Atsuzou-kun, Scop, JimmyThumb-P, OSTER project, 40meterP, Signal-P, Akuno-P, Re:nG, OSTER project, Junky, Hoehoe-P, Ken, Yuuyu-P, Kuwagata-P, Hachi, EasyPop, DECO*27, Yuuyu-P
Song list
Edit
This is the first Hatsune Miku -Project DIVA- game to not have the opening show Miku (or her friends) at school (instead it mainly shows Miku at her house). -Project DIVA- F/f, Project mirai 2 and -Project DIVA- F2nd also continues to not show Miku at school.

This also the first in the series to feature MEIKO & KAITO in the opening, possibly in an attempt to establish them as major characters (as previous games considered them mere extras).
References
Edit
External links
Edit