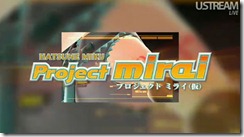 Project Mirai is a Rhythm Game to the Nintendo 3DS released March 8, 2012. It is a spin-off to the Hatsune Miku: Project DIVA series. Like the Project DIVA games, it's a rhythm game where you match the music by pressing the appropriate buttons. The entire Vocaloid Crew from Project DIVA returns to this game, with a special guest, making this the only current game which features another Vocaloid outside of Crypton, Gumi. It is also the first Project DIVA game to be released on console not made by Sony.
Gameplay
The game uses Nendoroids as the base model, and uses Augmented reality to present itself.[1] It also will be capable of making Augmented Reality 3DS Concerts.[2] It has multiple songs, and multiple chances to switch the voices of the vocaloid singing, presumably if the vocaloid is accompanied by other Vocaloids.

The Game has many brand new features exclusive to the 3DS, which include:
The game also features Meiko and Kaito singing in their unreleased VOCALOID2 vocals.
Costumes
Original
Clover♣Club
Mi-Crystal☆
on the rocks
HELLO/HOW ARE YOU
Shinkai Shoujo (Deep Sea Girl)
Doubutsu Uranai (Animal Fortunetelling)
Kimi no Taion (Your Temperature)
Melancholic
No Logic
Yume Yume (Dream Dream)
Aku no Meshitsukai (Servant of Evil)
PIANO*GIRL
LOL
Matryoshka
Happy Synthesizer
Yuki Miku Fluffy Coat Ver.
SING&SMILE
Sakasama Rainbow (Upside Down Rainbow)
Mousou Sketch (Delusion Sketch)
Tricolor・Air・Line
Aku no Musume (Daughter of Evil)
Playlist
 Amendments may have been made to the original translation.
[[Category:]]
Gallery
Screen Shot of the New Rhythm Game
Miku, Rin and Meiko in Project Mirai
Gameplay Screenshot
Project Mirai's boxart
References
External links
Community content is available under
CC-BY-SA
unless otherwise noted.