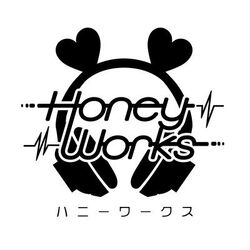 External links
[
]
Official
[
]
Unofficial
[
]
HoneyWorks (ハニーワークス), also known as Haniwa (ハニワ), is a circle consisting mainly of the composers Gom and shito, and the illustrator Yamako, along with many support members.
Some of their most popular songs include "Suki Kirai", "Hatsukoi no Ehon" and "Kokuhaku Yokou Renshuu". Their music style consists mostly of positive rocky songs.
In January 2014 they had their first major debut, with the album "Zutto Maekara Suki Deshita.", which ranked in fourth place on Oricon. In May 2014, the start-up of "CHiCO with HoneyWorks" was announced. Sometime in early 2019, the circle began to include subunits: s×c, a duo comprised of shito and cake; and HoneyMonster, comprised of Gom (Kouto), cake, and Nakanishi. The circle also created a number of fictional idols, such as LIP×LIP and Dolce.
In addition, thirteen light novels based on the Confession Executive Committee ~Love Series~ songs "Kokuhaku Yokou Renshuu", "Yakimochi no Kotae", "Hatsukoi no Ehon", "Ima ni Suki Naru.", "Koi-Iro ni Sake", "Kinyoubi no Ohayou", "Heart no Shuchou", "Ijiwaru na Deai", "Boku ga Namae wo Yobu Hi", and "Daikirai na Hazu Datta.", "Heroine Ikusei Keikaku" and "Tokyo Summer Session" as well as the Confession Executive Committee ~Idol Series~ songs "Nonfantasy" and "Romeo", have been released so far. A short novella about the song "Watashi, Idol Sengen" was also included with a CHiCO with Honeyworks album. Light novels for HoneyWorks' other songs do exist as well; the Love & Hate Series ("Nakimushi Kareshi", "Suki-Kirai", "Hajimari no Sayonara") and "Sekai wa Koi ni Ochiteiru" and its sequel "Koi no Chord" both received one.
While HoneyWorks continues to put out VOCALOID singles during the Comiket season, most of the VOCALOID songs featured on their official accounts nowadays mainly feature human vocals.
Members
[
]
Core members
[
]
Gom (composer)
shito (composer)
Yamako (illust, movie)
Supporting members
[
]
Oji (guitar)
Mogelatte (illust, movie)
Uto Keiki / cake (keyboard)
AtsuyuK! (drums)
Kaoru (tuning, composer)
Nakanishi (guitar)
kyo (bass)
Komiyamario (composer)
Yuuki Leon (drums)
Hanon (vocals)
Kotoha (vocals)
Emumelo (movie)
Past members
[
]
Works
[
]
| Links | Title | Featuring | Date | Roles |
| --- | --- | --- | --- | --- |
| • | ロリババアに恋をした (Lolibaba ni Koi wo Shita) | Hatsune Miku | August 10, 2010 | production |
| | "泣キ虫カレシ" | Hatsune Miku and Kagamine Len | December 21, 2010 | production |
| | "スキキライ" | Kagamine Rin Act 2 and Kagamine Len Power | January 21, 2011 | production |
| • | パジャマっ子☆ (Pajama Ko☆) | Kagamine Rin | February 19, 2011 | production |
| | "初恋の絵本" | GUMI | November 18, 2011 | production |
| | "第一次ジブン戦争" | Kagamine Len and Utatane Piko | December 23, 2011 | production |
| • | 桜と僕とあの子にhshsな気持ち (Sakura to Boku to Ano Ko ni hshs na Kimochi) | Kagamine Rin | April 21, 2012 | production |
| • | spaceDEV | GUMI | September 19, 2019 | production |
| | "竹取オーバーナイトセンセーション" | Kagamine Rin and Kagamine Len | September 27, 2012 | production |
| | "告白予行練習 " | GUMI | October 27, 2012 | production |
| | "告白予行練習-another story-" | Kagamine Len | November 17, 2012 (NND) and November 16, 2012 (YT) | production |
| • | 吉田、家出するってよ (Yoshida, Iede Suru tte yo) | Hatsune Miku | April 05, 2013 | production |
| | "ロクベル" | IA | December 25, 2012 | production |
| | "ヤキモチの答え" | GUMI V3 Power | March 14, 2013 | production |
| | "ヤキモチの答え-another story-" | Hatsune Miku | April 09, 2013 | production |
| | ""今ちょっとだけ話題の神様"" | GUMI | June 05, 2013 | production |
| | "ラズベリー*モンスター" | Hatsune Miku | June 6, 2013 | production |
| | "君ガ空コソカナシケレ" | Tone Rion feat. Hatsune Miku | July 26, 2013 | production |
| • | ラブ@ライアー (Love@Liar) | GUMI | August 08, 2013 | production |
| | "ハジマリノサヨナラ" | Hatsune Miku | September 21, 2013 | production |
| | "テレカクシ思春期" | Kagamine Len | October 26, 2013 | production |
| | "キミがまた歌いたくなる頃に。" | GUMI | December 2, 2013 | production |
| | "病名恋ワズライ" | GUMI V3 Power | December 17, 2013 | production |
| | "第三次プリン戦争" | Hatsune Miku and GUMI | January 22, 2014 | production |
| | "告白ライバル宣言" | GUMI | February 14, 2014 | production |
| | "イノコリ先生" | flower | April 17, 2014 | production |
| | "金曜日のおはよう" | GUMI | July 2, 2014 | production |
| | ""世界は恋に落ちている"" | GUMI | July 25, 2014 | production |
| | "金曜日のおはよう-another story-" | Hatsune Miku | September 26, 2014 | production |
| | "さよなら両片想" | GUMI | October 20, 2014 | production |
| | "今好きになる。" | Hatsune Miku | November 25, 2014 | production |
| | "今好きになる。-triangle story-" | GUMI | December 29, 2014 | production |
| | "魔法旋律" | Xin Hua | February 6, 2015 | production |
| | "言葉のいらない約束" | GUMI | May 14, 2015 | production |
| | "暁月夜-アカツキヅクヨ-" | Kagamine Rin | June 3, 2015 | production |
| | "イジワルな出会い" | Hatsune Miku | July 3, 2015 | production |
| | "ママ" | Hatsune Miku | July 9, 2015 | production |
| | "東京サマーセッション" | GUMI and flower | July 24, 2015 | production |
| • | ホーリーフラッグ (Holy Flag) | GUMI | October 30, 2015 | production |
| | "ハートの主張" | Hatsune Miku | November 13, 2015 | production |
| | "恋色に咲け" | GUMI | March 25, 2016 | production |
| • | ウルフ (Wolf) | GUMI | September 16, 2016 | production |
| • | 明日は君と。 (Ashita wa Kimi to.) | Hatsune Miku | November 09, 2016 | production |
| | "大嫌いなはずだった。" | GUMI and Hatsune Miku | December 9, 2016 | production |
| | "僕が名前を呼ぶ日" | GUMI | January 28, 2017 | |
| | "私が恋を知る日" | GUMI | January 30, 2017 | production |
| • | 日曜日の秘密 (Nichiyoubi no Himitsu) | GUMI, Hatsune Miku | February 04, 2017 | production |
| | "ロメオ" | GUMI, Hatsune Miku | February 21, 2017 | production |
| | "プロポーズ" | Hatsune Miku | March 26, 2017 | production |
| • | 弱者の宣言 (Jakusha no Sengen) | GUMI | July 14, 2017 | production |
| • | ツインズ (Twins) | Hatsune Miku | July 19, 2017 | production |
| • | 月の姫 (Tsuki no Hime) | Hatsune Miku, GUMI | August 03, 2017 | production |
| | "ノンファンタジー" | Hatsune Miku and GUMI | December 01, 2017 | production |
| • | 必要不可欠 (Hitsuyou Fukaketsu) | GUMI, Hatsune Miku | December 10, 2017 | production |
| | "私、アイドル宣言" | Hatsune Miku | March 05, 2018 | production |
| • | 贈り歌 (Okuriuta) | Hatsune Miku | March 12, 2018 | production |
| • | ノスタルジックレインフォール (Nostalgic Rainfall) | GUMI | April 03, 2018 | production |
| • | これ青春アンダースタンド (Kore Seishun Understand) | flower, IA | April 03, 2018 | production |
| • | ツノルキモチ (Tsunoru Kimochi) | GUMI | April 13, 2018 | production |
| • | 聞こえますか (Kikoemasu ka) | flower | April 13, 2018 | production |
| • | なでなで (Nadenade) | GUMI | April 24, 2018 | production |
| • | リペイント (Repaint) | Hatsune Miku | June 01, 2018 | production |
| • | 今日もサクラ舞う暁に (Kyou mo Sakura Mau Akatsuki ni) | GUMI | July 12, 2018 | production |
| • | ヒカリ証明論 (Hikari Shoumeiron) | GUMI | August 02, 2018 | production |
| | "夢ファンファーレ" | Hatsune Miku and GUMI | October 11, 2018 | production |
| • | ミスター・ダーリン (Mister Darling) | Hatsune Miku | November 08, 2018 | production |
| • | TIME LINE | flower, Fukase | December 14, 2018 | production |
| • | 選んでくれてありがとう。 (Erande Kurete Arigatou.) | Hatsune Miku, Fukase | December 24, 2018 | production |
| • | やっぱ最強! (Yappa Saikyou!) | Hatsune Miku, GUMI | January 15, 2019 | production |
| • | GOOD BYE | flower, Fukase | January 31, 2019 | production |
| | "フィアンセ" | GUMI and Hatsune Miku | February 19, 2019 | production |
| • | 生意気ハニー (Namaiki Honey) | GUMI | May 24, 2019 | production |
| • | 生意気ハニー-another story- (Namaiki Honey -another story-) | Hatsune Miku | May 27, 2019 | production |
| • | 月曜日の憂鬱 (Getsuyoubi no Yuuutsu) | Hatsune Miku | July 09, 2019 | production |
| • | 乙女どもよ。 (Otome Domo yo.) | Hatsune Miku | July 25, 2019 | production |
| • | 決戦スピリット (Kessen Spirit) | Hatsune Miku | March 04, 2020 | production |
| • | 恋文 (Koibumi) | Hatsune Miku | April 11, 2020 | production |
| • | キララ (Kirara) | Hatsune Miku | May 03, 2020 | production |
| • | 幸せ。 (Shiawase.) | Hatsune Miku | September 04, 2020 | production |
| • | 醜い生き物 (Minikui Ikimono) | flower | February 05, 2021 | production |
| • | 冒険のVLOG (Bouken no VLOG) | Hatsune Miku | April 22, 2021 | production |
| • | アリスブルー (Alice Blue) | Hatsune Miku | May 06, 2021 | production |
| • | ごめんなんか聞きたくなかった (Gomen Nanka Kikitaku Nakatta) | flower | May 14, 2021 | production |
| • | 小悪魔だってかまわない! (Koakuma Datte Kamawanai!) | Hatsune Miku | May 20, 2021 | production |
| • | ミライチズ (Mirai Chizu) | GUMI | June 02, 2021 | production |
| • | 世界で一番好きな名前 (Sekai de Ichiban Suki na Namae) | flower | July 16, 2021 | production |
Albums
[
]
Discography
[
]
| Affiliation | Title | Featuring | Date | Roles |
| --- | --- | --- | --- | --- |
| Independent | "初恋ノート" | Hatsune Miku, GUMI, Kagamine Rin & Len, Camui Gackpo, Utatane Piko | November 19, 2011 | production |
| Independent | "六弦アストロジー" | Hatsune Miku, GUMI, Kagamine Rin & Len, IA | April 27, 2013 | production |
| Music Ray'n | "ずっと前から好きでした。" | GUMI, Hatsune Miku, Kagamine Rin & Len, IA, Tone Rion | January 29, 2014 | production |
| Independent | "ボカコレ3" | GUMI, Hatsune Miku, flower | August 16, 2015 | production |
| Independent | "LOVE" | Fukase, flower | December 30, 2018 (event), January 1, 2019 (commercial) | production |
| • | 告白実行委員会 -FLYING SONGS- 愛してる (Kokuhaku Jikkou Iinkai -FLYING SONGS- Aishiteru | Fukase, GUMI, flower, Hatsune Miku, Gero, Urata, Kapi, Gom, Meychan, Hoshikawa Sara | March 26, 2021 | production |
Singles
[
]
| Affiliation | Title | Featuring | Date | Roles |
| --- | --- | --- | --- | --- |
| • | 告白ライバル宣言 (Kokuhaku Rival Sengen) | GUMI | March 05, 2014 | production |
| Gynoid Co., Ltd. | "-Xin Hua- first CD" | Xin Hua | February 10, 2015 | music, lyrics |
| Independent | "僕が名前を呼ぶ日 / 私が恋を知る日" | GUMI | December 31, 2015 | production |
| Independent | "ジャッジ☆/月の姫" | Hatsune Miku, GUMI | August 11, 2017 | production |
| Independent | "チョコカノ / ホワイトデーキッス" | Hatsune Miku and GUMI | December 29, 2017 | production |
| Independent | "選んでくれてありがとう。 / ラブヘイトマジョリティ" | Fukase, GUMI, Hatsune Miku | December 30, 2018 | production |
| Independent | "LOVE" | Fukase, flower | December 30, 2018 (event), January 1, 2019 (commercial) | production |
| Independent | "ヒロイン育成計画 / 恋人たちのハッピーバースデー" | Hatsune Miku, GUMI | August 12, 2019 | production |
E.Ps
[
]
Compilations
[
]
| Affiliation | Title | Featuring | Date | Roles |
| --- | --- | --- | --- | --- |
| Independent | JAM POT | Hatsune Miku, Kagamine Rin, GUMI, Megurine Luka | June 12, 2011 | production |
| EXIT TUNES | "EXIT TUNES PRESENTS Vocalodream feat. 初音ミク" | Hatsune Miku, Kagamine Rin, GUMI, Megurine Luka, Kagamine Len, Camui Gackpo, KAITO, and MEIKO | January 18, 2012 | music, lyrics |
| BinaryMixx Records | "VOCALOID from ニコニコ動画 ボカロ超特急 SUPER EXPRESS COMPILATION 03" | GUMI, Megurine Luka, Kagamine Rin & Len, Hatsune Miku | February 22, 2012 | music, lyrics |
| TamStar Records | "TamStar Records presents ALL VOCALOID ATTACK #1" | Hatsune Miku, Kagamine Len, Kagamine Rin, GUMI, Megurine Luka, IA, Yuzuki Yukari, Lily, OLIVER, and Tone Rion | December 29, 2012 | music, lyrics |
| Independent | "ボカロデュエット・コレクション" | Hatsune Miku, Kagamine Len, Kagamine Rin, GUMI, Megurine Luka, and KAITO | March 20, 2013 | music, lyrics |
| avex trax | VOCALOID3 meets TRF | GUMI, Mew, Aoki Lapis, VY1, IA, Lily | March 27, 2013 | arrangement |
| BinaryMixx Records | V Love 25 -Fortune- | Hatsune Miku, Kagamine Rin & Len, GUMI, Megurine Luka, IA, Camui Gackpo, KAITO, MEIKO | April 24, 2013 | music, lyrics |
| avex trax | 青春ボカロ starring GUMI, Lily (Seishun Vocalo starring GUMI, Lily) | GUMI, Lily | June 19, 2013 | music, lyrics |
| SPUTONIC | "GUMI誕 -4th Anniversary-" | GUMI | June 26, 2013 | music, lyrics |
| FARM RECORDS | "VOCAROCK collection love IA" | IA | July 3, 2013 | music, lyrics |
| HPQ | "妖艶和奏絵巻 feat. 初音ミク" | Hatsune Miku, Kagamine Rin & Len, IA, Megurine Luka, KAITO, GUMI, Nekomura Iroha, and Aoki Lapis | August 14, 2013 | music, lyrics |
| Dwango User Entertainment, Inc. | "VOCALOID 超BEST -memories-" | Hatsune Miku, Kagamine Len, Kagamine Rin, GUMI, Megurine Luka, IA, Camui Gackpo, KAITO, MEIKO, and VY2 | October 3, 2013 | music, lyrics |
| SPUTONIC | Memories of GUMI 2009-2013 feat. Megpoid 下巻 | GUMI | June 26, 2014 | music, lyrics |
| KARENT | "初音ミク「マジカルミライ 2014」オフィシャルアルバム" | Hatsune Miku, Kagamine Len, Kagamine Rin, Megurine Luka, MEIKO, and KAITO | August 6, 2014 | music, lyrics |
| Sony Music Entertainment Japan | 初音ミク Thank you 1826 Days ~SEGA feat. HATSUNE MIKU Project 5th Anniversary Selection~ | Hatsune Miku, KAITO, MEIKO, Megurine Luka, Kagamine Rin & Len | September 17, 2014 | music, lyrics |
| Gynoid Co., Ltd. | debut | flower | October 01, 2014 | music, lyrics |
| U/M/A/A | EVERGREEN SONGS 2013 | Hatsune Miku | December 24, 2014 | music, lyrics |
| EXIT TUNES | "EXIT TUNES PRESENTS Vocalofantasy feat. 初音ミク" | Hatsune Miku, GUMI, Kagamine Rin, Kagamine Len, IA, Camui Gackpo, MAYU, Megurine Luka, KAITO, and MEIKO | March 4, 2015 | music, lyrics |
| U/M/A/A | VOCALOID Masterpiece Collections feat. GUMI 12-14 | GUMI | June 26, 2015 | music, lyrics |
| KARENT | "初音ミク「マジカルミライ 2015」OFFICIAL ALBUM" | Hatsune Miku, Kagamine Rin, Kagamine Len, Megurine Luka, MEIKO, and KAITO | August 12, 2015 | music, lyrics |
| U/M/A/A | "初音ミク Project mirai こんぷり~と" | Hatsune Miku, Kagamine Rin & Len, GUMI, Megurine Luka, KAITO, and MEIKO | September 2, 2015 | music, lyrics |
| Gynoid Co., Ltd. | "心華" | Xin Hua, Sekihan | February 4, 2016 | arrangement, music, lyrics |
| Gynoid Co., Ltd. | "一期一会" | flower, GUMI | February 24, 2016 | music, lyrics |
| Sony Music Entertainment | ""初音ミク Project DIVA X -Complete Collection-"" | Hatsune Miku, Kagamine Rin, Kagamine Len, Megurine Luka, MEIKO, KAITO | June 8, 2016 | music, lyrics |
| KARENT | 初音ミク「マジカルミライ 2016」OFFICIAL ALBUM (Hatsune Miku "Magical Mirai 2016" OFFICIAL ALBUM) | Hatsune Miku, KAITO, MEIKO, Kagamine Rin & Len, Megurine Luka | August 03, 2016 | music, lyrics |
| EXIT TUNES | EXIT TUNES PRESENTS Kagaminext feat. 鏡音リン、鏡音レン ―10th ANNIVERSARY BEST― | Kagamine Rin & Len | December 20, 2017 | music, lyrics |
| Gynoid Co., Ltd. | "心華EP 〜春とら!" | Xin Hua, flower | April 11, 2018 | arrangement, music, lyrics |
| EXIT TUNES | "SPACE DIVE!! feat. GUMI from Megpoid" | GUMI | July 17, 2020 | music, lyrics |
Gallery
[
]