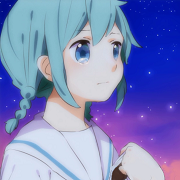 Affiliations
[
]
External links
[
]
Official
[
]
Unofficial
[
]
Hua er bu ku (花儿不哭; Huā er bù kū) is a Chinese producer who made his debut in 2014. He works with a variety of genres, but is known for gothic themes. As for his tuning skills, he works with a variety of languages, such as Japanese, English, Chinese, and Latin-based ones, and is praised for realism.
Later, he turned to songwriting and studied the creation of orchestral music, committing himself to create works with bright styles and colors.
On August 7, 2018, he became the twelfth Chinese VOCALOID producer to reach 100,000 followers on bilibili.
His birthday is November 9, 1995, and he resides in Shanghai.
Works
[
]
| Links | Title | Featuring | Date | Roles |
| --- | --- | --- | --- | --- |
| | "中华粘土娘" | Luo Tianyi | May 8, 2015 | tuning |
| | "龙耀无双" | Yuezheng Ling | August 18, 2015 | tuning |
| | "喵" | Xin Hua | August 25, 2015 | tuning |
| | "百鬼惜" | Luo Tianyi, Yuezheng Ling | August 28, 2015 | tuning |
| | "非人憧憬" | Yuezheng Ling | September 4, 2015 | tuning |
| | "中华缘木娘" | Luo Tianyi | November 27, 2015 | tuning |
| | "二重变革" | Luo Tianyi, YANHE | December 12, 2015 | tuning |
| | "三重爱恋" | Luo Tianyi, YANHE | January 28, 2016 | tuning |
| | "四重罪孽" | Luo Tianyi, YANHE, Yuezheng Ling | March 26, 2016 | tuning |
| | "海棠仙" | Xingchen | April 29, 2016 | tuning |
| | "星临" | Xingchen, Xingsha | May 18, 2016 | tuning |
| | "白·棠·彩" | Luo Tianyi, Yuezheng Ling, Xingchen, Xin Hua | June 9, 2016 | tuning |
| | "中文房间" | YANHE | July 12, 2016 | tuning |
| | "六重不忠" | Luo Tianyi, YANHE, Yuezheng Ling | August 5, 2016 | tuning |
| | "要不要长大" | Luo Tianyi, YANHE, Yuezheng Ling, Xingchen | November 11, 2016 | tuning |
| | "妄想PARANOIA" | Luo Tianyi, Yuezheng Ling, YANHE | January 28, 2017 | tuning |
| | "镜花水月" | Xin Hua, Yuezheng Ling, Luo Tianyi, YANHE | February 4, 2017 | tuning |
| | "绯愿" | Yuezheng Ling | February 9, 2017 | tuning |
| | "Initialization" | Yuezheng Longya | June 25, 2017 | tuning |
| | "末世残响" | Yuezheng Ling | July 6, 2017 | tuning |
| | "妄想Reality" | Luo Tianyi, Yuezheng Ling, YANHE | December 27, 2017 | tuning |
| | "半盏" | Luo Tianyi, YANHE | June 17, 2018 | tuning |
| | "多情岸" | Luo Tianyi | June 22, 2018 | tuning |
| | "洛阳怀" | Luo Tianyi | July 6, 2018 | tuning |
| | "为邪·九九八十一" | Xin Hua | July 28, 2018 | tuning |
| | "易水诀" | Yuezheng Ling, Luo Tianyi | July 28, 2018 | tuning |
| | "山河令" | Xingchen | August 20, 2018 | tuning |
| | "簪花人间" | Xingchen | September 22, 2018 | tuning |
| | "九湘" | Luo Tianyi | September 24, 2018 | tuning |
| | "栖凰" | Xingchen | October 19, 2018 | tuning |
| | "心上秋" | Xingchen | November 23, 2018 | tuning |
| | "祖龙吟" | Xingchen | February 1, 2019 | tuning |
| | "一梦贪欢" | Luo Tianyi, Zhiyu Moke | February 2, 2019 | tuning |
| | "Hear me!" | Luo Tianyi, Yuezheng Ling, Zhiyu Moke, Mo Qingxian, Yuezheng Longya | February 3, 2019 | Ling tuning |
| | "如见青山" | Xin Hua | April 5, 2019 | tuning |
| | "再一杯!" | Luo Tianyi, Mo Qingxian, YANHE, Zhiyu Moke, Yuezheng Longya, Yuezheng Ling | June 26, 2019 | tuning |
| | "竹林间" | Hatsune Miku V4 Chinese | July 7, 2019 | tuning |
| | "双生门" | YANHE | July 25, 2020 | tuning |
| | "妖恋风月" | Yuecheng, Zhiyu Moke, Yuezheng Longya, YANHE | August 8, 2020 | tuning |
Albums
[
]
Compilations
[
]
| Affiliation | Title | Featuring | Date | Roles |
| --- | --- | --- | --- | --- |
| SAKAXIS | "Dear:" | Luo Tianyi, YANHE, Yuezheng Ling, Xingchen | August 6, 2016 | tuning |
| Sodatune | "中华少女Project" | Luo Tianyi, Yuezheng Ling, Xingchen, Xin Hua | August 15, 2016 | tuning |
| uragis | "殿堂III" | Luo Tianyi, Yuezheng Ling, YANHE, Xin Hua, GUMI | February 22, 2017 | tuning |
| SAKAXIS | "妄想症Paranoia" | Luo Tianyi, YANHE, Yuezheng Ling | March 17, 2017 | tuning |
| Qidian Project | "华哉有夏" | Luo Tianyi, YANHE, Yuezheng Ling, Yuezheng Longya | May 16, 2018 | tuning |
| Vsinger | "Lost in Tianyi" | Luo Tianyi | March 1, 2019 | tuning |
| Qidian Project | "柒" | Luo Tianyi, YANHE, Yuezheng Ling | December 10, 2019 | tuning |
| Qidian Project | "华哉有夏·贰" | Luo Tianyi, YANHE, Yuezheng Ling, Yuezheng Longya | February 11, 2021 | tuning |
| Qidian Project | "桃花雪" | Luo Tianyi, Yuezheng Ling | April 2, 2021 | tuning |