!

This subject is an marketing for i-style Project,
Additions to this page must pertain to the subject. For information on how to help, see the guidelines.  More subjects categorized here.

!
MERCHANDISE
Edit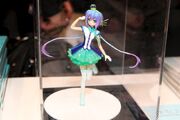 A wall scroll of Merli and Lapis has been produced.[1]
A CD with all her demos was released on December 29, 2011. The CD also included the unreleased demo "Think the Future".
Lapis and Merli were used to release chocolates for Valentine's Day 2013.[2]
A figurine was seen on display for Lapis in late 2012.
---
A free to download iOS app can be downloaded based on her. It allows Lapis to appear on screen as though she was in the environment being pictured. the app is called "Fairy Glasses" (妖精眼鏡), Lapis can be selected by typing in the code 105-2659. She will appear anywhere her PDF file stage (which must be printed off on a separate sheet of card/paper) is registered. She will sing and dance to the song "Daydream Flight" when active.[3][4][5]
A second app has also been released for free called "Lapis Night" (おやすみラピス) for both iOS and Android. In it, Lapis counts sheep to help you fall asleep, it also comes with an alarm.[6]
A third app has been produced for iOS and Android, this one based on a video game. The game is called "Lapis and the Strange Labyrinth" (ラピスと不思議なラビリンス).[7] A sequel was released called "Lapis and the Magic Melody" (ラピスと魔法のメロディ).[8]

For Merli a free iOS and Android app was produced, called " Good Night Merli " (おやすみメルリ). Much like the one for Lapis, it helps you fall asleep and comes with an alarm.[9]
A second app was released, called "ラピスと魔法のメロディ", which acts as a sequel to "Lapis and the Wonder labyrinth" (ラピスと不思議なラビリンス). While Merli makes a brief appearance in the first one, she appears to make a more prominent appearance in the sequel.[10]
There are official stickers distributed through LINE Stickers, featuring I-style Project VOCALOIDs. The stickers are in a set named "Cutie Chibi Aoki Lapis and Merli" with over 40 stickers.
Lapis and Merli, along with other VOCALOIDs, are featured in the app, VOCADOL.
---
CAMPAIGNS
Edit
"Dress up" Competition
Edit
There was a "dress up" competition for Lapis. A base picture was issued and fans were invited to dress her up and submit the entry.[11] The contest is now complete with winners and runner ups announced. The winner's entry will be adapted and used as an official alternative costume.[12] There was also an illustration contest held for her, where over 3 rounds, users would be able to submit drawings of her and the best would go into a future art book.
Aoki Lapis Birthday Festival 2014
Edit
I-Style started 2 contests to celebrate Lapis' 2nd Anniversary. The first contest is an art contest for Lapis, while the 2nd is a song contest.[13]
iVocaloid Launch Art & Song Contest
Edit
To celebrate the release of Merli's iVOCALOID version, a song & art contest was held on April 4, 2014. Contestants have the chance to win a VOCALOID Starter Kit.
VOCAFARRE 2011
Edit
On the 15th-16 December GUMI , VY1v3 , Akikoloid-chan, Tone Rion and Aoki Lapis appeared in a 3D concert at VOCAFARRE 2011.
Sponsorship
Edit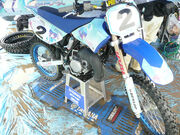 During the 2013 All Japan Ladies Motocross Championship, the driver Yasuhara Saya was sponsored by i-style Project.[14]
Social Media
Edit
Lapis has an official Twitter acount.[15]
References
Edit
i-style Project

Vocalists
VOCALOID 3
Providers

Miscellaneous

Language

Illustrators

Affiliates

Merchandise

Games — Lapis and the Strange Labyrinth • Lapis and the Magic Melody • Good Night Lapis • Good Night Merli • Fairy Wings