!

This marketing article is for Internet Co., Ltd.,
Additions to this page must pertain to the subject. For information on how to help, see the guidelines.  More subjects categorized here.

!
To see the marketing of GUMI, go to this page.
MERCHANDISE
[
]
General
[
]
Merchandise such as mouse pads, coffee mugs, and blade straps has been made for Gackpo. He has also made a guest appearance in Maker Hikoushiki Hatsune Mix, so far he has been the only non-Crypton official VOCALOID to appear in the unofficial manga.
A coffee mug and clothing has been made for kokone.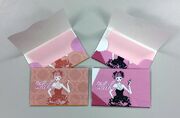 Oil blotting papers with two available cases- featuring Chika, were released with the software shipment.[1]
Apparel
[
]
Lily has a official cosplay outfit based on her own.[2]
Edibles
[
]
Lily is featured on the bottle of an alcoholic drink, "Mou Shochu Lily", and is in an oiran (courtesan) costume. The costume was drawn by her original artist, KEI.[3]
As part of promotion, CUL has had several drinks named after her, both alcoholic and non-alcoholic, as well as a chocolate dish.[4] These include the "Bloody CUL", "CUL and Milk" and "CUL Chocolate".
Figurines
[
]
Gackpo and Lily have Nendoroid figurines produced by the Good Smile company. Lily received a figure released in November, 2010 becoming the first non-Crypton vocalists to receive a figurine.[5][6][7] Lily was the first INTERNET Co.,Ltd vocalist to receive a figure. It was made by the Phat Company. She also had a figurine amongst the Prize fair figurines in September 2011, made by FuRyu and released as prize models for UFO catcher machines.[8] A Nendoroid figurine has also been produced for her.
She has also had several plush dolls released. One of these sets had a normal Lily doll and two alternatives based on her most popular Internet Memes featuring Lily holding a railway crossing sign, and her as a bee.
Publications
[
]
A book for CUL was released as part of her background story.[9]
---
SOFTWARE
[
]
Mobile App
[
]
They also appears in the app "AR Vocaloid Walk", a Augmented Reality app with other Vocaloids, UTAU and Derivative characters also appear in the app.[10]
Main article: Mobile OS Apps
Phone Haiku
[
]
INTERNET Co. Ltd has released a service that offers Gackpo's voice for use with telephones, first announced in April 2009. The service is greatly limited compared to what the VOCALOID software allows normally but offers a chance for users to play with a limited version of Gackpo's voice for creating Haiku. The service was later updated for use with the PC in 2011. There is no fee for use of it and the service is open to fans across the world. However, the software application can only be used in Japanese hiragana and will take what is written as literal text, so for more complex patterns a great deal of thought may have to go into writing words. INTERNET Co., Ltd commented they intend to work with Twitter to open the service up more so others can share their works around the world. Users can download their creations for free as MP3's an unlimited amount of times.[11]
SequencerPlus
[
]
Lily also had a SequencerPlus page, however it was removed from her website in 2012. However, Gachapoid has an available SequencerPlus page.
VOCADOL
[
]
Lily, CUL, kokone, and Chika along with other VOCALOIDs, are featured in the app, VOCADOL.
Main article: VOCADOL
Taiwan release
[
]
On Dec 11, 2010, the president of INTERNET Co. announced that Gackpo, GUMI, and Lily would be distributed in Taiwan.[12]
---
CAMPAIGNS
[
]
Contests
[
]
Gackpoid Song Contest
[
]
In 2009, GACKT also challenged users of VOCALOID™ to compete in a competition using Gackpo. The best song not only won 10 million yen, but if GACKT liked it enough he would sing the song and include it on one of his next albums.[13][14] In 2011, the winning song "Episode 0" by mathru/KanimisoP and runner up "Paranoid Doll" by natsuP (SCL Project) were sung by Gackt in his 39th single, released July 13. The producer of the runner up song also received 300,000 yen while the producers of the other 8 top ten songs received 100,000 yen each.[15][16][17]
The short preview for the original version of the song "Episode.0" (GACKT's version) was released during the month of May 2011 Gackt-Episode.0 (Short PV During the early days of June an official video of the complete version of the song was uploaded to Niconico Gackt-Episode.0 (Unofficial PV)
V3 JOYSOUND Contest
[
]
In order to celebrate the release of VOCALOID3 Gackpoid, INTERNET held a contest where winners could get their songs added to JOYSOUND's karaoke database. Entries were uploaded before the end of September to Niconico with the tag "JOYSOUNDがくっぽいど" locked. There were separate awards for the Gackpoid, Gackpoid POWER and Gackpoid WHISPER categories. Until 6PM JST on September 14, the trial version of VOCALOID Gackpoid POWER was also made downloadable from INTERNET Co.'s website.
VocaloTracks Song Contest
[
]
A contest was held by Vocalotracks on 3 July 2013 to create an original song using any of Gackpo's voicebanks. The deadline was 31st Jul 2013 and the winning songs where able to sell their songs with a professional label.[18]
A song contest was held by VocaloTracks on 12th Aug, 2013 to create an original song using any of Lily's voicebanks. The deadline was 25th Sept, 2013 and the winners were able to sell their songs under a "professional label".[19]
On December 2, 2013, a contest was held by VocaloTracks to create an original song using CUL. Her initial deadline was January 1, 2014, but was held back due to system errors, and the deadline was pushed to January 14. Winning songs would be sold under a "professional label".[20]
In celebration of her release, INTERNET Co held a song contest using kokone.
V3 Song Contest
[
]
Commemorating Lily's 2nd anniversary and VOCALOID3 GUMI's 1st anniversary, Avex Management and INTERNET Co., Ltd are holding a music contest, accepting entries in the span of time between August 25, Lily's release date and October 15th, with winners being announced on October 21, VOCALOID3 GUMI's release date. To enter, the applicant must upload a song made using Lily and/or GUMI to Nico Nico Douga before the deadline, add the tag "LilyGUMI楽曲コンテスト" and lock it. The fine print says that previously uploaded works are eligible, although uploaded songs must be the original work of the uploader. The grand prize winning song nets 100,000 JPY of prize money and gets added to the upcoming 2013 "LilyxMegpoid Split Album". Three songs receiving an award of excellence will net 30,000 JPY in prize money. Finally, three special prize winners will receive one copy of Singer Song Writer 9 Professional each.
kokone Illustration Contest
[
]
Prior to her release, INTERNET Co held an illustration contest in celebration of kokone's release. The contest ended on March 17, 2014.
"VOCALOID3 Chika" Song Contest
[
]
Internet Co announced an original song contest for those using Chika. The winners would have their song published on iTunes, Amazon, and may be featured in a VOCALOTRACKS album.[21][22]
Concerts
[
]
King Run Anison Red and White Concert
[
]
GUMI and Gackpo made special appearances in the 2010 new year celebration event known as King Run Anison Red and White.
The songs they covered were;
アニソン紅白2010 M-32[Love Letter]神威がくぽ(がくっぽいど) "Love Letter" covered by Gackpo originally from "Mobile Suit Z Gundam", which had originally been sung by GACKT
アニソン紅白2010 M-33[星間飛行]GUMI(メグッポイド) "Interstellar Flight" covered by GUMI from "Macross Frontier", which had originally been sung by Megumi Nakajima.
Their appearance was strictly a one off event.[23][24]
CUL Concerts
[
]
CUL has been performing on stage in a Nico Nico Douga broadcast, which ended on November 25, 2012.[25] She also performed at Nekocon 15 in 2012.
She was featured in a special event alongside other singers.[26]
Anim.o.v.e
[
]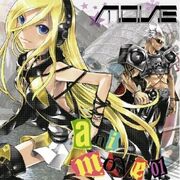 "Lily" as a character appears on all of promotions and CD cover arts of the group m.o.v.e for their "Anim.o.v.e." albums. The albums themselves are cover songs of popular anime based music. The character "Lily" was in-use for some time prior to her VOCALOID release and first started appearing in use by Yuri a short while before the the first Anim.o.v.e. CD "Anim.o.v.e. 01" was released on August 18, 2009 (over a year before her VOCALOID release).
Also, "anim.o.v.e. 02", m.o.v.e album which comes with her anime movie, was released on Aug 25th, 2010. Prizes for her contest were Lily-related promotional goods, also a copy of Internet Co. Ltd.'s Singer Song Writer 9 Professional software. Judges included DJ Lily and MOSH from anim.o.v.e, Masashi Kamibayashi and Kenichiro Yorozu of DTM MAGAZINE, and Hideki Kenmochi of YAMAHA.

A digicomic movie(anime MV) titled "Schwarzgazer", which shows the world where Lily lives,[27] has been produced and it will be released with the album "anim.o.v.e 02". The song was sung by m.o.v.e., not by VOCALOIDs. A short version has been officially uploaded on Nicovideo and Youtube. (Nico broadcast, Youtube broadcast) This short movie is unique in approach, as it provides an official English language version side by side with the Japanese version. It depicts Lily and companion "Mosh" as fighters against a virus, equipped with music as their weapon.
A manga of the same name, which is written by Kei, was released together.[28][29]
Lily's avatar was used by Yuri Masuda alongside Mosh and Luna in the PV "Love Shower" feat. Yukari Tamura, the song is in the cover album "anim.o.v.e 03" .
Social Media
[
]
On March 4, 2011, a Twitter account was set up for Lily and she also received her own website. She is the second VOCALOID to have an official Twitter account.[30]
An official FaceBook page has been made for kokone.
An official website and Twitter account has been made for Otomachi Una.
References
[
]
[

]