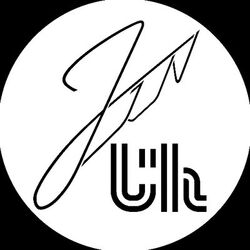 Affiliations
[
]
External links
[
]
Official
[
]
Unofficial
[
]
Jin (じん), also known as Shizen no Teki-P (自然の敵P), born October 20, 1990[1], is a producer whose works are mainly rock. He mainly uses IA and Miku.
He is best known for the Kagerou Project series, which got several novel and manga adaptations, as well as an anime adaption named Mekakucity Actors. Jin also composed the opening and ending theme of the above mentioned anime.
His notable songs include "Kagerou Daze", "Children Record", "Lost Time Memory", "Night Tales Deceive", and "Outer Science".
Works
[
]
| Links | Title | Featuring | Date | Roles |
| --- | --- | --- | --- | --- |
| | "人造エネミー" | Hatsune Miku | February 17, 2011 | lyrics |
| | "メカクシコード" | Hatsune Miku | May 29, 2011 | music, lyrics |
| | "カゲロウデイズ" | Hatsune Miku | September 30, 2011 | music, lyrics, arrangement |
| | "ヘッドフォンアクター" | IA | December 15, 2011 | music, lyrics, arrangement |
| | "想像フォレスト" | IA | February 01, 2012 | music, lyrics |
| | "コノハの世界事情" | Hatsune Miku and IA | March 30, 2012 | music, lyrics, arrangement |
| | "日本橋高架下R計画" | IA | April 04, 2012 | music, lyrics, guitar |
| | "如月アテンション" | IA | May 27, 2012 | music, lyrics |
| None | "エネの電脳紀行" | IA | May 30, 2012 | music, lyrics, arrangement |
| None | "透明アンサー" | IA | May 30, 2012 | music, lyrics |
| None | "シニガミレコード" | IA | May 30, 2012 | music, lyrics |
| | "チルドレンレコード" | IA | July 21, 2012 | music, lyrics, guitar, arrangement |
| | "ワールド・コーリング" | IA | November 2, 2012 | music, lyrics |
| | "LIVEDRIVE" | IA | November 09, 2012 | music, lyrics |
| | "アメリカ" | IA | February 9, 2013 | music, lyrics, left guitar |
| • | Sky of Beginning | Hatsune Miku | August 19, 2012 | music, lyrics |
| • | 始まりの庭 (Hajimari no Niwa) | IA | January 31, 2013 | special thanks |
| | "夜咄ディセイブ" | IA | February 17, 2013 | music, lyrics, arrangement |
| | "ロスタイムメモリー" | IA | March 30, 2013 | music, lyrics |
| | "アヤノの幸福理論" | IA | April 22, 2013 | music, lyrics |
| | "オツキミリサイタル" | IA | July 2, 2013 | music, lyrics |
| | "夕景イエスタデイ" | IA | August 04, 2013 | music, lyrics |
| | "アウターサイエンス" | IA | August 31, 2013 | music, lyrics |
| | "サマータイムレコード" | IA | September 2, 2013 | music, lyrics |
| • | 鍵のない部屋 (Kagi no Nai Heya) | IA | February 28, 2014 | guitar |
| | "Inner Arts" | IA ROCKS | May 22, 2014 | music, lyrics, arrangement, guitar |
| | "失想ワアド" | Hatsune Miku | December 29, 2017 | music, lyrics, guitar, tuning |
| | "Euphoria " | IA | August 24, 2018 | music, lyrics |
| | "アディショナルメモリー" | Hatsune Miku | September 14, 2018 | music, guitar, arrangement, tuning |
| • | S•K•Y | Hatsune Miku | September 29, 2018 | piano |
| | "T.A.O." | Luo Tianyi V4 Japanese (Normal) | October 18, 2019 | lyrics, compose, arrange |
| • | アフタースクールフィーバー (After School Fever) | Hatsune Miku | June 29, 2020 | music |
| | "ステラ" | Hatsune Miku | November 16, 2020 | music, lyrics, arrangement |
Albums
[
]
Discography
[
]
| Affiliation | Title | Featuring | Date | Roles |
| --- | --- | --- | --- | --- |
| • | メカクシティアクターズ (Mekakucity Actors) | Hatsune Miku, IA | February 05, 2012 | music, lyrics |
| • | メカクシティデイズ (Mekakucity Days) | Hatsune Miku, IA | May 30, 2012 | music, lyrics |
| • | Children Record | IA | August 15, 2012 | music, lyrics |
| • | ワールド・コーリング / LIVEDRIVE (World・Calling / LIVEDRIVE) | IA | November 28, 2012 | music, lyrics |
| • | メカクシティレコーズ (Mekakucity Records) | IA | May 29, 2013 | music, lyrics |
| Edword Records, UNIVERSAL MUSIC JAPAN | "メカクシティリロード" | Hatsune Miku | November 7, 2018 | music, lyrics |
Split singles
[
]
Compilations
[
]
| Affiliation | Title | Featuring | Date | Roles |
| --- | --- | --- | --- | --- |
| FARM RECORDS | "VOCAROCK collection 3 feat. 初音ミク" | Hatsune Miku, Kagamine Rin, Megurine Luka, GUMI, and Kagamine Len | December 7, 2011 | music, lyrics |
| 1st PLACE Co., Ltd., queens label | "IA/00" | IA | December 29, 2011 | music, lyrics |
| EXIT TUNES | "EXIT TUNES PRESENTS Vocalodream feat. 初音ミク" | Hatsune Miku, Kagamine Rin, GUMI, Megurine Luka, Kagamine Len, Camui Gackpo, KAITO, and MEIKO | January 18, 2012 | music, lyrics |
| • | V love 25~Brave Heart~ | GUMI, Hatsune Miku, Megurine Luka, Kagamine Rin & Len, MEIKO, KAITO, Camui Gackpo, IA, CUL | March 14, 2012 | music, lyrics |
| 1st PLACE | "IA/01 -BIRTH-" | IA | April 25, 2012 | music, lyrics |
| TEAM Entertainment | "IA THE WORLD ~光~" | IA | June 27, 2012 | music, lyrics |
| FARM RECORDS | "EX:P3 ~Ex:Producers3~" | Hatsune Miku, GUMI, Kagamine Rin, and IA | July 4, 2012 | lyrics |
| Dwango User Entertainment, Inc., Sony Music Direct | "初音ミク 5thバースデー ベスト ~memories~" | Hatsune Miku, Kagamine Len, Kagamine Rin, Megurine Luka, KAITO, and MEIKO | August 1, 2012 | music, lyrics |
| • | V Love 25 -Desire- | GUMI, Hatsune Miku, Megurine Luka, Kagamine Rin & Len, MEIKO, KAITO, Camui Gackpo, IA, Lily | September 19, 2012 | music, lyrics |
| FARM RECORDS | "VOCAROCK collection 4 feat. 初音ミク" | GUMI, Hatsune Miku, IA, Kagamine Rin, Megurine Luka, and Kagamine Len | November 28, 2012 | music, lyrics |
| • | TamStar Records presents ALL VOCALOID ATTACK 1 | n/a | n/a | n/a |
| 1st PLACE, IA PROJECT, Sony Music Entertainment | "IA/02 -COLOR-" | IA, Hatsune Miku, GUMI, Lily, and SF-A2 miki | January 30, 2013 | music, lyrics |
| • | VOCALOID3 meets TRF | GUMI, Mew, Aoki Lapis, VY1, IA, Lily | March 27, 2013 | n/a |
| FARM RECORDS | "VOCAROCK collection love IA" | IA | July 3, 2013 | music, lyrics |
| Dwango User Entertainment, Inc. | "VOCALOID 超BEST -impacts-" | Hatsune Miku, Kagamine Rin & Len, GUMI, Megurine Luka, IA, Camui Gackpo, KAITO, MEIKO, VY1 | October 03, 2013 | music, lyrics |
| Dwango User Entertainment, Inc. | "VOCALOID 超BEST -memories-" | Hatsune Miku, Kagamine Len, Kagamine Rin, GUMI, Megurine Luka, IA, Camui Gackpo, KAITO, MEIKO, and VY2 | October 3, 2013 | music, lyrics |
| Sony Music Entertainment Japan | "VOCA NICO☆PARTY" | Hatsune Miku, Kagamine Len, Kagamine Rin, GUMI, Megurine Luka, IA, KAITO, MEIKO, Yuzuki Yukari, Lily, and VY2 | December 25, 2013 | music, lyrics |
| FARM RECORDS | "VOCAROCK collection 5 feat. 初音ミク" | GUMI, Hatsune Miku, IA, Kagamine Len, Kagamine Rin, and Megurine Luka | December 25, 2013 | music, lyrics |
| • | IA/03 -VISION- | IA | November 05, 2014 | n/a |
| Dwango User Entertainment, Inc., U&R records | "Re:Start" | Hatsune Miku, Kagamine Len, Kagamine Rin, GUMI, Megurine Luka, KAITO, and MEIKO | August 30, 2017 | music, lyrics |
| EXIT TUNES | "EXIT TUNES PRESENTS Vocaloseasons feat. 初音ミク ~Autumn~" | Hatsune Miku, Kagamine Rin, Kagamine Len, KAITO, Megurine Luka, IA, and MEIKO | October 4, 2017 | music, lyrics |
| EXIT TUNES | "EXIT TUNES PRESENTS Vocaloseasons feat. 初音ミク ~Summer~" | Hatsune Miku, GUMI, IA, Kagamine Len, and Kagamine Rin | July 18, 2018 | music, lyrics |
| Independent | "キメラ" | Hatsune Miku, flower, Otomachi Una, Kagamine Len, and Kaai Yuki | October 15, 2021 | music, lyrics |
Gallery
[
]
References
[
]
External links
[
]
Interviews
[
]