KAITO VOCALOID1 VOCALOID3 | Piapro Studio | Songs Albums Notable Originals
---
This article is about the first VOCALOID software known as a voicebank. If you are looking for the VOCALOID character then click here.
History
[
]
MEIKO and KAITO were originally developed by YAMAHA, with Crypton Future Media handling their commercial releases. This was much in as the later VY1 and VY2 vocals were left to Bplats, Inc. to sell.[3]
MEIKO and KAITO were originally developed alongside LEON and LOLA and intended for release for the software "Project Daisy", with KAITO having the name of "TARO" for a long time.
On 24 July 2003, a CD album "HISTORY OF LOGIC SYSTEM", which included a song using Japanese VOCALOIDs commercially for the first time, was released. It was the duet song "Ano Subarashii Ai wo Mou Ichido (That Wonderful Love Once More)" and it was covered by prototype version of MEIKO and KAITO before their release. MEIKO was released 1 year after its release, and KAITO followed her nearly 2 years later.[4] Also in 2003, Yamaha gave out KAITO's first demo song, "Kimi no Uwasa (Rumor of Yours)" 3 years before his release.
At the time of his original sale, VOCALOID was not yet a well known product, and synthesizing software was only considered successful if it sold more than 1,000 units. However, KAITO managed to sell only 500 units—deeming him "a commercial failure."[5] In contrast, his counterpart, MEIKO, had sold 3,000 units in her first year.
KAITO's initial failure was one of the main reasons why other male VOCALOIDs were not developed for a long time after his release. The male voicebanks appeared to have little demand at that time.[6]
When Hatsune Miku was on pre-order, it was noted MEIKO and KAITO had no prospect of receiving updates and it was preferred to carry on with new releases. Hatsune Miku would be successors to the pair. However, in terms of sales of Hatsune Miku, Crypton Future Media would offer up preferential sales for users of MEIKO and KAITO if they were registered by the 9th of August, 2007.[7]
Later interest in KAITO arose and KAITO sold well enough to later claim the second best seller of the year in Nico Nico Market in 2008.[8] From 2009 up until late 2011, he was in the top 10 best selling pieces of software from Crypton Future Media, often competing not only with VOCALOID2 era voicebanks, but on occasion outselling them.
In 2012, Zero-G confirmed that all VOCALOID vocals were unsupported and due for retirement "in the near future".[9]
Product Information
[
]
Demonstrations
[
]
System Requirements
[
]
Pentium III 1 GHz or more

(If using the VOCALOID VSTi or using ReWire, more than 4 1.8 GHz Pentium)

OS Windows 2000/XP
RAM memory 512MB or more

(Recommended 1GB or more)

Interface VST2.0, ReWire, standalone correspondence
Voicebanks
[
]
Product Information
Versions
  Trial/Demo Vers?: No
Package details as noted:
KAITO was the counterpart to MEIKO and part of Yamaha's "VOCALOID" series. He is designed to be a professional vocal aimed at professional producers and was noted for his gentler vocal in comparison to MEIKO.
Crypton Future Media, Inc. released a "couples bundle set" (male and female) which included MEIKO, KAITO, LEON and LOLA. A loop sample set was also supplied with the 4 voicebank bundle.[10]
Vocal traits as noted:
Since Fuuga Naoto's professional music style lay more in the Jazz area, KAITO's vocals lean towards this particular style of music.[11] However, due to the vocal itself KAITO was noted to be a "all-round" VOCALOID capable of multiple genres.
His overall vocals are of a slightly higher quality than MEIKO's
According to Wat his voice was highly compatible with the VOCALOID engine, it led to high performance overall as a VOCALOID.[12] This helped him excel despite having a small (undeclared) optimum range like the other 4 VOCALOID vocals.
KAITO's vocals do have some variation in tone between his treble and bass, with his bass sounding softer and gentler than his treble, the treble range on the other hand is powerful.[13]
Software issues as noted:
Although he used Japanese phonetics, the menu was not in Japanese and instead was released only with the standard English interface.
Voicebank sample
KAITO VOCALOID1
KAITO singing in his raw state
Interface
[
]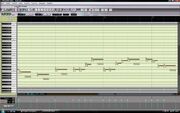 Like other VOCALOID vocals, he has a unique interface.
References
[
]
[

]