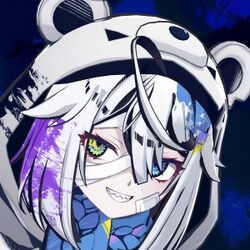 Affiliations
[
]
External links
[
]
Official
[
]
Unofficial
[
]
Kairiki Bear (かいりきベア, lit. Superpower Bear) is a male VOCALOID producer who debuted in June 2011. The origin of his producer name (Kairiki Bear) comes from the enemy of the same name appearing in the game EarthBound (also known as Mother 2 in Japan).
Aside from producing his own VOCALOID works, he sometimes also mixes and masters for other producers and singers, and plays the role of the guitarist; Kairiki Bear has mixed and mastered all of Zips' Heisei Project songs. Rarely he would also participate in Touhou arranges.
He mainly uses Hatsune Miku, GUMI, and flower. His first song to enter the Hall of Legend is Arukari Rettousei.
He was born on September 30th.[1]
Kairiki Bear does NOT permit unauthorized reprints of his videos.
Works
[
]
| Links | Title | Featuring | Date | Roles |
| --- | --- | --- | --- | --- |
| • | ワカレノオト。 (Wakare no Oto.) | Hatsune Miku | Jun.02.2011 | music, lyrics |
| • | 渚色ロマンス (Nagisa Iro Romance) | Hatsune Miku | July 15, 2011 | music, lyrics |
| | "爆砕プリン" | Hatsune Miku | August 25, 2011 | music, lyrics |
| • | アナタノヌクモ (Anata no Nukumori) | Hatsune Miku | January 26, 2012 | music, lyrics |
| | "完全懲悪ロリィタコンプレックス" | GUMI | August 09, 2012 | music, lyrics |
| • | 怪盗! パパパパパンサー (Kaitou! Pa-Pa-Pa-Pa-Panther) | Hatsune Miku | September 24, 2014 | guitar |
| | "ヘイセイカタクリズム" | IA | December 26, 2012 | mix, mastering |
| | "暴走ロリィタホリック" | GUMI | March 01, 2013 | music, lyrics |
| | "ムシクイサイケデリズム" | Kagamine Rin and Kagamine Len | April 3, 2013 | mix |
| | "レイワイテロリズム" | GUMI | July 13, 2013 | mixing, mastering |
| | "クロアゲハ" | IA | July 26, 2013 | guitar |
| | "マネマネサイコトロピック" | GUMI | August 23, 2013 | music, lyrics |
| • | 復讐のルナティック (Fukushuu no Lunatic) | Hatsune Miku, GUMI | September 04, 2013 | guitar |
| | "電脳狂愛ガール" | GUMI and Kagamine Rin | October 18, 2013 | music, lyrics |
| | "リズの内心革命" | IA | November 06, 2013 | mix, mastering |
| | "トゥルー感情欠損" | GUMI | November 20, 2013 | mastering |
| | "イザナミ討伐戦記" | GUMI | November 30, 2013 | mix, mastering |
| | "悪性ロリィタマキャヴェリズム" | GUMI | December 26, 2013 | music, lyrics, guitar solo |
| | "ウラガエシハート" | IA | April 17, 2014 | mix |
| | "イナイイナイ依存症" | GUMI and Kagamine Rin | August 22, 2014 | music, lyrics |
| | "ドリームキラー" | Hatsune Miku | September 26, 2014 | music, lyrics |
| • | ユトリ最強世代 (Yutori Saikyou Sedai) | GUMI | November 14, 2014 | mixing, mastering |
| • | ウルサイマン (Urusai Man) | Hatsune Miku | November 29, 2014 | music, lyrics |
| | "二次元セカイ解放宣言" | Kagamine Len and Kagamine Rin | December 19, 2014 | music, lyrics |
| | "アイソワライ" | Hatsune Miku | February 20, 2015 | music, lyrics |
| • | 巫女装パルプテーション (Mikosou Palpitation) | GUMI, Hatsune Miku | March 06, 2015 | music, lyrics |
| | "セイデンキニンゲン" | Hatsune Miku | April 10, 2015 | music, lyrics |
| • | PIECE | GUMI, Hatsune Miku, IA, VY1, Megurine Luka, anon, Yuzuki Yukari, Kagamine Rin & Len | May 21, 2015 | tuning |
| | "失敗作少女" | Hatsune Miku | August 08, 2015 | music, lyrics |
| | "ヒトサマアレルギー" | flower | January 30, 2016 | music, lyrics |
| | "ココロナンセンス" | Hatsune Miku | August 26, 2016 | music, lyrics |
| | "アルカリレットウセイ" | Hatsune Miku | November 25, 2016 | music, lyrics |
| | "イヤガール" | Hatsune Miku | April 12, 2017 | music, lyrics |
| | "イナイイナイ依存症" | GUMI and Kagamine Rin | August 22, 2014 | music, lyrics |
| | "アンハッピーバースデイ" | Hatsune Miku | August 30, 2017 | music, lyrics |
| | "レミングミング" | flower | November 02, 2017 | music, lyrics |
| | "マイナスレッテル" | flower | January 16, 2018 | music, lyrics |
| • | クロクロクロ (Kuro Kuro Kuro) | Hatsune Miku | January 22, 2018 | music, lyrics |
| | "バラバラココロ" | flower | February 23, 2018 | music, lyrics |
| | "ベノム" | flower | August 2, 2018 | music, lyrics |
| • | テレストテレス (Telesto Teles) | Hatsune Miku | December 21, 2018 | music, lyrics |
| • | ロジカ (Logica) | flower | Febuary 08, 2019 | music, lyrics |
| | "アンヘル" | MEIKA Mikoto | March 30, 2019 | lyrics, compose, arrange |
| | "ルマ" | Hatsune Miku | November 23, 2019 | music,lyrics |
| | "アイ情劣等生" | Kagamine Rin | June 27, 2020 | music, lyrics, arrange |
| • | ダーリンダンス (Darling Dance) | Hatsune Miku | August 30, 2020 | music, lyrics |
| | "ネロイズム" | MEIKA Hime & Mikoto (VOCALOID5) | September 4, 2020 | music, lyrics |
| | "マオ" | Hatsune Miku | February 5, 2021 | music, lyrics, arrangement |
| | "メンタルチェンソー" | Hatsune Miku | April 3, 2021 | music, lyrics |
Albums
[
]
Discography
[
]
| Affiliation | Title | Featuring | Date | Roles |
| --- | --- | --- | --- | --- |
| Independent | プリンだばぁ! (Pudding Dabaa!) | Hatsune Miku | February 05, 2012 | music, lyrics |
| • | 時代改正ドミナント (Jidai Kaisei Dominant) | GUMI, IA, Kagamine Rin & Len | December 31, 2013 | Heisei Project |
| Independent | ロリィタマキャヴェリズム (Lolita Machiavellism) | GUMI, Kagamine Rin & Len, Hatsune Miku | December 31, 2013 | music, lyrics |
| EXIT TUNES | ヘイセイプロジェクト -ホワイトノイズ- (Heisei Project -White Noise-) | GUMI, Kagamine Rin & Len, IA, Hatsune Miku | December 17, 2014 | music, lyrics |
| EXIT TUNES | IMITATION GALLERY | GUMI, Kagamine Rin & Len, Hatsune Miku | March 04, 2015 | music, lyrics |
| Independent | セイデンキ少女 (Seidenki Shoujo) | Kagamine Rin, Hatsune Miku | August 16, 2015 | music, lyrics |
| Independent | "イナイイナイリブート" | Hatsune Miku, Kagamine Rin, GUMI, and flower | April 28, 2018 | producer |
| Subcul-rise Record | "ベノマ" | Hatsune Miku, flower, Kaai Yuki, GUMI, Kagamine Rin | January 15, 2020 | music, lyrics |
| Independent | ダーリンシンドローム (DARLING SYNDROME) | Yuzuki Yukari, MEIKA Mikoto, Kagamine Rin & Len, flower, Hatsune Miku | June 26, 2021 | music, lyrics |
Singles
[
]
| Affiliation | Title | Featuring | Date | Roles |
| --- | --- | --- | --- | --- |
| Independent | ココロナンセンス (Kokoro Nonsense) | Hatsune Miku | August 26, 2016 | music, lyrics |
| Independent | イヤガール (Iya Girl) | Hatsune Miku | April 12, 2017 | music, lyrics |
| Independent | アンハッピーバースデイ (Unhappy Birthday) | Hatsune Miku | August 30, 2017 | music, lyrics |
| Independent | マイナスレッテル (Minus Letter) | flower | January 16, 2018 | music, lyrics |
| Independent | ネロイズム (Neroism) | MEIKA Mikoto | September 30, 2020 | music, lyrics |
Compilations
[
]
| Affiliation | Title | Featuring | Date | Roles |
| --- | --- | --- | --- | --- |
| KARENT | Alice knockin'on Hell's Door | GUMI, Hatsune Miku, Kagamine Rin | April 28, 2012 | music, lyrics |
| icecream | 何か、妖怪? (Nani ka, youkai?) | GUMI, CUL, Yuzuki Yukari, Hatsune Miku, Kagamine Rin & Len | July 08, 2012 | music, lyrics |
| FARM RECORDS | "VOCAROCK collection 4 feat. 初音ミク" | GUMI, Hatsune Miku, IA, Kagamine Rin, Megurine Luka, and Kagamine Len | November 28, 2012 | music, lyrics |
| SPUTONIC | "GUMI誕 -4th Anniversary-" | GUMI | June 26, 2013 | music, lyrics |
| • | EXIT TUNES PRESENTS GUMity from Megpoid | n/a | n/a | n/a |
| Independent | "地獄型人間動物園" | GUMI, Hatsune Miku, IA, Kagamine Rin | November 08, 2013 | music, lyrics |
| VOCALOID RECORDS, YAMAHA MUSIC COMMUNICATIONS, Inc. | ボカ☆フレ!2 - VOCALOID™ FRESHMEN 2- (VOCA☆FRE! 2 -VOCALOID™ FRESHMEN 2-) | Hatsune Miku, IA, GUMI, Kagamine Rin | November 13, 2013 | music, lyrics |
| EXIT TUNES | 月刊eta Vol.10 (Gekkaneta Vol.10) | Hatsune Miku, GUMI, MAYU | December 04, 2013 | music, lyrics |
| KLAFT | EXISTENCE | Megurine Luka, Kagamine Len, GUMI, Aoki Lapis, Kagamine Rin, Hatsune Miku, Namine Ritsu | December 31, 2013 | music, lyrics |
| VOCALOID RECORDS, YAMAHA MUSIC COMMUNICATIONS, Inc. | "天響ノ和樂2" | Hatsune Miku, Kagamine Rin & Len, GUMI, Megurine Luka, Nekomura Iroha, Kaai Yuki, VY2, and VY1 | February 26, 2014 | music, lyrics |
| • | EXIT TUNES PRESENTS GUMical from Megpoid | n/a | n/a | n/a |
| SPUTONIC | Memories of GUMI 2009-2013 feat. Megpoid 上巻 | GUMI | June 26, 2014 | music, lyrics |
| Gynoid Co., Ltd. | "一期一会" | flower, GUMI | February 24, 2016 | music, lyrics |
| Gakken Plus | ボカロで覚える中学数学 (Vocalo de Oboeru Chuugaku Suugaku) | GUMI, Hatsune Miku, Kagamine Rin & Len | February 21, 2017 | music, lyrics |
| Dwango User Entertainment, Inc. | 「#コンパス 戦闘摂理解析システム」 オリジナルサウンドトラック Vol.01 ("#Compass: Sentou Setsuri Kaiseki System" Original Soundtrack Vol.01) | GUMI, IA, KYO, Hatsune Miku, Camui Gackpo, Kagamine Rin & Len | April 29, 2017 | music, lyrics |
| Independent | "モノカラーガールスーパーノヴァ" | Hatsune Miku, Kasane Teto, GUMI, IA, Kaai Yuki, Otomachi Una, flower, Kagamine Rin, SF-A2 miki | December 29, 2017 | music, lyrics |
| Vocalomakets | "星の詩 I - ホシノウタ -" | Kizuna Akari | August 10, 2018 | music, lyrics |
| Gakken Plus | ボカロで覚える高校日本史 (Vocalo de Oboeru Koukou Nihonshi) | IA, Hatsune Miku, Megurine Luka, Kaai Yuki, Kagamine Rin, Otomachi Una | February 19, 2019 | music, lyrics |
| Dwango User Entertainment, Inc. | 「#コンパス 戦闘摂理解析システム」 オリジナルサウンドトラック Vol.02 ("#Compass: Sentou Setsuri Kaiseki System" Original Soundtrack Vol.02) | GUMI, IA, Hatsune Miku, Megurine Luka, Kagamine Rin & Len | February 20, 2019 | music, lyrics |
| EXIT TUNES | "EXIT TUNES PRESENTS Vocalostream feat. 初音ミク" | Hatsune Miku, GUMI, Kagamine Rin, Kagamine Len, IA, flower, Megurine Luka, Camui Gackpo, KAITO, MEIKO, and MAYU | March 20, 2019 | music, lyrics |
| KARENT | CRASH FEVER ORIGINAL SOUNDTRACK feat.MIKU,RIN,LEN 01 | Hatsune Miku, Kagamine Rin & Len | July 06, 2021 | music, lyrics |
| KARENT | 初音ミク「マジカルミライ 2021」OFFICIAL ALBUM (Hatsune Miku "Magical Mirai 2021" OFFICIAL ALBUM) | Hatsune Miku, KAITO, MEIKO, Megurine Luka, Kagamine Rin & Len | September 29, 2021 | music, lyrics |
References
[
]