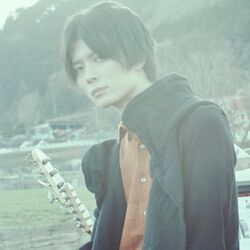 Affiliations
[
]
External links
[
]
Official
[
]
Unofficial
[
]
kemu, previously active as Nakamura Ine (中村イネ) and 協奏馬P, is a producer, composer and the leader of the doujin group KEMU VOXX. All of his songs have been well received and the first nine songs he has published as kemu have reached the Hall of Legend status.
All of the VOCALOID works he created are part of a series most commonly referred to as the "PANDORA VOXX" or "KEMU VOXX" series. The series have been confirmed to receive a light novel adaptation starting from June 2013.
kemu has also composed the music for several visual novels, games and anime projects. For his non-VOCALOID work he uses the name Tsukamoto Kemu (塚本けむ).
After the release of kemu's 8th song "Haiboku no Shounen" in May 2013, he mysteriously ceased all activities on his Twitter and piapro account, leaving many to question whether he was still active. kemu released a short piano arrange of "Haiboku no Shounen" in November 2015 through ke-sanβ's channel and resumed VOCALOID-related work in May 2017 with the release of "Haikei Doppelganger". kemu released a new VOCALOID song, "Gareki no Tou", in November 2021.
kemu is also currently a member of the band PENGUIN RESEARCH signed under Sony Music Japan. He goes by the name Shota Horie and is the bassist as well as the composer for the band.[1]
His birthday is on May 31st.
Works
[
]
| Links | Title | Featuring | Date | Roles |
| --- | --- | --- | --- | --- |
| • | Lovely Night! | Hatsune Miku | August 17, 2008 | music, lyrics |
| • | 生きて散るだけ (Ikite Chiru Dake) | Hatsune Miku | September 11, 2008 | music, lyrics |
| • | Lonely X'mas! | Hatsune Miku | August 17, 2008 | music, lyrics |
| | "人生リセットボタン" | GUMI | November 7, 2011 | music, lyrics |
| | "インビジブル" | Kagamine Rin and GUMI | December 20, 2011 | music, lyrics |
| | "イカサマライフゲイム" | GUMI | February 8, 2012 | music, lyrics |
| | "六兆年と一夜物語" | IA | April 11, 2012 | music, lyrics |
| | "地球最後の告白を" | GUMI | June 26, 2012 | music, lyrics |
| | "カミサマネジマキ" | GUMI | August 2, 2012 | music, lyrics |
| | "リンカーネイション" | GUMI and Kagamine Rin | March 24, 2013 | music, lyrics |
| | "敗北の少年" | GUMI | May 6, 2013 | music, lyrics |
| | "拝啓ドッペルゲンガー" | GUMI | May 31, 2017 | |
| | "T.A.O." | Luo Tianyi V4 Japanese (Normal) | October 18, 2019 | bass |
| | "セカイ" | Hatsune Miku | July 31, 2020 | music |
| • | 十年越しのラストピース (Junengoshi no Last Piece) | Hatsune Miku | October 14, 2020 | music, arrangement |
| • | 瓦礫の塔 (Gareki no Tou) | GUMI | November 7, 2021 | music |
Albums
[
]
Discography
[
]
| Affiliation | Title | Featuring | Date | Roles |
| --- | --- | --- | --- | --- |
| Independent | PANDORA VOXX | GUMI, IA, Kagamine Rin | April 28, 2012 | music, lyrics |
| avex trax | PANDORA VOXX complete | GUMI, IA, Kagamine Rin & Len | March 27, 2013 | music, lyrics |
| Subcul-rise Record | "ベノマ" | Hatsune Miku, flower, Kaai Yuki, GUMI, Kagamine Rin | January 15, 2020 | arrangement |
Singles
[
]
| Affiliation | Title | Featuring | Date | Roles |
| --- | --- | --- | --- | --- |
| KARENT | イカサマライフゲイム (Ikasama Life Game) (single) | GUMI | June 26, 2012 | music, lyrics |
| KARENT | 人生リセットボタン (Jinsei Reset Button) (single) | GUMI | June 26, 2012 | music, lyrics |
| OTOIRO | セカイ (Sekai) (single) | Hatsune Miku | April 09, 2021 | music, lyrics |
Compilations
[
]
| Affiliation | Title | Featuring | Date | Roles |
| --- | --- | --- | --- | --- |
| VOCALOID RECORDS, Yamaha Corporation | Happy Party☆彡 -VOCALOID3 Megpoid(GUMI)- | GUMI | March 14, 2012 | music, lyrics |
| BinaryMixx Records, Dwango User Entertainment, Inc. | V Love 25~Brave Heart~ | Hatsune Miku, GUMI, Kagamine Rin & Len, Megurine Luka, IA, Camui Gackpo, KAITO, MEIKO | March 14, 2012 | music, lyrics |
| avex Marketing | "100%GUMI宣言! -Megpoid VIDEO CLIP COLLECTION + LIVE" | GUMI and Akikoloid-chan | March 14, 2012 | music, lyrics |
| 1st PLACE | "IA/01 -BIRTH-" | IA | April 25, 2012 | music, lyrics |
| April 28, 2012 | 少女戦争 | ARMS (Shoujo Sensou | ARMS) | Hatsune Miku, GUMI, Kagamine Rin, IA, Yuzuki Yukari, Nekomura Iroha |
| BinaryMixx Records | V Love 25~cantabile~ | Hatsune Miku, Kagamine Rin & Len, KAITO, MEIKO, Megurine Luka, IA, GUMI, Camui Gackpo | June 13, 2012 | music, lyrics |
| TEAM Entertainment | "IA THE WORLD ~光~" | IA | June 27, 2012 | music, lyrics |
| EXIT TUNES | "EXIT TUNES PRESENTS Vocaloconnection feat. 初音ミク" | Hatsune Miku, GUMI, Kagamine Rin, Kagamine Len, Camui Gackpo, KAITO, Megurine Luka, MEIKO, and IA | August 1, 2012 | music, lyrics |
| EXIT TUNES | "EXIT TUNES PRESENTS GUMing from Megpoid" | GUMI and Kagamine Rin | September 5, 2012 | music, lyrics |
| dmARTS | GUMI ROCK | GUMI, VY1, VY2 | September 26, 2012 | music, lyrics |
| TEAM Entertainment | "IA THE WORLD ~風~" | IA | September 26, 2012 | music, lyrics |
| FARM RECORDS | "VOCAROCK collection 4 feat. 初音ミク" | GUMI, Hatsune Miku, IA, Kagamine Rin, Megurine Luka, and Kagamine Len | November 28, 2012 | music, lyrics |
| EXIT TUNES | "EXIT TUNES PRESENTS Vocalosensation feat. 初音ミク" | Hatsune Miku, GUMI, Kagamine Rin, Megurine Luka, Kagamine Len, IA, Camui Gackpo, MEIKO, KAITO, MAYU, and Lily | February 20, 2013 | music, lyrics |
| Independent | "ボカロデュエット・コレクション" | Hatsune Miku, Kagamine Len, Kagamine Rin, GUMI, Megurine Luka, and KAITO | March 20, 2013 | music, lyrics |
| Yamaha Music Communications | "The Legend of 超絶調声師" | Hatsune Miku, Kagamine Len, Kagamine Rin, GUMI, Megurine Luka, IA, Camui Gackpo, Lily | March 20, 2013 | music, lyrics |
| HPQ | "妖艶和奏絵巻 feat. 初音ミク" | Hatsune Miku, Kagamine Rin & Len, IA, Megurine Luka, KAITO, GUMI, Nekomura Iroha, and Aoki Lapis | August 14, 2013 | music, lyrics |
| Dwango User Entertainment, Inc. | "VOCALOID 超BEST -impacts-" | Hatsune Miku, Kagamine Rin & Len, GUMI, Megurine Luka, IA, Camui Gackpo, KAITO, MEIKO, VY1 | October 03, 2013 | music, lyrics |
| Dwango User Entertainment, Inc. | "VOCALOID 超BEST -memories-" | Hatsune Miku, Kagamine Len, Kagamine Rin, GUMI, Megurine Luka, IA, Camui Gackpo, KAITO, MEIKO, and VY2 | October 3, 2013 | music, lyrics |
| U/M/A/A | "VOCALOID Masterpiece Collections feat. GUMI 09-11" | GUMI | June 26, 2015 | music, lyrics |
| U/M/A/A | "VOCALOID Masterpiece Collections feat. GUMI 12-14" | GUMI | June 26, 2015 | music, lyrics |
| U/M/A/A | "初音ミク Project mirai こんぷり~と" | Hatsune Miku, Kagamine Rin & Len, GUMI, Megurine Luka, KAITO, and MEIKO | September 2, 2015 | music, lyrics |
| Crypton Future Media | HATSUNE MIKU 10th ANNIVERSARY SONGS -ミラクルミライ- | Hatsune Miku, KAITO, Megurine Luka, Kagamine Rin & Len, MEIKO | January 10, 2018 | music, lyrics |
| EXIT TUNES | "EXIT TUNES PRESENTS GUMIssimo from Megpoid ―10th ANNIVERSARY BEST―" | GUMI | June 19, 2019 | music, lyrics |
Gallery
[
]
References
[
]