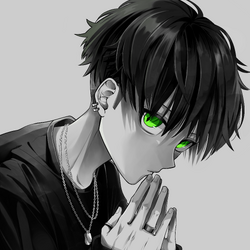 Affiliations
[
]
External links
[
]
Official
[
]
Unofficial
[
]
北沢強兵 (Kitazawa Kyouhei), born January 19, 2000, is a VOCALOID Music Producer and Song Writer from Bucharest, Romania, best known for his trap and electronic original songs. His works often dive into dark themes with their lyrics while pushing a progressive style of instrumentation, pulling ideas from modern pop to catchy trap rhythms and EDM. He mainly uses Hatsune Miku, though he also uses vflower and GUMI.
His most notable songs include "ONIRIC", "CONSUMPTION", "GLOOM", and "CANNIBALISM", with "ONIRIC" being his most popular song up to date.
As of his debut he is the founder of the music label NONSENSE SOUNDS.
In May of 2021 Kitazawa Kyouhei was announced as an official featured artist on the rhythm game osu! making him the first Romanian producer to be officially featured in the game. In that sense, Kitazawa Kyouhei has released the song "TRUE QUEEN", a song that was made exclusively for the game.
Kitazawa Kyouhei does NOT permit unauthorized reprints of his videos.
Works
[
]
| Links | Title | Featuring | Date | Roles |
| --- | --- | --- | --- | --- |
| | "パラダイスキラー" | Hatsune Miku | July 17, 2019 | music, lyrics |
| | "ミザントロープ" | Hatsune Miku | September 19, 2019 | music, lyrics |
| | "オフェリー" | Hatsune Miku | December 21, 2019 | music, lyrics |
| | "CONSUMPTION" | Hatsune Miku | April 28, 2020 | music, lyrics |
| | "CANNIBALISM" | Hatsune Miku | July 31, 2020 | music, lyrics |
| | "ONIRIC" | Hatsune Miku | August 21, 2020 | music, lyrics |
| | "EXOD" | Hatsune Miku | December 11, 2020 | music, lyrics |
| | "GLOOM" | Hatsune Miku | April 14, 2021 | music, lyrics |
| | "TRUE QUEEN" | Hatsune Miku | May 16, 2021 | music, lyrics |
| | "MENHIR" | Hatsune Miku | September 17, 2021 | music, lyrics |
| | "DOCTRINE" | Hatsune Miku | October 14, 2021 | music, lyrics |
| | "CRIMINAL" | Hatsune Miku | October 14, 2021 | music, lyrics |
| | "IRRATIONAL" | Hatsune Miku | February 22, 2022 | music, lyrics |
Gallery
[
]