LOLA VOCALOID1 | Songs Albums Notable Originals
---
This article is about the first VOCALOID software known as a voicebank. If you are looking for the VOCALOID concept then click here.
History
[
]
According to later production notes, it took 8 hours each day for 5 days to record the vocals of LEON and LOLA.[1]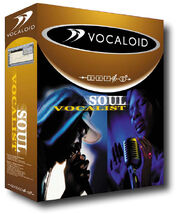 As noted by the existence of a early "Soul Singer" boxart, originally Leon and Lola may have been intended to be sold from the start as a duo. However, very little information is known about their early development at all and much of the early development of VOCALOID, such as even the name of "VOCALOID", was yet to be finalised. Both LEON and LOLA were known to have been around at the early days of "Project Daisy" and were the only vocals to have been ever be shown to the general public using "Daisy".
LOLA was released along with fellow VOCALOID, LEON, by Zero-G Limited. She received much better reviews than her male counterpart, and they were exhibited at the Zero-G Limited booth during Wired Nextfest. The VOCALOIDs won the 2005 Electronic Musician Editor's Choice Award, despite mixed reviews on both. At the time of their release, LOLA and LEON had no rival software to contend with and were the first vocal synthesizers to be released of their nature. However, LEON and LOLA failed to impact the American market due to their accents.[2][3]
A Japanese musician and composer, Susumu Hirasawa, used VOCALOID LOLA in the original soundtrack of "Paprika" by Satoshi Kon.[4] Susumu Hirasawa announced that "If users can edit her perfectly, she can be a professional (singer). She can sing in soprano or whatever if they edit her overwhelmingly" on his blog. Since Susumu Hirasawa did not reveal which VOCALOID he used for a quite some time, except the fact it was a female VOCALOID, many producers speculated it was Crypton's Meiko. However, later he mentioned in a magazine interview that it was LOLA. LOLA is also known to have the oldest Vocaloid works on Nico Nico Douga out of all Vocaloids.[5]
Re-Sale
[
]
In 2008, LEON, LOLA and MIRIAM were put back on sale for the first time in several years, this was thanks to the renewed interest in VOCALOID.
Final Retirement
[
]
In mid December 2013, Zero-G's regular newsletter reported that on the 31 December 2013, LEON, LOLA and MIRIAM would receive permanent retirement and would be removed from sale; they were all officially retired on the 1 January 2014.
Zero-G have since responded explaining that due to financial reasons, it is not feasible to update any of the 3 VOCALOID vocals and it is unlikely they will ever be updated.
Post Retirement DL sales
[
]
On 26 December 2014 in response to a fan e-mail, Zero-G confirmed that they will still offer LEON, LOLA and MIRIAM in download format only. However, they cannot provide software support at this stage and users wishing to purchase the software must understand they cannot seek technical support from Zero-G.
As of September 2015, Zero-G permanently discontinued sales of LEON, LOLA, and MIRIAM and it was no longer possible to purchase them using this method.[6]
Serial codes for LEON and LOLA were still available in November 2015, despite MIRIAM being confirmed to have run out of serial codes at this point.
Product Information
[
]
Demonstrations
[
]
System Requirements
[
]
Please note that the VOCALOID version 1 products LEON, LOLA, and MIRIAM are not fully compatible with Windows 7 or later.
Minimum Requirements
Windows XP or Windows 2000
Pentium III, 1 GHz or faster
512MB of RAM or more
32 bit (does not work on 64 bit systems)
700 MB or more of hard disk space
SVGA display (1024x768)
Sound card with a Microsoft DirectSound compatible driver
A LAN/network card must be installed, or a USB network card must be connected to the USB port.
Recommended Requirements
Windows XP
Pentium 4, 1.7 GHz or faster
32 bit
1 GB of RAM or more
Voicebanks
[
]
Product Information
Optimum
  Genre: Intended for soul music, but also suits many other styles.
Versions
  Trial/Demo Vers?: No
Package details as noted:
LOLA is the counterpart to LEON and designed to compliments his own vocals. She, like LEON, also sings with a British accent and is designed to be a generic soul singer and effort was made to make the racial appearance of the singer within the vocal itself.
Crypton Future Media, Inc. released a "couples bundle set" (male and female) which included MEIKO, KAITO, LEON and LOLA. A loop sample set was also supplied with the 4 voicebank bundle.[7]
Vocal traits as noted:
Has a strong, deep and mature female voice.
Was the most versatile of the 3 VOCALOID English vocals .[8]
Out of her and LEON, LOLA was praised as the better overall vocal when they were released by reviewers.
'Heatviper' decribed LOLA's voice as "works great for mondo/mournful giallo morricone style tracks using vowels....wordless soulful vowels are nice"
She has a slight synchronization problem compared to LEON making her harder to use than he is.
Phonetic notes as noted:
Has 3,800 word combinations.
When used outside of the typical Soul Music genre restrictions, LOLA reverts back to her native providers Caribbean sourced vocal leading to inconsistency with how pronunciations sound.
Software issues as noted:
Despite being the more praise as a vocal, LOLA is the most criticized as a "Soul singer" out of her and LEON and LOLA is often noted to be the one to most fail to represent the racial qualities that come from a 'black soul singer'.

Due to the mix of accents, LOLA actually failed to met what was expected of a typical soul music genre vocal, resulting in a atypical soul music vocal. LOLA made up for her loss of genre via her accent matching by instead having a strong vocal deliverance and a good timbre.
The vocal type has also lead to other user related issues, such as one user noted that by default LOLA sounds "like Big ma"; it is often recommended that the gender factor be used to make LOLA more neutral.
Voicebank sample
LOLA VOCALOID1
LOLA singing in her raw state
Interface
[
]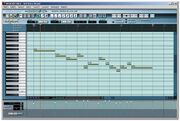 Like all VOCALOID vocals, LOLA has her own version of the VOCALOID interface.
References
[
]
[

]