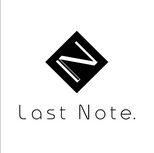 External links
[
]
Official
[
]
Unofficial
[
]
Last Note. is a two-person music unit, which consists of LasNo (ラスノ) (in charged of lyrics & composition) and Last Note. T (shortened to T) (in charged of composition & arrangement). Their social media account is operated by LasNo.
Last Note.'s works are known to be high-spirited, intense songs, characterized by their classic rock tunes. Their songs have a happy ambiance and are at times upbeat. They mainly use GUMI, though they also use Miku, Luka, IA, Rin, Lily, Len, and Gackpo.
They show high proficiency in making music by including violin sections into their songs. They have also released arranged albums for utaites.
In August 13, 2015, it was revealed that Last Note. T had withdrawn from the duo, and that he would be pursuing individual activities under the name T-Sugishita / Sugishita Tokiya (杉下トキヤ). Last Note. would continue its activity with a new arranger / composer named Nif (ニフ).[1]
Works
[
]
| Links | Title | Featuring | Date | Roles |
| --- | --- | --- | --- | --- |
| | "ワンステップ・レイヤード" | Hatsune Miku and Megurine Luka | November 22, 2010 | music, lyrics |
| | "ラストエフェクト" | Hatsune Miku | April 16, 2011 | music, lyrics |
| | "ノイジーラバーソウル" | GUMI | July 28, 2011 | music, lyrics |
| | "恋愛勇者" | GUMI | January 20, 2012 | music, lyrics |
| | "アカツキアライヴァル" | Hatsune Miku and Megurine Luka | February 24, 2012 | music, lyrics |
| | "セツナトリップ" | GUMI | May 3, 2012 | music, lyrics |
| | "デッドラインサーカス" | Kagamine Len, GUMI, and Camui Gackpo | August 9, 2012 | music, lyrics |
| | "ルートスフィア" | GUMI | October 5, 2012 | music, lyrics |
| | "放課後ストライド" | GUMI | December 1, 2012 | music, lyrics |
| | "ハローラフター" | Hatsune Miku, IA, Megurine Luka, Kagamine Rin, GUMI, and Lily | December 28, 2012 | music, lyrics |
| | "無気力クーデター" | GUMI | March 19, 2013 | music, lyrics |
| | "オサナナブルー" | GUMI | April 14, 2013 | music, lyrics |
| | "有頂天ビバーチェ" | GUMI | June 28, 2013 | music, lyrics |
| | "逃走本能" | GUMI | August 9, 2013 | music, lyrics |
| | "我楽多イノセンス" | GUMI | February 21, 2014 | music, lyrics |
| • | 幻想系世界修復少女 (Gensoukai Sekai Shuufuku Shoujo) | GUMI | June 26, 2014 | music, lyrics |
| | "十六夜シーイング" | GUMI | September 19, 2014 | music, lyrics |
| • | キャラメルヘヴン (Caramel Heaven) | GUMI | October 19, 2014 | music, lyrics |
| • | 放課後革命 (Houkago Kakumei) | GUMI | April 18, 2015 | music, lyrics |
| | "絵空事スパイラル" | GUMI | August 20, 2016 | music, lyrics |
| • | 乙女+愛のすゝめ (Otome+Ai no Susume) | Hatsune Miku | November 26, 2020 | music, lyrics |
Discography
[
]
Albums
[
]
| Affiliation | Title | Featuring | Date | Roles |
| --- | --- | --- | --- | --- |
| Last Note., KARENT | first trip | GUMI, Hatsune Miku, Megurine Luka, Kagamine Len, Camui Gackpo | December 31, 2012 | music, lyrics |
| EXIT TUNES | セツナコード (Setsuna Code) | GUMI, Camui Gackpo, Hatsune Miku, Megurine Luka, Kagamine Rin & Len, IA, Lily | August 21, 2013 | music, lyrics |
| Last Note. | セツナトリップ (Setsuna Trip) (E.P) | GUMI | February 20, 2014 | music, lyrics |
| Sony Music Entertainment Japan | ミカグラ学園組曲 (Mikagura Gakuen Kumikyoku) | GUMI | February 25, 2015 | music, lyrics |
Compilations
[
]
| Affiliation | Title | Featuring | Date | Roles |
| --- | --- | --- | --- | --- |
| FARM RECORDS | "VOCAROCK collection 3 feat. 初音ミク" | Hatsune Miku, Kagamine Rin, Megurine Luka, GUMI, and Kagamine Len | December 7, 2011 | music, lyrics |
| BinaryMixx Records | V Love 25~cantabile~ | Hatsune Miku, Kagamine Rin & Len, KAITO, MEIKO, Megurine Luka, IA, GUMI, Camui Gackpo | June 13, 2012 | music, lyrics |
| TEAM Entertainment | "IA THE WORLD ~光~" | IA | June 27, 2012 | music, lyrics |
| FARM RECORDS | "EX:P3 ~Ex:Producers3~" | Hatsune Miku, GUMI, Kagamine Rin, and IA | July 4, 2012 | music, lyrics |
| EXIT TUNES | "EXIT TUNES PRESENTS Vocaloconnection feat. 初音ミク" | Hatsune Miku, GUMI, Kagamine Rin, Kagamine Len, Camui Gackpo, KAITO, Megurine Luka, MEIKO, and IA | August 1, 2012 | music, lyrics |
| BinaryMixx Records and Sony Music Direct | "初音ミク 5thバースデー ベスト ~impacts~" | Hatsune Miku, Kagamine Rin & Len, GUMI, Megurine Luka, KAITO, and MEIKO | August 1, 2012 | music, lyrics |
| EXIT TUNES | "EXIT TUNES PRESENTS GUMing from Megpoid" | GUMI and Kagamine Rin | September 5, 2012 | music, lyrics |
| BinaryMixx Records, Dwango User Entertainment, Inc. | V Love 25 -Desire- | Hatsune Miku, GUMI, Kagamine Rin & Len, Megurine Luka, IA, Camui Gackpo, KAITO, MEIKO, Lily | September 19, 2012 | music, lyrics |
| dmARTS | GUMI ROCK | GUMI, VY1, VY2 | September 26, 2012 | music, lyrics |
| KARENT | "KARENT presents TIME TO SAY HELLO! feat. 初音ミク" | Hatsune Miku, Kagamine Len, Kagamine Rin, and Megurine Luka | October 2, 2012 | music, lyrics |
| FARM RECORDS | "VOCAROCK collection 4 feat. 初音ミク" | GUMI, Hatsune Miku, IA, Kagamine Rin, Megurine Luka, and Kagamine Len | November 28, 2012 | music, lyrics |
| EXIT TUNES | "EXIT TUNES PRESENTS Vocalosensation feat. 初音ミク" | Hatsune Miku, GUMI, Kagamine Rin, Megurine Luka, Kagamine Len, IA, Camui Gackpo, MEIKO, KAITO, MAYU, and Lily | February 20, 2013 | music, lyrics |
| EXIT TUNES | EXIT TUNES PRESENTS Vocaloextra feat. GUMI、IA、MAYU | GUMI, IA, MAYU | June 05, 2013 | music, lyrics |
| avex tune | 青春ボカロ starring GUMI, Lily (Seishun Vocalo starring GUMI, Lily) | GUMI, Lily | June 19, 2013 | music, lyrics |
| miyoo Records | アストロロギアの十二の刻印 (Astrologia no Juuni no Sign) | Hatsune Miku, Kagamine Rin & Len, GUMI, Yuzuki Yukari, IA | July 07, 2013 | music, lyrics |
| FARM RECORDS | "VOCAROCK collection love IA" | IA | July 3, 2013 | music, lyrics |
| Dwango User Entertainment, Inc. | "VOCALOID 超BEST -impacts-" | Hatsune Miku, Kagamine Rin & Len, GUMI, Megurine Luka, IA, Camui Gackpo, KAITO, MEIKO, VY1 | October 03, 2013 | music, lyrics |
| Dwango User Entertainment, Inc. | "VOCALOID 超BEST -memories-" | Hatsune Miku, Kagamine Len, Kagamine Rin, GUMI, Megurine Luka, IA, Camui Gackpo, KAITO, MEIKO, and VY2 | October 3, 2013 | music, lyrics |
| EXIT TUNES | "EXIT TUNES PRESENTS Vocalofuture feat. 初音ミク" | Hatsune Miku, GUMI, Megurine Luka, Kagamine Rin, Kagamine Len, IA, MAYU, Camui Gackpo, KAITO, and MEIKO | November 6, 2013 | music, lyrics |
| Sony Music Entertainment Japan | "VOCA NICO☆PARTY" | Hatsune Miku, Kagamine Len, Kagamine Rin, GUMI, Megurine Luka, IA, KAITO, MEIKO, Yuzuki Yukari, Lily, and VY2 | December 25, 2013 | music, lyrics |
| EXIT TUNES | "EXIT TUNES PRESENTS Vocalospace feat. 初音ミク" | Hatsune Miku, GUMI, Kagamine Len, Megurine Luka, Kagamine Rin, MEIKO, MAYU, IA, Camui Gackpo, and KAITO | September 3, 2014 | music, lyrics |
| EXIT TUNES | "EXIT TUNES PRESENTS THE BEST OF GUMI from Megpoid" | GUMI | February 4, 2015 | music, lyrics |
| U/M/A/A | "VOCALOID Masterpiece Collections feat. GUMI 12-14" | GUMI | June 26, 2015 | music, lyrics |
| Gakken Plus | ボカロで覚える中学数学 (Vocalo de Oboeru Chuugaku Suugaku) | GUMI, Hatsune Miku, Kagamine Rin & Len | February 21, 2017 | music, lyrics |
| EXIT TUNES | "EXIT TUNES PRESENTS GUMIssimo from Megpoid ―10th ANNIVERSARY BEST―" | GUMI | June 19, 2019 | music, lyrics |
| EXIT TUNES | "SPACE DIVE!! feat. GUMI from Megpoid" | GUMI | July 17, 2020 | music, lyrics |
Gallery
[
]
References
[
]