MAIKA ONA VOCALOID3 | Songs Albums Notable Originals
---
MAIKA is a Spanish VOCALOID developed and distributed by Voctro Labs, S.L., and was released in December 2013 for the VOCALOID3 engine.
In 2014, Giuseppe revealed that both MAIKA and ONA are the same VOCALOID3 library. While MAIKA represents the Spanish usage of the vocals, ONA represents the Catalan usage.[3] On May 5, 2014, Voctro Labs confirmed on Twitter that ONA and MAIKA were actually two different designs for the same voicebank.[4]
As of June 2018, Voctro Labs confirmed that she was one of the Spanish vocals featured in their own B2B (business-to-business) engine Voiceful.[5]
Concept
[
]
Appearance
[
]
According to Noriko Hayashi, MAIKA was based on the "Pop Diva" appearance requested by Voctro Labs.[6][7][8][9]
She has a play/pause tattoo (▶❚❚) located on her left cheek. The little droid that accompanies her acts as a pet, microphone and speaker; on October 16, MAIKA's Facebook page started a poll asking fans to give a name to the floating droid.[10] Later, on December 22, the site stated that the winning name was "NOVA".[11]
It was reported via a YouTube video that MAIKA's design was made to look mature like MEIKO's. However, it was accepted that MEIKO's design was a little plain, and so Noriko Hayashi went for a design that was more like Lady Gaga. The hairstyle was a main focus in the design. Due to the number of female VOCALOIDs out, it was felt that if the hair was not something bold, MAIKA would not stand out. The lineart was completed first; Voctro Labs requested Noriko to adjust the hair color scheme. The last one was to avoid comparisons with previous VOCALOIDs like IA or Megurine Luka, as originally, the hair was a gradient of peach to light pink. Noriko tested various color combinations with Voctro choosing the final color scheme. She was asked also to make MAIKA look a little happier, so her face was adjusted slightly. NOVA was purposely created to make her design different from other VOCALOIDs. The design itself did not pull any references from Spanish culture, as it was decided that a more international feel would make her more approachable by non-Spanish people and would avoid racial cliches.[12]
Details about her biography such as her height, age, etc, are included within her package.
Anniversary design
[
]
In November 18, 2015, celebrating MAIKA's second anniversary, Voctro Labs, along with Noriko Hayashi, Akuo and Yoistyle organized a contest to create a brand new outfit for MAIKA based on the "Sky" theme.
The winner's design appeared in MAIKA's artbook, which was released in the first half of 2016 and illustrated by Noriko. The runner ups also received prizes, though their designs weren't included in the artbook. Prizes included a signed and dedicated MAIKA artbook and MAIKA merchandise. The winning piece was considered as a new official design.[13]
In January 18, 2016, the winners were announced. First place was by Yukina Esteban, while second and third place were by Marisol Azcarate and Namy-bot. Noriko Hayashi stated that some honorable mentions would be listed in the final artbook.[14]
Relations
[
]
For more on VOCALOID relationships, see the FAQ.
ONA - A shared voicebank vocal.
NOVA - A floating robot that acts as MAIKA's microphone and speaker.
History
[
]
Marketing
[
]
MAIKA's promotion was handled very differently to her predecessors. An illustration contest was held which would allow fans to participate in her design. She was heavily marketed as a young pop idol with a versatile voice bank, and her demo songs were done by popular VOCALOID producers in the western fandom.
Voicebanks
[
]
MAIKA

A female voicebank for Spanish produced with extra phonetic information for Catalan, though these phonemes could be used for other language recreation, e.g. English, Italian, Japanese, and Portuguese.
Music featuring MAIKA
[
]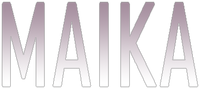 The Little witch
| | |
| --- | --- |
| Featuring | MAIKA |
| Producers | |
| Categories | Original song |
| Description | The song is a blend of Glitch Hop, Dubstep and Classical music and a tribute to Mogeko's indie game Wadanohara and the Great Blue Sea (大海原と大海原). |
Duele el Amor
La Audición
| | |
| --- | --- |
| Featuring | MAIKA |
| Producers | |
| Categories | Original song |
| Description | The song talks about the sad reencounter between a girl and her ex, some time after they broke up. After receive an invitation from her ex, the girl prepares herself to face him, comparing the situation to an audition or casting, only to end heartbroken after find out that her ex moved on and now he has a new girlfriend. |
SOLEDAD
| | |
| --- | --- |
| Featuring | MAIKA |
| Producers | Jonathan B |
| Categories | Original song |
| Description | An epic ballad composed by Jonathan B, aka Keitaro. |
Search for music featuring MAIKA
[show/hide]
Reputation
[
]
Status
Google Trends
Reaction
Prior to her release, MAIKA was well received by the VOCALOID fandom, with many of her demos hitting over 20,000 view counts. "En tu mirar" had crossed the 100,000 mark and has caused her to become one of the more popular overseas VOCALOID3's to be released.
MAIKA was by far the most popular for the VOCALOID3 Spanish VOCALOID releases. Her popularity, according to Google Trends, peaked on September 2013. It almost reached the same height in the month of her release of December 2013. However, despite the high interest in her pre-release in the following months she began to lose most of this status. In the closing of the VOCALOID3 era, she was less popular than she was prior to her release, though she still had more popularity than Bruno or Clara.
Misc
In 2015 a survey was made based on the popularity of VOCALOIDs on website Nico Video. For the year 2014, MAIKA was the 36th most popular Vocaloid and the most popular of the Spanish VOCALOIDs.[15]
Achievements
First Spanish voicebank developed for both VOCALOID3 and NEO engines.
Largest optimum range of any Spanish voice bank.
First Spanish VOCALOID with a boxed version.
First VOCALOID library with two completely different official mascots.
First 'overseas' VOCALOID to be displayed on the Japanese and English VOCALOID SHOP.
References
[
]
External links
[
]
| Language | Description | Site |
| --- | --- | --- |
| Spanish | Voctro Labs official homepage | Link |
| Spanish/English | MAIKA product page | Link |
| Spanish | VocaloidMaikaOficial The official Facebook page for VOCALOID MAIKA | Link |
| English | deviantArt , art and media community | Link |
| Japanese | Pixiv , art and media community | Link |
[

]