👤

Converting producer article to a new layout. What is being worked on: Discography, few missing songs
For information on how to help, see the guidelines.  More subjects categorized here.

👤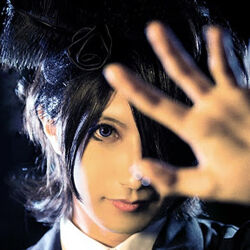 Affiliations
[
]
External links
[
]
Official
[
]
Unofficial
[
]
Machigerita-P (マチゲリータP), earlier known as CUBElab., is an author who is famous for his horror music. He has been active since the early days of the VOCALOID movement, and has gained many fans. Aside from composing, he also covers songs, some being Visual Kei rearranges. He also DJs under the name CANDYBOY.
He has also released works in the VOCALOID-P data series.
In 2015, Machigerita began moving away from VOCALOID to work on other projects, though briefly kept up with his tradition of releasing a song on Halloween.
Works
[
]
Past Works
[
]
Current Works
[
]
| Links | Title | Featuring | Date | Roles |
| --- | --- | --- | --- | --- |
| | "ごめんなさいを言えるかな" | V3 Megpoid Sweet | January 27, 2013 (NND) and February 1, 2013 (YT) | producer |
| | "ホォカスポゥカスクッキング" | Hatsune Miku | February 13, 2013 (NND) and February 15, 2013 (YT) | producer |
| | "ビターラブスイートラブ" | Megurine Luka | February 14, 2013 (NND) and January 25, 2014 (YT) | producer |
| | "ゆめにっき の ため の ワルツ" | Aoki Lapis | March 17, 2013 (YT) and March 18, 2013 (NND) | music, lyrics |
| None | "ゆめ の うた" | Aoki Lapis | April 27, 2013 (album) | producer |
| None | "ゆめ の おはなし" | Aoki Lapis | April 27, 2013 (album) | producer |
| | "スペルオブハロウズ" | Hatsune Miku, Kagamine Rin & Len, Megurine Luka, and KAITO | October 31, 2013 | producer |
| | "亡婦魄霊の姿は凋める花の様に色無うて" | KAITO V3 | December 1, 2013 | producer |
| | "ポルカドットエイリアン" | Kagamine Len | December 9, 2013 | producer |
| | "ストレンジマスカレエドハロウィン" | Hatsune Miku, Kagamine Rin & Len, Megurine Luka, KAITO, and MEIKO | October 31, 2014 | music, lyrics |
| | "グリィディハロウィンキャンディナイツ" | Hatsune Miku, Kagamine Rin & Len, KAITO, MEIKO, and Megurine Luka | October 30, 2015 (NND) and November 1, 2015 (YT) | music, lyrics, video |
| | "ハッピィハロウィンミュシカズ" | Hatsune Miku, Megurine Luka, Kagamine Rin & Len, KAITO, and MEIKO | October 30, 2016 | music, lyrics, video, mix, mastering |
| | "ミシュマシュパンプキンナイト" | Hatsune Miku, Kagamine Rin & Len, Megurine Luka, KAITO, and MEIKO | October 29, 2017 (NND) and October 30, 2017 (YT) | music, lyrics, arrangement, coloring |
| | "咲キ誇レ常世ノ華" | Hatsune Miku | December 11, 2017 | music, lyrics |
Albums
[
]
Discography
[
]
| Affiliation | Title | Featuring | Date | Roles |
| --- | --- | --- | --- | --- |
| Independant | "white album" | Hatsune Miku, Kagamine Rin & Len, MEIKO, KAITO | November 30, 2008 | producer |
| Independant | "Addict box" | Kagamine Rin & Len, Hatsune Miku, Megurine Luka, Camui Gackpo | February 22, 2009 | producer |
| Independant | "Fallen" | Kagamine Rin, Megurine Luka, Hatsune Miku, and KAITO | September 6, 2009 | producer |
| Independant | "Starrysky Prayer" | Kagamine Len and KAITO | November 15, 2009 | producer |
| Independant | "買ってください" | Megurine Luka, Hatsune Miku, KAITO, and Kagamine Rin | February 7, 2010 | producer |
| Independant | "幸せになれたら" | Hatsune Miku, KAITO, Kagamine Rin & Len, and MEIKO | May 9, 2010 | producer |
| MOtOLOiD | "alone" | Hatsune Miku, Kagamine Len, and GUMI | November 6, 2011 | producer |
| Victor Entertainment | "I ♥ Visualizm feat. 初音ミク" | Hatsune Miku, GUMI, Camui Gackpo, Kagamine Rin & Len, Megurine Luka, and VY2 | July 25, 2012 | arrange |
| Surfersparadise | "ゆめにっき の ため の ワルツ" | Aoki Lapis | April 27, 2013 | producer |
| MOtOLOiD | "Machigerita Sound Selection" | Hatsune Miku, GUMI, KAITO, MEIKO, Kagamine Rin & Len, Megurine Luka, and Camui Gackpo | October 27, 2018 | producer |
KARENT singles
[
]
| Affiliation | Title | Featuring | Date | Roles |
| --- | --- | --- | --- | --- |
| KARENT | "MOREMOREWORLD" | Megurine Luka | January 30, 2009 | music, lyrics |
| KARENT | "月光トータルイクリプス" | KAITO | February 17, 2010 | producer |
| KARENT | "桜花繚乱" | Kagamine Rin, Hatsune Miku, Megurine Luka | March 24, 2010 | music, lyrics |
| KARENT | "ハロウィンモンスタァパーティナイト" | Hatsune Miku, KAITO, MEIKO, Kagamine Rin & Len | October 31, 2012 | music, lyrics |
| KARENT | "ドリィムメルティックハロウィン" | Kagamine Rin & Len, Hatsune Miku, MEIKO, Megurine Luka, Camui Gackpo, and KAITO | October 31, 2012 | music, lyrics |
| KARENT | "パンプキンヘッドスプーキィダンス" | Hatsune Miku Append | October 31, 2012 | music, lyrics |
| KARENT | "ハロウィンパティスリトリカトルカ" | Hatsune Miku Append, Kagamine Rin Append, and Megurine Luka | October 31, 2012 | music, lyrics |
| KARENT | "グリィディハロウィンキャンディナイツ" | Hatsune Miku, Kagamine Rin & Len, KAITO, MEIKO, and Megurine Luka | October 30, 2015 | producer |
Compilations
[
]
Gallery
[
]