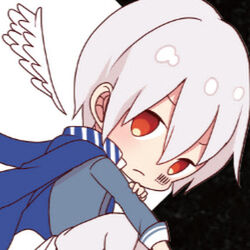 Affiliations
[
]
External links
[
]
Official
[
]
Unofficial
[
]
Mafumafu (まふまふ) is a producer who's mostly known in the Niconico community of as an utaite. Since 2012, he has also started to produce original VOCALOID songs. He mainly uses IA and Len, though he also uses Miku, Rin, and GUMI. He often pitches the VOCALOID high in many of his works.
He is also known as Kagami Mite Shisshin-P (鏡見て失神P, lit. Looked in the Mirror and Swooned-P). However, it should be more considered a joke rather than his -P name.
Starting with "Spot the difference", his VOCALOID works quickly became popular and entered the Hall of Fame within 7 days or less. His other notable works include his Nuko Series; "Merry Bad End", his first song to reach 1,000,000 views; "Hello Dystopia"; "Jigsaw Puzzle"; and "Ikasama Dance".
Other than his activities in the VOCALOID field, he also provides music to games, anime and various artists.
He was born on October 18.[1]
Works
[
]
| Links | Title | Featuring | Date | Roles |
| --- | --- | --- | --- | --- |
| • | DAYBREAK | Hatsune Miku | May 02, 2012 | music, lyrics |
| | "夕暮れ蝉日記" | IA | September 16, 2012 | music, lyrics |
| | "仇返しシンドローム" | IA | December 5, 2012 | music |
| • | 例えば (Tatoeba) | GUMI | December 07, 2012 | mixing, mastering |
| | "緑青色の憂鬱" | GUMI | February 11, 2013 | music, lyrics |
| | "ムシクイサイケデリズム" | Kagamine Rin and Kagamine Len | April 3, 2013 | special thanks |
| | "ヤクビョウガミ" | IA | April 25, 2013 | music, lyrics |
| | "かくしごと" | IA | May 23, 2013 | music, lyrics |
| | "夢花火" | IA | August 1, 2013 | music, lyrics |
| | "すーぱーぬこわーるど" | IA | December 20, 2013 | music, lyrics |
| • | 永眠童話 (Eimin Douwa) | IA | January 28, 2014 | music, lyrics |
| • | 空想世界とオモチャの心臓 (Kuusou Sekai to Omocha no Shinzou) | IA | April 04, 2014 | music, lyrics |
| • | 林檎花火とソーダの海 (Ringo Hanabi to Soda no Umi) | IA | August 10, 2014 | music, lyrics |
| • | 戯曲とデフォルメ都市 (Gikyoku to Deformed Toshi) | IA | October 05, 2014 | music, lyrics |
| | "ショパンと氷の白鍵" | Hatsune Miku Sweet | January 9, 2015 | music, lyrics |
| • | ハートの後味 (Heart no Atoji) | IA | May 22, 2015 | music, lyrics |
| • | モノクロと勇者の遺伝子 (Monochrome to Yuusha no Idenshi) | Hatsune Miku | September 14, 2014 | music, lyrics |
| | "嘘つき魔女と灰色の虹" | Hatsune Miku | November 03, 2015 | arrange, tuning |
| | "マチガイサガシ" | IA | June 30, 2017 | music, lyrics |
| | "メリーバッドエンド" | Hatsune Miku Append | February 2, 2018 | music, lyrics |
| | "ハローディストピア" | Kagamine Len and Kagamine Rin | May 25, 2018 | music, lyrics |
| | "廃墟の国のアリス" | Hatsune Miku Append | August 19, 2018 | music, lyrics |
| | "ジグソーパズル" | Kagamine Len | November 23, 2018 | music, lyrics |
| | "すーぱーぬこになれんかった" | Kagamine Len | April 5, 2019 | music, lyrics |
| | "イカサマダンス" | Kagamine Len and Kagamine Rin | November 13, 2020 | music, lyrics |
| | "マオ" | Hatsune Miku | February 5, 2021 | music, lyrics, arrangement |
Albums
[
]
Discography
[
]
| Affiliation | Title | Featuring | Date | Roles |
| --- | --- | --- | --- | --- |
| Logic Strike | 明鏡止水 (Meikyoushisui) | IA, GUMI, Aoki Lapis | April 27, 2013 | music, lyrics |
Compilations
[
]
| Affiliation | Title | Featuring | Date | Roles |
| --- | --- | --- | --- | --- |
| FARM RECORDS | "VOCAROCK collection 4 feat. 初音ミク" | GUMI, Hatsune Miku, IA, Kagamine Rin, Megurine Luka, and Kagamine Len | November 28, 2012 | music, lyrics |
| EXIT TUNES | "EXIT TUNES PRESENTS Vocalosensation feat. 初音ミク" | Hatsune Miku, GUMI, Kagamine Rin, Megurine Luka, Kagamine Len, IA, Camui Gackpo, MEIKO, KAITO, MAYU, and Lily | February 20, 2013 | music, lyrics |
| Independent | Add color! | Aoki Lapis, Hinanata | April 14, 2013 | music, lyrics |
| BinaryMixx Records, Dwango User Entertainment, Inc. | TIME MACHINE (album) | GUMI, Hatsune Miku, IA, Kagamine Rin | May 29, 2013 | music, lyrics |
| FARM RECORDS | "VOCAROCK collection love IA" | IA | July 3, 2013 | music, lyrics |
| Dwango User Entertainment, Inc. | V Love 25 -Gloria- | Hatsune Miku, Kagamine Rin & Len, GUMI, Megurine Luka, IA, Camui Gackpo, KAITO, MEIKO, Yuzuki Yukari, Lily | July 17, 2013 | music, lyrics |
| FARM RECORDS | "VOCAROCK collection 5 feat. 初音ミク" | GUMI, Hatsune Miku, IA, Kagamine Len, Kagamine Rin, and Megurine Luka | December 25, 2013 | music, lyrics |
| KLAFT | EXISTENCE | Megurine Luka, Kagamine Len, GUMI, Aoki Lapis, Kagamine Rin, Hatsune Miku, Namine Ritsu | December 31, 2013 | music, lyrics |
| Dwango User Entertainment, Inc. | 「#コンパス 戦闘摂理解析システム」 オリジナルサウンドトラック Vol.01 | GUMI, IA, KYO, Hatsune Miku, Camui Gackpo, Kagamine Rin & Len | February 20, 2019 | music, lyrics |
| EXIT TUNES | "EXIT TUNES PRESENTS Vocaloseasons feat. 初音ミク ~Winter~" | Hatsune Miku, GUMI, Kagamine Len, Megurine Luka, Kagamine Rin, Camui Gackpo, KAITO, IA, MAYU, and MEIKO | January 17, 2018 | music, lyrics |
| EXIT TUNES | "EXIT TUNES PRESENTS Vocalostream feat. 初音ミク" | Hatsune Miku, GUMI, Kagamine Rin, Kagamine Len, IA, flower, Megurine Luka, Camui Gackpo, KAITO, MEIKO, and MAYU | March 20, 2019 | music, lyrics |
Gallery
[
]
References
[
]