Merli VOCALOID3 | Songs Albums Notable Originals
---
Merli (メルリ) is a Japanese VOCALOID developed and is distributed by the Bplats, Inc., created in collaboration with i-style Project. She was released in December 2013 for the VOCALOID3 engine. Her voice is provided by a contest winner, Japanese female, Misaki Kamata (鎌田美沙紀; Kamata Misaki), and is a Character Voice type VOCALOID.[1]
Concept
[
]
Etymology
[
]
A contest was held to determine the name their second character known under the development name of "Project Second". i-Style noted that the chosen name did not have to have a surname at all and surname-less names would be accepted. "Merli" was chosen out of the list of suggested candidates by fans and became her official name.[2][3]
Merli (Meruri) is named after Merlinite (メルリナイト / Merurinaito), a type of stone known for its dual light and dark appearance. The stone itself is named after Merlin.
Appearance
[
]
Much like her sister, Aoki Lapis, Merli is based off a "Magical girl" and is also a fairy. In contrast to Lapis', her design is darker.
Official profile
[
]
Merli is identifiable by 3 distinct traits to her over Lapis in her official bio;
She is strong-minded and tsundere; a charming mysterious girl, who is innocent and expressive.
If Lapis is "light", Merli is "Darkness".
As she is the same race as Lapis she shares the same concept. She is also from a fairy race, they are special people who can convert "songs" into "power", and can only be seen by a subset of the human population.[6] Merli's power draws away the energy of living things; the opposite of Lapis' power.
Relations
[
]
For more on VOCALOID relationships, see the FAQ.
History
[
]
Marketing
[
]
Much like Lapis, a lot of the marketing around Merli has been centered directly on the fans.
For her release, a CD was also produced.[7]
Voicebanks
[
]
Merli

In contrast to Aoki Lapis, Merli is a darker more mature toned vocal and intends to convey the idea of being a fairy of darkness to her sister's "Fairy of Light" voicebank. It is capable of upper registers but has a lower tone.
Other versions

She also had a "lite" VOCALOID2 vocal released for iVOCALOID (iPad vers.).
Music featuring Merli
[
]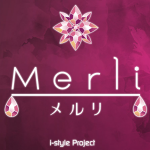 闇の彼方

| | |
| --- | --- |
| Translation | 闇の彼方 (Yami no Kanata) |
| Featuring | Merli |
| Producers | |
| Categories | Original song |
| Description | Satoimo originally intended for it to be for Lily, but instead challenged himself to use Merli, tuning her as though she was a dark or mature append of Lily. |
大きなセカイ

| | |
| --- | --- |
| Translation | 大きなセカイ (Ookina Sekai) |
| Featuring | Merli |
| Producers | 雪音あげは |
| Categories | Original song |
| Description | This song was created for the iVocaloid Merli Launch Contest. This was the winning entry. |
How many tears

| | |
| --- | --- |
| Featuring | Merli |
| Producers | |
| Categories | Original song |
| Description | DanierukunP's 38th work and and first work with Merli. Merli sings of light and dark, and how she cries for the war between the two. |
Midnight Drive

| | |
| --- | --- |
| Featuring | Merli |
| Producers | Holic |
| Categories | Original song |
| Description | "I just uploaded a song yesterday and I wasn't planning on doing another one for a week or so, but as soon as I heard this awesome track with the newly released Vocaloid 3, Merli, I just couldn't resist uploading it for everyone to hear!" |
Search for music featuring Merli
[show/hide]
Reputation
[
]
Status
Google Trends
Sales
Merli's iVOCALOID version proceeded to claim the no.1 spot in the music section of the iTunes Japanese App Store soon after release.[8]
Achievements
Merli and Lapis are the first two VOCALOIDs confirmed to be siblings.
References
[
]
External links
[
]
| Language | Description | Site |
| --- | --- | --- |
| Japanese | i-style Project official homepage | Link |
| Japanese | キャラクター The official webpage for VOCALOIDs Lapis and Merli | Link |
| Japanese | i-style Project @i_style_vc3 The official Twitter account for i-style Project | Link |
| Japanese | i-style project official YouTube Channel | Link |
| English | deviantArt , art and media community | Link |
| Japanese | Pixiv , art and media community | Link |
[

]