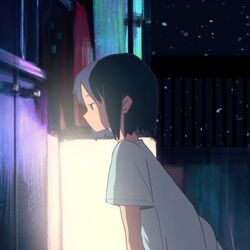 Affiliations
[
]
External links
[
]
Official
[
]
Unofficial
[
]
Mikito-P (みきとP) is a producer who debuted in early 2010. During the early period, he chiefly used SF-A2 miki, which was what gave him his producer name.[1] However, his works from the period after "SECRET DVD", which feature Hatsune Miku, Kagamine Rin, GUMI, and other VOCALOIDs, have received more recognition.
He possesses a large number of popular works, with "Ii Aru Fanclub" in particular gaining over 5 million views on Niconico. With over 50 million views on YouTube, "Roki" has also became one of his most notable songs in the late 2010s.
He also covers songs under the name Aijima (愛島). Information regarding his utaite covers can be seen on the Utaite Wiki.
Currently, Mikito P is not only active as a Vocalo-P, but also participate in a wide range of musical activities, including providing songs to various artists.
He was born on August 30 in Kyoto Prefecture, Japan.
Works
[
]
Links
Title
Featuring
Date
Roles
•

こくはく (Kokuhaku)

SF-A2 miki
March 09, 2010
music, lyrics
•

うぇんずでー・ぶるー (Wednesday Blue)

SF-A2 miki
March 28, 2010
music, lyrics
"東の魔女"
SF-A2 miki
April 23, 2010
music, lyrics
•

みきとP (MikitoP)

SF-A2 miki
May 17, 2010
music, lyrics
•

とん (Ton)

SF-A2 miki
May 30, 2010
music, lyrics
•

調教LOVE (Choukyou LOVE)

SF-A2 miki
July 17, 2010
music, lyrics
•

★mikiのえかきうた★ (★miki no Ekaki Uta★)

SF-A2 miki
August 10, 2010
music, tuning
•

ポシェットには☆ミキがいっぱい (Pochette ni wa☆Miki ga Ippai)

SF-A2 miki
September 06, 2010
music, lyrics
•

夕暮れツイッター (Yuugure Twitter)

SF-A2 miki
September 28, 2010
music, lyrics
•

むねやけばーすでー (Muneyake Birthday)

SF-A2 miki
December 05, 2010
music, lyrics
•

炎上のメリークリスマス (Enjou no Merry Christmas)

SF-A2 miki
December 23, 2010
guitar, tuning
•

SECRET DVD

Hatsune Miku
March 10, 2011
music, lyrics
•

テヲツナゴウ (Te o Tsunagou)

Hatsune Miku
March 14, 2011
music, lyrics
•

アニヴァーサリィプレイス (Anniversary Place)

Kaai Yuki
April 07, 2011
guitar
•

梔子ビクリと花の街 (Kuchinashi Vikkly to Hana no Machi)

SF-A2 miki
April 20, 2011
music, lyrics
"小夜子"
Hatsune Miku
August 8, 2011
music
•

チルダマチルダ (Tilda Matilda)

Hiyama Kiyoteru
October 19, 2011
music, lyrics
"バスストップシケィン"
Hiyama Kiyoteru
October 20, 2011
guitar
•

幽霊コンパ (Yuurei Konpa)

SF-A2 miki
November 08, 2011
music, lyrics
"Tiny PaRadisE"
Yuzuki Yukari
December 22, 2011
guitar
"心臓デモクラシー"
Hatsune Miku Append
January 23, 2012
music, lyrics
•

絆創膏 (Bansoukou)

Hatsune Miku
April 09, 2012
music, lyrics
"刹那プラス"
Hatsune Miku Append
April 14, 2012
music, lyrics
•

コカコーラタイム (Coca-Cola Time)

Hatsune Miku
June 25, 2012
music, lyrics
"いーあるふぁんくらぶ"
GUMI and Kagamine Rin
August 12, 2012
music, lyrics
"サリシノハラ"
Hatsune Miku Append (Dark)
October 4, 2012
music, lyrics
"夕立のりぼん"
MAYU
November 7, 2012
music, lyrics
•

世田谷ナイトサファリ (Setagaya Night Safari)

Hatsune Miku
December 06, 2012
music, lyrics
"非公開日誌"
GUMI Power
January 17, 2013
music, lyrics
"クノイチでも恋がしたい"
Hatsune Miku and Kagamine Rin
March 23, 2013
music, lyrics
•

戦慄!! ムカデ競争 (Senritsu!! Mukade Kyousou)

SF-A2 miki
April 25, 2013
music, lyrics
"僕は初音ミクとキスをした"
Hatsune Miku Append
May 17, 2013
music, lyrics
•

kiss

Hatsune Miku
June 01, 2013
music, lyrics
"月陽-ツキアカリ-"
GUMI
September 12, 2013
music, lyrics
•

朱色の砂浜 (Shuiro no Sunahama)

GUMI
November 10, 2013
music, lyrics
"ヨンジュウナナ"
Hatsune Miku Append
January 08, 2014
music, lyrics
•

東京駅 (Tokyo Eki)

Kagamine Rin
January 31, 2014
music, lyrics
•

しゃったーちゃんす (Shutter Chance)

IA
May 22, 2014
music, lyrics
"京都ダ菓子屋センソー"
flower
July 18, 2014
music, lyrics
"バレリーコ"
GUMI
July 28, 2014
music, lyrics
•

夏の半券 (Natsu no Hanken)

Hatsune Miku
August 22, 2014
music, lyrics
•

ふつーの魔法少女でごめんなさい。 (Futsuu no Mahou Shoujo de Gomennasai.)

Hatsune Miku
September 05, 2014
music, lyrics
•

まとい (Matoi)

Hatsune Miku
September 13, 2014
music, lyrics
"エンドロールに僕の名前をいれないで"
Hatsune Miku Append
October 12, 2014
music, lyrics
•

柑橘ネコぱんち (Kankitsu Neko Punch)

Kagamine Rin
October 27, 2014
music, lyrics
•

同級生 (Doukyuusei)

Hatsune Miku
November 02, 2014
music, lyrics
•

NightGale

Hatsune Miku
December 03, 2014
special thanks
"アカイト"
Hatsune Miku Append
February 27, 2015
music, lyrics
•

ぼくのほそ道 (Boku no Hosomichi)

Hatsune Miku
April 03, 2015
music, lyrics
•

ぼっち幸福論 (Bocchi Koufukuron)

Hatsune Miku
October 28, 2015
music, lyrics
"蘇州恋慕"
Fukase
February 25, 2016
music, lyrics
"39みゅーじっく!"
Hatsune Miku
June 29, 2016
music
"Barbed Eye"
Hatsune Miku
July 14, 2016
music, lyrics
•

悋気な惑星 (Rinki na Wakusei)

Hatsune Miku
July 30, 2016
music, lyrics
•

Hoi

Hatsune Miku, SF-A2 miki, Kagamine Rin
August 02, 2016
music, lyrics
•

少女ふぜゐ (Shoujo Fuzei)

GUMI
August 17, 2016
music, lyrics
•

Tears River

Hatsune Miku
September 11, 2016
music, lyrics
"Good School Girl"
SF-A2 miki
May 10, 2017
music, lyrics
"セカンド・キス"
Megurine Luka
May 17, 2017
music, lyrics
•

だいあもんど (DIAMOND)

Hatsune Miku, Kagamine Rin
August 31, 2017
music, lyrics
"ロキ"
Kagamine Rin V4X and Mikito-P
February 27, 2018
music, lyrics
"PLATONIC GIRL"
GUMI and Mikito-P
June 20, 2018
music, lyrics
"少女レイ"
Hatsune Miku
July 18, 2018
music, lyrics
•

信じる者は救われない (Shinjiru Mono wa Sukuwarenai)

Hatsune Miku
November 11, 2018
music, lyrics
•

愛の容器 (Ai no Youki)

Kagamine Rin
December 25, 2018
music, lyrics
"ガールズインターハイ"
MAYU
August 3, 2016 (album)
January 11, 2019 (PV)
music, lyrics
•

アンキ厨はアンキ中 ~To the next ERA!~ (Ankichuu ha Ankichuu ~ To the next ERA!~)

Kagamine Rin
December 25, 2018
music, lyrics
•

スーパーチャージマッハー (Super Charge Machhh)

Kagamine Rin & Len
March 17, 2019
music, lyrics
•

Rabbit-僕の中の君- (Rabbit -Boku no Naka no Kimi-)

Hatsune Miku
March 22, 2019
music, lyrics
"Highway Lover"
Megurine Luka V4X
May 31, 2019
music, lyrics, video
•

霊々音頭でまた来世 (Reirei Ondo de Mata Raise)

Hatsune Miku
August 25, 2019
music, lyrics
•

Monkey Wow 〜歌う猿に踊る猿〜 (Monkey Wow ~Utau Saru ni Odori Saru~)

GUMI
September 09, 2019
music, lyrics
•

さよならはきえない (Sayonara wa Kienai)

Hatsune Miku
September 13, 2019
music, lyrics
•

Sister/Mikito-P

Hatsune Miku
December 27, 2019
music, lyrics
•

I meets You!!

Hatsune Miku
April 10, 2020
music, lyrics
•

だいよげん (Daiyogen)

Hatsune Miku
April 25, 2020
music, lyrics
•

快刀乱麻!! (Kaitou Ranma!!)

GUMI
October 30, 2020
music, lyrics
"Peaky Peaky"
Hatsune Miku and Kagamine Rin
February 26, 2022
music, lyrics
Albums
[
]
Discography
[
]
| Affiliation | Title | Featuring | Date | Roles |
| --- | --- | --- | --- | --- |
| Independent | みきぺぢお (Mikipedio) | SF-A2 miki | November 14, 2010 | music, lyrics |
| Independent | moji moji | Hatsune Miku | September 04, 2011 | music, lyrics |
| Independent | 刹那プラス+ (Setsuna Plus+) | Hatsune Miku, GUMI | April 28, 2012 | music, lyrics |
| Independent | ぼかろ男子 ぼかろ女子 (Vocalo Danshi Vocalo Joshi) | GUMI, Hatsune Miku, MAYU, Kagamine Rin, Mikito-P | December 15, 2012 | music, lyrics |
| EXIT TUNES | 僕は初音ミクとキスをした (Boku wa Hatsune Miku to Kiss wo Shita) (album) | GUMI, Hatsune Miku, Kagamine Rin, SF-A2 miki | April 17, 2013 | music, lyrics |
| EXIT TUNES | BLURRY | GUMI, Hatsune Miku, MAYU | September 04, 2013 | music, lyrics |
| EXIT TUNES | "GOOD SCHOOL GIRL" | Hatsune Miku, GUMI, SF-A2 miki, IA, Kagamine Rin, and MAYU | November 5, 2014 | producer |
| EXIT TUNES | End of the World (album) | GUMI, MAYU, Hatsune Miku, Kagamine Rin | November 19, 2014 | arrangement |
| Village Vanguard | 愛島雑貨店 (Aijima Zakkaten) | Hatsune Miku, MAYU, SF-A2 miki, Kagamine Rin & Len | August 03, 2016 | music, lyrics |
| Independent | DAISAN WAVE | GUMI, Hatsune Miku, SF-A2 miki, Kagamine Rin, Mikito-P | November 18, 2018 | music, lyrics |
Compilations
[
]
| Affiliation | Title | Featuring | Date | Roles |
| --- | --- | --- | --- | --- |
| Hitsujichan | CODE:FF00FF | SF-A2 miki | July 19, 2010 | music, lyrics |
| Hitsujichan | ゴーゴー!ボカレンジャイ! (Go Go! Vocarangey!) | SF-A2 miki, GUMI, Lily, Hatsune Miku, Kagamine Rin & Len, Megurine Luka | July 19, 2010 | music, lyrics |
| BinaryMixx Records, Dwango User Entertainment, Inc. | V Love 25 -Desire- | GUMI, Lily, KAITO, Hatsune Miku, Megurine Luka, Camui Gackpo, Kagamine Rin & Len, MEIKO | September 19, 2012 | music, lyrics |
| TEAM Entertainment | "IA THE WORLD ~風~" | IA | September 26, 2012 | music, lyrics |
| UNIVERSAL MUSIC JAPAN | ボーカロイド アニソンカバー COLLECTION -Boys side- (VOCALOID Anime Song Cover COLLECTION -Boys side-) | GUMI, Hatsune Miku, Megurine Luka, Kaai Yuki, Kagamine Rin, IA, Nekomura Iroha | October 17, 2012 | music, lyrics |
| UNIVERSAL MUSIC JAPAN | ボーカロイド アニソンカバー COLLECTION -Girls side- (VOCALOID Anime Song Cover COLLECTION -Girls side-) | KAITO, Camui Gackpo, Kagamine Len, VY2, Hiyama Kiyoteru, Utatane Piko, GUMI, Hatsune Miku, Megurine Luka, Yuzuki Yukari, Tone Rion | October 17, 2012 | music, lyrics |
| EXIT TUNES | EXIT TUNES PRESENTS Storytellers RPG | GUMI, Hatsune Miku, Megurine Luka, Kagamine Rin & Len | November 07, 2012 | music, lyrics |
| FARM RECORDS | "VOCAROCK collection 4 feat. 初音ミク" | GUMI, Hatsune Miku, IA, Kagamine Rin, Megurine Luka, and Kagamine Len | November 28, 2012 | music, lyrics |
| EXIT TUNES | "EXIT TUNES PRESENTS VOCALOID™3 Library MAYU SPECIAL 2CD" | MAYU | December 5, 2012 | music, lyrics |
| TamStar Records | "TamStar Records presents ALL VOCALOID ATTACK #1" | Hatsune Miku, Kagamine Len, Kagamine Rin, GUMI, Megurine Luka, IA, Yuzuki Yukari, Lily, OLIVER, and Tone Rion | December 29, 2012 | music, lyrics |
| 1st PLACE, IA PROJECT, Sony Music Entertainment | "IA/02 -COLOR-" | IA, Hatsune Miku, GUMI, Lily, and SF-A2 miki | January 30, 2013 | music, lyrics |
| EXIT TUNES | "EXIT TUNES PRESENTS Vocalosensation feat. 初音ミク" | Hatsune Miku, GUMI, Kagamine Rin, Megurine Luka, Kagamine Len, IA, Camui Gackpo, MEIKO, KAITO, MAYU, and Lily | February 20, 2013 | music, lyrics |
| avex trax | VOCALOID3 meets TRF | GUMI, IA, Lily, Mew, VY1, Aoki Lapis | March 27, 2013 | music, lyrics |
| TEAM Entertainment | "IA THE WORLD ~星~" | IA | April 3, 2013 | music, lyrics |
| Open Real Records | Valued Views | GUMI, IA, SF-A2 miki, Hatsune Miku, Kagamine Rin | March 27, 2013 | music, lyrics |
| EXIT TUNES | 月刊eta Vol.04 (Gekkaneta Vol.04) | GUMI, MAYU, Hatsune Miku, Kagamine Rin | September 04, 2013 | music, lyrics |
| NICOBARNING | "ニコバニほへと ボカロver" | Kagamine Rin & Len, GUMI, MAYU, VY2, and SF-A2 miki | September 15, 2013 | music, lyrics |
| Dwango User Entertainment, Inc. | "VOCALOID 超BEST -memories-" | Hatsune Miku, Kagamine Len, Kagamine Rin, GUMI, Megurine Luka, IA, Camui Gackpo, KAITO, MEIKO, and VY2 | October 3, 2013 | music, lyrics |
| EXIT TUNES | "EXIT TUNES PRESENTS Vocaloexist feat. GUMI、IA、MAYU" | IA, GUMI, and MAYU | October 2, 2013 | music, lyrics |
| EXIT TUNES | 月刊eta Vol.07 (Gekkaneta Vol.07) | GUMI, IA, KAITO, Megurine Luka, MEIKO, Camui Gackpo, MAYU, Hatsune Miku, Kagamine Rin & Len | November 06, 2013 | music, lyrics |
| EXIT TUNES | "EXIT TUNES PRESENTS Vocalofuture feat. 初音ミク" | Hatsune Miku, GUMI, Megurine Luka, Kagamine Rin, Kagamine Len, IA, MAYU, Camui Gackpo, KAITO, and MEIKO | November 6, 2013 | music, lyrics |
| EXIT TUNES | 月刊eta Vol.10 (Gekkaneta Vol.10) | GUMI, MAYU, Hatsune Miku | December 04, 2013 | music, lyrics |
| EXIT TUNES | 月刊eta Vol.11 (Gekkaneta Vol.11) | MAYU, Hatsune Miku, Megurine Luka, Kagamine Rin | January 01, 2014 | music, lyrics |
| SPUTONIC | ぐみらいぶっ! 2013 feat. Megpoid (GUMI Live! 2013 feat. Megpoid) | GUMI | February 28, 2014 | music, lyrics |
| EXIT TUNES | EXIT TUNES PRESENTS GUMical from Megpoid | GUMI | March 05, 2014 | music, lyrics |
| VOCALOID RECORDS, YAMAHA MUSIC COMMUNICATIONS, Inc. | 踊ボカ!! ~踊ってみたセレクション~ (Odori Voca!! ~Odottemita Selection~) | GUMI, IA, Hatsune Miku, Megurine Luka, Kagamine Rin & Len | March 12, 2014 | music, lyrics |
| Project TRI | 魔法少女OverAge (Mahou Shoujo OverAge) | GUMI, Hatsune Miku | April 26, 2014 | music, lyrics |
| SPUTONIC | Memories of GUMI 2009-2013 feat. Megpoid 下巻 | GUMI | June 26, 2014 | music, lyrics |
| KARENT | "初音ミク「マジカルミライ 2014」オフィシャルアルバム" | Hatsune Miku, Kagamine Len, Kagamine Rin, Megurine Luka, MEIKO, and KAITO | August 6, 2014 | music, lyrics |
| Gynoid Co., Ltd. | debut | flower | October 01, 2014 | music, lyrics |
| U/M/A/A | "EVERGREEN SONGS 2012" | Hatsune Miku | December 24, 2014 | music, lyrics |
| EXIT TUNES | "EXIT TUNES PRESENTS Vocalofantasy feat. 初音ミク" | Hatsune Miku, GUMI, Kagamine Rin, Kagamine Len, IA, Camui Gackpo, MAYU, Megurine Luka, KAITO, and MEIKO | March 4, 2015 | music, lyrics |
| EXIT TUNES, Pony Canyon | "MAYU LOVES -First-" | MAYU | May 15, 2015 | music, lyrics |
| U/M/A/A | "初音ミク Project mirai こんぷり~と" | Hatsune Miku, Kagamine Rin & Len, GUMI, Megurine Luka, KAITO, and MEIKO | September 2, 2015 | music, lyrics |
| EXIT TUNES | EXIT TUNES PRESENTS Entrance Dream Music 2 | GUMI, IA, KAITO, Hatsune Miku, Megurine Luka, Kagamine Len | December 16, 2015 | music, lyrics |
| Vocalomakets | "月の陰 I - ツキノカゲ -" | Yuzuki Yukari | February 28, 2016 | music, lyrics |
| Lastrum Music Entertainment inc. | VOCALOID Fukase ~THE GREATEST HITS~ | Fukase | March 30, 2016 | music, lyrics |
| Sony Music Entertainment | ""初音ミク Project DIVA X -Complete Collection-"" | Hatsune Miku, Kagamine Rin, Kagamine Len, Megurine Luka, MEIKO, KAITO | June 8, 2016 | music, lyrics |
| KARENT | 初音ミク「マジカルミライ 2016」OFFICIAL ALBUM (Hatsune Miku "Magical Mirai 2016" OFFICIAL ALBUM) | Hatsune Miku, Kagamine Rin & Len, KAITO, Megurine Luka, MEIKO | August 03, 2016 | music, lyrics |
| EXIT TUNES | "EXIT TUNES PRESENTS Entrance Dream Music 3" | Hatsune Miku, Lily, Kagamine Rin & Len, GUMI, and IA | October 2, 2015 | music, lyrics |
| EXIT TUNES | "EXIT TUNES PRESENTS Vocalohistory feat. 初音ミク" | Hatsune Miku | March 15, 2017 | music, lyrics |
| EXIT TUNES | "EXIT TUNES PRESENTS Vocaloseasons feat. 初音ミク ~Winter~" | Hatsune Miku, GUMI, Kagamine Len, Megurine Luka, Kagamine Rin, Camui Gackpo, KAITO, IA, MAYU, and MEIKO | January 17, 2018 | music, lyrics |
| EXIT TUNES | "EXIT TUNES PRESENTS Vocaloseasons feat. 初音ミク ~Summer~" | Hatsune Miku, GUMI, IA, Kagamine Len, and Kagamine Rin | July 18, 2018 | music, lyrics |
| EXIT TUNES | "EXIT TUNES PRESENTS Megurinemotion feat. Megurine Luka" | Megurine Luka | January 30, 2019 | music, lyrics |
| Gakken Plus | ボカロで覚える高校日本史 (Vocalo de Oboeru Koukou Nihonshi) | IA, Hatsune Miku, Megurine Luka, Kaai Yuki, Kagamine Rin, Otomachi Una | February 19, 2019 | music, lyrics |
| EXIT TUNES | "EXIT TUNES PRESENTS GUMIssimo from Megpoid ―10th ANNIVERSARY BEST―" | GUMI | June 19, 2019 | music, lyrics |
| EXIT TUNES | "SPACE DIVE!! feat. GUMI from Megpoid" | GUMI | July 17, 2020 | music, lyrics |
| Crypton Future Media | MIKU EXPO 2021 Online Live Arrangement | Hatsune Miku, Kagamine Rin & Len, KAITO, Megurine Luka, MEIKO | July 08, 2021 | music, lyrics |
| EXIT TUNES | "EXIT TUNES PRESENTS Vocalodelight feat. 初音ミク" | Hatsune Miku, Kagamine Rin, Kagamine Len, flower, GUMI, Megurine Luka, IA, MEIKO, KAITO, and Camui Gackpo | December 15, 2021 | music, lyrics |
| KARENT | "初音ミク「マジカルミライ」10th Anniversary OFFICIAL ALBUM" | Hatsune Miku, Kagamine Rin, Kagamine Len, Megurine Luka, KAITO, and MEIKO | July 20, 2022 | music, lyrics |
Gallery
[
]
References
[
]