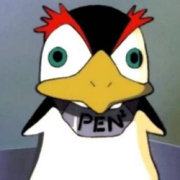 Affiliations
[
]
Feng Jian Academy Group
Ya Yue Pu
External links
[
]
Official
[
]
Unofficial
[
]
Ming Huang (冥凰; Míng Huáng), also known as Leng Niao (冷鸟; Lěng Niǎo), is a Chinese lyricist who made his bilibili debut in September 2009 but was active since 2007 on sites such as 5Sing and AcFun.
Early on, Ming Huang mainly organized activities for music lovers within Feng Jian Academy Group and Ya Yue Pu. At the time, he often wrote Chinese translyrics for well-known Japanese songs, which included anime and VOCALOID. After the organizations ceased activities, he became a freelance creator and maintained cooperation with many musicians in China. He was known to be good at writing lyrics for a variety of subjects and can work well with both traditional and modern lyrics. However, he claims that there are some that he may have trouble writing about.
After Luo Tianyi released in July 2012, Ming Huang gravitated toward making original creations. Over the years, his creative career became more closely related to Chinese VOCALOIDs. The first VOCALOID work he was involved with was "Crack" in collaboration with ONO and Faguang-P, which was uploaded in September 2012.
From 2018 to 2019, Vsinger and the mobile game 300 Da Zuozhan collaborated together. Ming Huang wrote the lyrics for five of the six songs available.
Ming Huang's most notable works include "Chūn Lái Fā Jǐ Zhī" featuring Luo Tianyi, "chu~chu~chu~" featuring Xingchen, and "Samarkand zhī Liàn" featuring Yuezheng Ling.
His birthday is May 30, 1990.
Works
[
]
| Links | Title | Featuring | Date | Roles |
| --- | --- | --- | --- | --- |
| | "血红满月之夜" | Luo Tianyi | November 26, 2012 | production team |
| | "春来发几枝" | Luo Tianyi | January 1, 2013 | lyrics |
| | "Boys&Friends" | Luo Tianyi | January 29, 2013 | lyrics |
| | "蛇年呀么要大吉" | Luo Tianyi | February 5, 2013 | lyrics |
| | "蹒行手记" | Luo Tianyi | February 5, 2015 | lyrics |
| | "末日派热舞" | Luo Tianyi, Yuezheng Ling | December 19, 2015 | lyrics |
| | "归一" | Luo Tianyi, Yuezheng Ling, Xin Hua | January 10, 2016 | lyrics |
| | "如旧" | Luo Tianyi, Yuezheng Ling | January 25, 2016 | lyrics |
| | "你好哈雷" | Xingchen | August 12, 2016 | lyrics |
| | "喵呜不帕" | Luo Tianyi | September 10, 2016 | lyrics |
| | "同道殊途" | Luo Tianyi, Yuezheng Ling, YANHE | September 13, 2016 | lyrics |
| | "泼墨漓江" | Luo Tianyi, Yuezheng Ling | January 19, 2017 | lyrics |
| | "迷局" | Xin Hua | March 25, 2017 | lyrics |
| | "炼金少女日志" | YANHE | July 15, 2017 | lyrics |
| | "书生" | Yuezheng Longya | August 23, 2017 | lyrics |
| | "十二镇魂歌" | Xingchen | November 24, 2017 | lyrics |
| | "撒马尔罕之恋" | Yuezheng Ling | November 28, 2017 | lyrics |
| | "风不定" | Yuezheng Longya | December 9, 2017 | lyrics |
| | "海风以南" | Xingchen | January 26, 2018 | lyrics |
| | "抄袭thief" | YANHE | February 8, 2018 | lyrics |
| | "头痛欲裂" | Xingchen | March 16, 2018 | lyrics |
| | "少女的爱是心照不宣" | Xin Hua | May 14, 2018 | lyrics |
| | "为邪·九九八十一" | Xin Hua | July 28, 2018 | lyrics |
| | "天黑之后" | Mo Qingxian | September 8, 2018 | lyrics |
| | "返祖效应-OOTEM-" | Yuezheng Ling | September 21, 2018 | lyrics |
| | "英雄出征" | Luo Tianyi | October 15, 2018 | lyrics |
| | "喧嚷" | Luo Tianyi | January 4, 2019 | lyrics |
| | "蝶恋花·何处谣" | Yuezheng Ling | April 12, 2019 | lyrics |
| | "Attack!" | Luo Tianyi V4 Ning, YANHE, Yuezheng Ling, Yuezheng Longya, Zhiyu Moke, Mo Qingxian | June 6, 2019 | lyrics |
| | "宿命" | Mo Qingxian | June 7, 2019 | lyrics |
| | "千年辗转" | Luo Tianyi | June 20, 2019 | lyrics |
| | "再一杯!" | Luo Tianyi, Mo Qingxian, YANHE, Zhiyu Moke, Yuezheng Longya, Yuezheng Ling | June 26, 2019 | lyrics |
| | "水平线的彼端" | YANHE | July 11, 2019 | lyrics |
| | "chu~chu~chu~" | Xingchen | August 12, 2019 | lyrics |
| | "不凡" | Yuezheng Longya | October 2, 2019 | lyrics |
| | "穿越黑夜" | Yuezheng Longya | October 2, 2019 | lyrics |
| | "风华引" | Luo Tianyi, Yuezheng Ling, YANHE, Yuezheng Longya | January 1, 2020 | lyrics |
| | "惊天" | YANHE | January 10, 2020 | lyrics |
| | "阿弥陀佛头摇摇" | Luo Tianyi V4 Meng | February 28, 2020 | lyrics |
| | "凌晨五点半" | Zhiyu Moke | April 5, 2020 | lyrics |
| | "未来的模样" | Luo Tianyi, YANHE, Yuezheng Longya | June 1, 2020 | lyrics |
| | "言传" | YANHE | July 11, 2020 | lyrics |
| | "妖恋风月" | Yuecheng, Zhiyu Moke, Yuezheng Longya, YANHE | August 8, 2020 | lyrics |
| | "迟暮" | Luo Tianyi, Yuezheng Ling | August 27, 2020 | lyrics |
| | "向光" | Luo Tianyi, Yuezheng Longya Ya | December 4, 2020 | lyrics |
| | "Find me" | Zhiyu Moke | December 10, 2020 | lyrics |
Albums
[
]
Compilations
[
]
| Affiliation | Title | Featuring | Date | Roles |
| --- | --- | --- | --- | --- |
| DAYS | "失落的机械城II" | Ling Yuan Yousa, Luo Tianyi, QI Inory, Xiguo no Haiyou, Guahaojun, Hatsune Miku, Shan Xin, hanser, Yunyanguoyu | April 30, 2014 | lyrics |
| Quadimension | "南北极星 Vol. 1" | Luo Tianyi, Yuezheng Ling, Xingchen | November 30, 2016 | lyrics |
| Quadimension | "星语" | Xingchen | February 28, 2017 | lyrics |
| Quadimension | "蝴蝶旅客" | Xingchen | April 30, 2017 | lyrics |
| Quadimension | "平行四界LIVE TOUR OFFICIAL ALBUM" | Xingchen | September 15, 2017 | lyrics |
| Shanghai Wangcheng Information Technology Co. Ltd. | "心花四季" | Xin Hua, Luna Safari | March 10, 2018 | lyrics |
| Quadimension | "平行四界VI" | Luo Tianyi, YANHE, Yuezheng Ling, Xingchen, Hatsune Miku | April 25, 2018 | lyrics |
| Qidian Project | "华哉有夏" | Luo Tianyi, YANHE, Yuezheng Ling, Yuezheng Longya | May 16, 2018 | lyrics |
| CrossOz | "遇定调和" | YANHE | July 11, 2018 | lyrics |
| Vsinger | "Lost in Tianyi" | Luo Tianyi | March 1, 2019 | lyrics |
| Qidian Project | "柒" | Luo Tianyi, YANHE, Yuezheng Ling | December 10, 2019 | lyrics |
| Vsinger | "告白诗" | Yuezheng Ling | April 12, 2020 | lyrics |
| AnoProject | "琉璃色前奏曲" | Luo Tianyi | June 20, 2020 | lyrics |
| Vsinger | "白日梦" | YANHE | July 11, 2020 | lyrics |
| Vsinger | "Moments" | Luo Tianyi | July 12, 2020 | lyrics |
| Huan Chahui x KuroNya | "依·睐" | Luo Tianyi | November 11, 2020 | lyrics |
| Vsinger | "Message" | Zhiyu Moke | December 10, 2020 | lyrics |