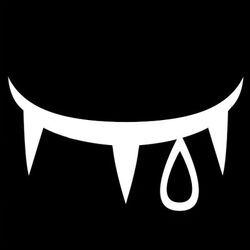 Affiliations
[
]
External links
[
]
Official
[
]
Unofficial
[
]
Neru, also known as z'5 and Oshiire-P (押入れP), born on August 10th, is a producer whose works are mainly rock, heavy metal, or EDM. He mainly uses Len and Rin, though he also uses IA, GUMI, Miku, and MAYU. His music and lyrics often speak to people and allow them to see another unique view of the world. In many cases, the lyrics to his songs are somewhat dark.
His trademark is the "Crying Eye".
His notable songs include "Tokyo Teddy Bear", his first song to reach 1,000,000 views; "Lost One's Weeping"; "Law-evading Rock"; "The Disease Called Love"; "Whatever whatever whatever"; and "Becoming Potatoes".
His P-name, Oshiire-P, originated from the description of his first song submission, 風音のクロニクル (Kazaoto no Chronicle): "I used Kagamine Rin/Len while I was sleeping in the closet" (this description had since been changed). "Closet" (押入) would later became his P-name, although Neru is more commonly used nowadays.
More information about Neru and the characters in his songs is on Neru Wikia.
Works
[
]
| Links | Title | Featuring | Date | Roles |
| --- | --- | --- | --- | --- |
| • | 風音のクロニクル (Kazaoto no Chronicle) | Kagamine Len | January 01, 2009 | music, lyrics |
| • | 大きな木の下のクロニクル (Ookina Konoshita no Chronicle) | Kagamine Len | December 13, 2009 | music, lyrics |
| | "人間失格" | Kagamine Rin and Kagamine Len | December 26, 2009 | music, lyrics |
| • | 7.0×10^9の天涯孤独 (7.0×10^9 no Tengaikodoku) | Kagamine Rin | March 07, 2010 | music, lyrics |
| | "エレクトロニック・ジェノサイド" | Kagamine Len | March 28, 2010 | music, lyrics |
| • | 鏡音リンレン放送局ジングル (Kagamine Rin Len Housoukyoku Jingle) | Kagamine Rin & Len | August 01, 2010 | music, lyrics |
| | "人間失格" | Kagamine Rin and Kagamine Len | November 24, 2010 | music, lyrics |
| • | ディエス・イレ (Dies Irae) | Kagamine Rin | February 12, 2011 | lyrics |
| | "アブストラクト・ナンセンス" | Kagamine Rin | May 6, 2011 | music, lyrics |
| • | 少年トラジティ (Shounen Tragedy) | Kagamine Rin | June 12, 2011 | music, lyrics |
| | "東京テディベア" | Kagamine Rin (Sweet and Power) | August 14, 2011 | music, lyrics |
| | "ガラクタ・パレード" | Kagamine Len | October 7, 2011 | music, lyrics |
| | "谺、碧海、那由多を見定むアグラフォノスの詩篇" | GUMI | March 4, 2012 | music, lyrics |
| | "少年少女カメレオンシンプトム" | Kagamine Rin | April 20, 2012 | music, lyrics |
| • | 催眠 (Saimin) | GUMI | August 17, 2012 | guitar |
| | "再教育" | Kagamine Rin Append and Kagamine Len Append | September 2, 2012 | music, lyrics |
| None | "優しい人になりたい" | MAYU | December 5, 2012 (album) | music, lyrics |
| | "延命治療" | IA | November 28, 2012 (album) and December 28, 2012 (NN) | music, lyrics |
| | "ロストワンの号哭" | Kagamine Rin | March 4, 2013 | music, lyrics |
| None | "優しい人になりたい" | Kagamine Rin | March 6, 2013 (album) | music, lyrics |
| None | "グッバイ、ロックンロール" | Kagamine Len | March 06, 2013 (album release date) | producer |
| | "ハウトゥー世界征服" | Kagamine Rin and Kagamine Len | March 9, 2013 | music, lyrics |
| | "かなしみのなみにおぼれる" | Kagamine Len | April 19, 2013 | music, lyrics |
| | "イドラのサーカス" | Kagamine Rin | May 3, 2013 | music, lyrics |
| | "命のユースティティア" | Kagamine Len | October 6, 2013 | music, lyrics |
| | "テロル" | Kagamine Rin | December 31, 2013 (album) and June 3, 2014 (NN) | music, lyrics |
| | "オーヴァークロック" | IA ROCKS | November 30, 2014 | music, lyrics |
| | "ばいばい、ノスタルジーカ" | Kagamine Len | December 5, 2014 | music, lyrics |
| | "世界を壊している" | Kagamine Rin | July 14, 2015 | music, lyrics |
| | "FPS" | Kagamine Len | August 13, 2015 | music, lyrics |
| None | "マイネームイズラヴソング" | Kagamine Len and Kagamine Rin | September 30, 2015 (album) | music, lyrics |
| | "脱獄" | Kagamine Rin | May 1, 2016 | music, lyrics |
| | "洗脳" | Kagamine Len and Kagamine Rin | September 30, 2015 (album) and May 16, 2016 (NN) | music, lyrics |
| | "脱法ロック" | Kagamine Len | June 19, 2016 | music, lyrics |
| | "捨て子のステラ" | Kagamine Rin | July 18, 2016 | music, lyrics, arrangement |
| • | 僕は君のアジテーターじゃない (Boku wa Kimi no Agitator Janai) | Kagamine Len | October 21, 2016 | music, lyrics |
| | "病名は愛だった" | Kagamine Len and Kagamine Rin | September 17, 2017 | producer |
| None | "それでも僕は歌わなくちゃ" | Hatsune Miku | August 30, 2017 (album release date) | music, lyrics |
| | "い~やい~やい~や" | Kagamine Len and Kagamine Rin | November 10, 2017 | producer |
| | "くたばろうぜ" | Kagamine Len and Kagamine Rin | December 29, 2017 | music, lyrics |
| | "SNOBBISM" | Kagamine Rin and Kagamine Len | March 21, 2018 | producer |
| None | "隣の芝生 is blue" | Kagamine Len and Kagamine Rin | December 30, 2018 (album) | music, lyrics |
| | "potatoになっていく" | Kagamine Len and Kagamine Rin | March 30, 2020 | music, lyrics |
| | "豚になってyeah yeah" | Kagamine Len | December 31, 2019 (album) and April 15, 2020 (PV) | music, lyrics |
Albums
[
]
Singles
[
]
| Affiliation | Title | Featuring | Date | Roles |
| --- | --- | --- | --- | --- |
| • | 東京テディベア (Tokyo Teddy Bear) (single) | Kagamine Rin | December 21, 2011 | music, lyrics |
Discography
[
]
| Affiliation | Title | Featuring | Date | Roles |
| --- | --- | --- | --- | --- |
| • | 小生劇場 (Shousei Gekijou) | Kagamine Rin & Len, IA | April 28, 2012 | music, lyrics |
| • | 世界征服 (Sekai Seifuku) | Kagamine Rin & Len | March 06, 2013 | music, lyrics |
| • | Fictional World | Hatsune Miku, Kagamine Rin, Kagamine Len, GUMI, MAYU | August 07, 2013 | arrangement |
| • | 八日目、雨が止む前に。 (Youkame, Ame ga Yamu Mae ni. ) (album) | Hatsune Miku, Kagamine Rin & Len, GUMI, MAYU | February 04, 2015 | tuning |
| • | 終焉 -Re:mind- (Shuuen -Re:mind-) | Hatsune Miku, Megurine Luka, Kagamine Rin, GUMI, MAYU, IA | March 25, 2015 | tuning |
| • | マイネームイズラヴソング (My Name Is Love Song) (album) | Kagamine Rin & Len | September 30, 2015 | music, lyrics |
| • | CYNICISM/Neru | Kagamine Len and Kagamine Rin | March 28, 2018 | music, lyrics |
Compilations
[
]
| Affiliation | Title | Featuring | Date | Roles |
| --- | --- | --- | --- | --- |
| EXIT TUNES | "EXIT TUNES PRESENTS Vocalocluster feat. 初音ミク" | Hatsune Miku, Kagamine Len, Kagamine Rin, Megurine Luka, Camui Gackpo, KAITO, GUMI, and MEIKO | October 19, 2011 | music, lyrics |
| BinaryMixx Records | "V Love 25~Aperios~" | Hatsune Miku, Kagamine Rin & Len, GUMI, Megurine Luka, and VY1 | November 16, 2011 | music, lyrics |
| FARM RECORDS | "VOCAROCK collection 3 feat. 初音ミク" | Hatsune Miku, Kagamine Rin, Megurine Luka, GUMI, and Kagamine Len | December 7, 2011 | music, lyrics |
| EXIT TUNES | "EXIT TUNES PRESENTS Vocalodream feat. 初音ミク" | Hatsune Miku, Kagamine Rin, GUMI, Megurine Luka, Kagamine Len, Camui Gackpo, KAITO, and MEIKO | January 18, 2012 | music, lyrics |
| EXIT TUNES | "EXIT TUNES PRESENTS Supernova 7" | Hatsune Miku, Kagamine Len, Kagamine Rin, GUMI, Camui Gackpo, and SF-A2 miki | April 18, 2012 | music, lyrics |
| 1st PLACE | "IA/01 -BIRTH-" | IA | April 25, 2012 | music, lyrics |
| EXIT TUNES | "EXIT TUNES PRESENTS Vocaloconnection feat. 初音ミク" | Hatsune Miku, GUMI, Kagamine Rin, Kagamine Len, Camui Gackpo, KAITO, Megurine Luka, MEIKO, and IA | August 1, 2012 | music, lyrics |
| FARM RECORDS | "VOCAROCK collection 4 feat. 初音ミク" | GUMI, Hatsune Miku, IA, Kagamine Rin, Megurine Luka, and Kagamine Len | November 28, 2012 | music, lyrics |
| EXIT TUNES | "EXIT TUNES PRESENTS VOCALOID™3 Library MAYU SPECIAL 2CD" | MAYU | December 5, 2012 | music, lyrics |
| 1st PLACE, IA PROJECT, Sony Music Entertainment | "IA/02 -COLOR-" | IA, Hatsune Miku, GUMI, Lily, and SF-A2 miki | January 30, 2013 | music, lyrics |
| EXIT TUNES | "EXIT TUNES PRESENTS Vocalotwinkle feat. 鏡音リン、鏡音レン" | Kagamine Rin & Len, Hatsune Miku | March 20, 2013 | music, lyrics |
| EXIT TUNES | "EXIT TUNES PRESENTS VocaloVanguard feat. 初音ミク slow" | Hatsune Miku and Megurine Luka | July 18, 2012 | music, lyrics |
| Yasashii Hito ni Naritai. | "思春期コンプレックス" | Hatsune Miku, GUMI, Kagamine Rin, and Yuzuki Yukari | April 27, 2013 | music, lyrics |
| • | EXIT TUNES PRESENTS Vocaloextra feat. GUMI、IA、MAYU | GUMI, IA, MAYU | June 5, 2013 | n/a |
| • | EXIT TUNES PRESENTS GUMity from Megpoid | GUMI | August 07, 2013 | music, lyrics |
| Dwango User Entertainment, Inc. | "VOCALOID 超BEST -memories-" | Hatsune Miku, Kagamine Len, Kagamine Rin, GUMI, Megurine Luka, IA, Camui Gackpo, KAITO, MEIKO, and VY2 | October 3, 2013 | music, lyrics |
| EXIT TUNES | "EXIT TUNES PRESENTS Vocalofuture feat. 初音ミク" | Hatsune Miku, GUMI, Megurine Luka, Kagamine Rin, Kagamine Len, IA, MAYU, Camui Gackpo, KAITO, and MEIKO | November 6, 2013 | music, lyrics |
| KLAFT | EXISTENCE | Megurine Luka, Kagamine Len, GUMI, Aoki Lapis, Kagamine Rin, Hatsune Miku, Namine Ritsu | December 31, 2013 | music, lyrics |
| EXIT TUNES | "EXIT TUNES PRESENTS Vocalospace feat. 初音ミク" | Hatsune Miku, GUMI, Kagamine Len, Megurine Luka, Kagamine Rin, MEIKO, MAYU, IA, Camui Gackpo, and KAITO | September 3, 2014 | music, lyrics |
| • | IA/03 -VISION- | IA | November 5, 2014 | music, lyrics |
| U/M/A/A | "GOTHIC & HORROR" | Hatsune Miku, Kagamine Rin, Kagamine Len, KAITO, Megurine Luka | October 28th, 2015 | music, lyrics |
| Independent | "ドンツーミュージック" | Hatsune Miku, Kagamine Rin, and Kasane Teto | October 7, 2016 | music, lyrics |
| EXIT TUNES | "EXIT TUNES PRESENTS Entrance Dream Music 3" | Hatsune Miku, Lily, Kagamine Rin & Len, GUMI, and IA | October 2, 2015 | music, lyrics |
| EXIT TUNES | "EXIT TUNES PRESENTS Vocalocreation feat. 初音ミク" | Hatsune Miku, Kagamine Len, GUMI, Kagamine Rin, Megurine Luka, Camui Gackpo, KAITO, IA, MAYU, and MEIKO | September 21, 2016 | music, lyrics |
| KARENT | "初音ミク「マジカルミライ 2017」OFFICIAL ALBUM" | Hatsune Miku, Kagamine Len, Kagamine Rin, and Megurine Luka | August 2, 2017 | music, lyrics |
| Dwango User Entertainment, Inc., U&R records | "Re:Start" | Hatsune Miku, Kagamine Len, Kagamine Rin, GUMI, Megurine Luka, KAITO, and MEIKO | August 30, 2017 | music, lyrics |
| • | EXIT TUNES PRESENTS Kagaminext feat. 鏡音リン、鏡音レン ―10th ANNIVERSARY BEST― | Kagamine Rin & Len | December 20, 2017 | music, lyrics |
| KARENT | "KARENT presents 鏡音リン・レン 10th Anniversary -LODESTAR-" | Kagamine Rin & Len | December 27, 2017 | music, lyrics |
| Dwango User Entertainment, Inc. | "ドンツーミュージック2" | Hatsune Miku, Kagamine Rin, Otomachi Una, Kagamine Len, Kasane Teto, and VY1 | December 29, 2017 | music, lyrics |
| Independent | "ドンツーミュージック3" | Hatsune Miku, Kagamine Len, Kagamine Rin, GUMI, Otomachi Una, flower, and Kasane Teto | December 30, 2018 | music, lyrics |
| EXIT TUNES | "EXIT TUNES PRESENTS Vocalostream feat. 初音ミク" | Hatsune Miku, GUMI, Kagamine Rin, Kagamine Len, IA, flower, Megurine Luka, Camui Gackpo, KAITO, MEIKO, and MAYU | March 20, 2019 | music, lyrics |
| Independent | "ドンツーミュージック4" | flower, VY1V4, Hatsune Miku, Kasane Teto, Kagamine Len, Kagamine Rin, and Otomachi Una | December 31, 2019 | music, lyrics |
Gallery
[
]