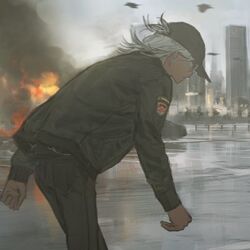 Affiliations
[
]
Hirota Tsuu
Nakamura Ryouma
Ozaki
External links
[
]
Official
[
]
Unofficial
[
]
nulut (ぬゆり, Nuyuri), is a male VOCALOID producer. Aside from the role of a songwriter, he also takes part in video production and works as a DJ.
He mainly uses GUMI in his works, and later on starts using flower and Xin Hua as well. After his song Fragile debuted at second place in Niconico Weekly Vocaloid Ranking, his later works gained much more reputation. Other notable works from him include Fragile and Inochi Bakkari.
He goes by the name of Lanndo for independent artist activities.
nulut does NOT permit unauthorized reprints of his videos.
Works
[
]
| Links | Title | Featuring | Date | Roles |
| --- | --- | --- | --- | --- |
| • | ワイヤレス感電 (Wireless Kanden) | Hatsune Miku | December 27, 2011 | music, lyrics |
| • | すごい思い切ってポップ (Sugoi Omoikitte Pop) | GUMI | April 25, 2012 | music, lyrics |
| • | アンキャッチ (Uncatch) | GUMI | July 27, 2012 | music, lyrics |
| • | 後悔の先 (Koukai no Saki) | GUMI | September 16, 2012 | music, lyrics |
| • | やけるさかな (Yakeru Sakana) | GUMI | October 18, 2012 | music, lyrics |
| • | 文化 (Bunka) | GUMI | November 03, 2012 | music, lyrics |
| • | 嘘っぱち (Usoppachi) | GUMI | December 10, 2012 | music, lyrics |
| • | いたましくてたくましくて (Itamashikute Takumashikute) | GUMI | February 19, 2013 | music, lyrics |
| • | ステイタス (status) | GUMI | March 15, 2013 | music, lyrics |
| • | とけいまわり (Tokeimawari) | GUMI | April 27, 2013 | music, lyrics |
| • | 安泰 (Antai) | GUMI | April 29, 2013 | music, lyrics |
| • | 怠惰イズム (Taida Izumu) | GUMI | July 19, 2013 | music, lyrics |
| • | おもりのそら (Omori no Sora) | GUMI | September 18, 2013 | music, lyrics |
| • | 栽培 (Saibai) | GUMI | November 03, 2013 | music, lyrics |
| • | がらんどうの斜陽 (Garandou no Shayou) | GUMI | November 17, 2013 | music, lyrics |
| • | 墜落した水 (Tsuiraku Shita Mizu) | GUMI | December 29, 2013 | music, lyrics |
| • | ギミイ (Gimme) | GUMI | April 30, 2014 | music, lyrics |
| • | 新しい夜 (Atarashii Yoru) | GUMI | June 27, 2014 | music, lyrics |
| | "DE-Pression" | Kagamine Rin | October 10, 2014 | music, lyrics |
| • | 幾千のテロリズムへ (Ikusen no Terrorism e) | GUMI | January 27, 2015 | music, lyrics |
| | "錯蒼" | GUMI | July 29, 2015 | music, lyrics |
| • | 古臭い子供達 (Furukusai Kodomodachi) | GUMI | August 31, 2015 | music, lyrics |
| • | 軽忽な救済を待つ醜さには一片の夾竹桃を (Kyoukotsu na Kyuusai wo Matsu Minikusa ni wa Hitohira no Kyouchikutou o) | Kagamine Rin | August 31, 2015 | special thanks |
| • | さいしょへ (Saisho e) | GUMI | February 17, 2016 | music, lyrics |
| • | らるらりら (Rarurarira) | Hatsune Miku | June 17, 2016 | music, lyrics |
| • | 色失は青になる (Iro wa Ao ni Naru) | GUMI | August 07, 2016 | music, lyrics |
| | "フラジール" | GUMI | September 10, 2016 | music, lyrics |
| • | フォログラフ (Photograph) | GUMI | December 24, 2016 | music, lyrics |
| | "フィクサー" | flower | March 22, 2017 | music, lyrics |
| | "命ばっかり" | flower | August 4, 2017 | music, lyrics |
| | "プロトディスコ" | flower | November 08, 2017 | music, lyrics |
| | "ターミナル" | GUMI | January 07, 2018 | music, lyrics |
| | "ディカディズム" | flower and Xin Hua Japanese | May 11, 2018 | music, lyrics |
| | "終末じゃない" | flower and Xin Hua Japanese | July 27, 2018 | music, lyrics |
| | "ロンリーダンス" | flower | October 22, 2018 | music, lyrics |
| • | ザルバラ (Zarubara) | flower | August 16, 2019 | music, lyrics |
| • | 祈りは空っぽ (Inori wa Karappo) | flower | December 13, 2019 | music, lyrics |
| • | サラダボウル (Salad Bowl) | flower | July 17, 2020 | music, lyrics |
| • | Hollow Sleep | flower | November 21, 2020 | music, lyrics |
| • | vivid a | flower | March 05, 2021 | music, lyrics |
| | "ロウワー" | flower | November 11, 2021 | music, lyrics, arrangement |
Albums
[
]
Discography
[
]
| Affiliation | Title | Featuring | Date | Roles |
| --- | --- | --- | --- | --- |
| Independent | 眠る欲 (Nemuru Yoku) | GUMI | April 29, 2013 | music, lyrics |
| Independent | 水底に怠惰 (Minasoko ni Taida) | GUMI, Nizimine Kakoi | November 17, 2013 | music, lyrics |
| SiNu-CaCo | ナンセンス (Nonsense) | GUMI, Hatsune Miku, Kagamine Rin, Makimiya Fuuki | April 26, 2014 | arrangement |
| Independent | 日刊:遺書 (Nikkan: Isho) | GUMI, Kagamine Rin, majiko | November 15, 2014 | music, lyrics |
| Independent | 有象偶像 (Uzou Guuzou) | GUMI | August 12, 2016 | music, lyrics |
| Dwango User Entertainment, Inc. | "plotoplan" | flower, nulut | December 29, 2017 | music, lyrics |
| Dwango User Entertainment, Inc. | Outer Sample | GUMI, flower, Xin Hua, Yuzuki Yukari | December 12, 2018 | music, lyrics |
Split albums
[
]
| Affiliation | Title | Featuring | Date | Roles |
| --- | --- | --- | --- | --- |
| Independent | アルコルの改葬 (Alcor no Kaisou) | GUMI, Hatsune Miku, Kagamine Rin | April 25, 2015 | music, lyrics |
Compilations
[
]
| Affiliation | Title | Featuring | Date | Roles |
| --- | --- | --- | --- | --- |
| Independent | 8it linkage | GUMI, IA, Hatsune Miku, Megurine Luka, Kagamine Rin | April 27, 2013 | music, lyrics |
| Independent | デスマコンピ2 (Deathma Compilation 2) | GUMI, Aoki Lapis, Hatsune Miku, Nekomura Iroha, Kagamine Rin & Len | April 27, 2013 | music, lyrics |
| 108studio | ノスタルジックパレット (Nostalgic Palette) | GUMI, IA, Hatsune Miku, Yuzuki Yukari, Aoki Lapis | July 07, 2013 | music, lyrics |
| Tsuyoi zo hayai zo! Fujimori | mementomori | GUMI, Hatsune Miku, Megurine Luka, Kagamine Rin | November 15, 2014 | music, lyrics |
| Retriever Records | アルカロイドに溺れる (Alkaloid ni Oboreru) | flower, Hatsune Miku, Kaai Yuki, Yuzuki Yukari, Kagamine Rin & Len | August 11, 2017 | music, lyrics |
| EXIT TUNES | "EXIT TUNES PRESENTS Vocaloseasons feat. 初音ミク ~Winter~" | Hatsune Miku, GUMI, Kagamine Len, Megurine Luka, Kagamine Rin, Camui Gackpo, KAITO, IA, MAYU, and MEIKO | January 17, 2018 | music, lyrics |
| Gynoid Co., Ltd. | "心華EP 〜春とら!" | Xin Hua, flower | April 11, 2018 | music, lyrics |
| Gakken Plus | ボカロで覚える高校英単語 (Vocalo de Oboeru Koukou Eitango) | GUMI, CYBER SONGMAN, Hatsune Miku, Camui Gackpo, Megurine Luka, Kagamine Rin & Len | February 19, 2019 | music, lyrics |
| EXIT TUNES | "EXIT TUNES PRESENTS Vocalostream feat. 初音ミク" | Hatsune Miku, GUMI, Kagamine Rin, Kagamine Len, IA, flower, Megurine Luka, Camui Gackpo, KAITO, MEIKO, and MAYU | March 20, 2019 | music, lyrics |
| EXIT TUNES | "EXIT TUNES PRESENTS GUMIssimo from Megpoid ―10th ANNIVERSARY BEST―" | GUMI | June 19, 2019 | music, lyrics |
Gallery
[
]