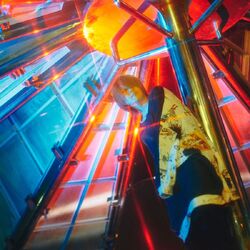 Affiliations
[
]
External links
[
]
Official
[
]
Unofficial
[
]
Oonuma Parsley (大沼パセリ), Oonuma Paseri, Parsley Onuma, or Onuma Paseri, is a Japanese VOCALOID producer who uses Hatsune Miku and flower. He is also a music producer for Kamitsubaki Studio.
He started posting original songs to YouTube since September of 2017. His most popular songs are Corruption, エゴイスト (Egoist) and Colors, with Colors reaching over 1 Million YouTube views and Egoist reaching over 6.6 Million. In 2018, he started to cover his own songs. He makes full use of synths and beats to create a wide range of sophisticated sounds from EDM, future bass, drum 'n' bass, floating city pop, and, jazzy hip hop.
In February 2020, he released VOCALOID BEST ALBUM "ave", which summarizes his career as VOCALOID producer and prompts the start of a break in his activities as a VOCALOID producer.
Oonuma Paseri is a verified artist on Spotify with over 61 thousand monthly listeners. His songs published on spotify include Egoist, Corruption, Praise, Twig, and Colors.
Works
[
]
| Links | Title | Featuring | Date | Roles |
| --- | --- | --- | --- | --- |
| SoundCloud | 電波ガアル (Denpa Girl) | Hatsune Miku | August 15, 2017 | music, lyrics |
| Niconico YouTube SoundCloud | さよならタウン (Sayonara Town) | Hatsune Miku | September 22, 2017 | music, lyrics |
| Niconico YouTube SoundCloud | 片憶い (Kata Oboi) | Hatsune Miku | September 28, 2017 | music, lyrics |
| Niconico YouTube | 回帰現象 (Kaiki Genzou) | Hatsune Miku | October 07, 2017 | music, lyrics |
| Niconico | ある日のハイライト (Aru Hi no Highlight) | Hatsune Miku | October 23, 2017 | music, lyrics |
| Niconico YouTube | 踊る浮遊隊 (Odoru Fuyuutai) | Hatsune Miku | October 31, 2017 | music, lyrics |
| Niconico YouTube | boys | Hatsune Miku | November 19, 2017 | music, lyrics |
| Niconico YouTube piapro | ニーナ (Nina) | Hatsune Miku | December 03, 2017 | music, lyrics |
| Niconico YouTube | スウィングハート (Swing Heart) | Hatsune Miku | January 03, 2018 | music, lyrics |
| Niconico YouTube | 内緒話 (Naishobanashi) | Hatsune Miku | January 27, 2018 | music, lyrics |
| | "Corruption" | Hatsune Miku | February 20, 2018 | music, lyrics |
| Niconico YouTube SoundCloud | colors | Hatsune Miku | March 19, 2018 | music, lyrics |
| Niconico YouTube | May | Hatsune Miku | April 04, 2018 | music, lyrics |
| Niconico YouTube | parade | Hatsune Miku | April 08, 2018 | music, lyrics |
| Niconico YouTube SoundCloud | Twig | Hatsune Miku | April 15, 2018 | music, lyrics |
| Niconico YouTube | Poolside | Hatsune Miku | May 19, 2018 | music, lyrics |
| | "エゴイスト" | flower | September 12, 2018 | music, lyrics |
| | "praise" | flower | October 6, 2018 | music, lyrics |
| Niconico YouTube | replay | flower | December 19, 2018 | music, lyrics |
| Niconico YouTube | 白紙の言葉 (Hakushi no Kotoba) | Hatsune Miku | March 02, 2019 | music, lyrics |
| Niconico YouTube | Billy | flower | June 20, 2019 | music, lyrics |
| YouTube | あの娘の言葉 (Ano Musume no Kotoba) | flower | December 29, 2019 | music, lyrics |
| | "ATELIER" | flower | February 28, 2020 | music, lyrics |
Albums
[
]
Discography
[
]
| Affiliation | Title | Featuring | Date | Roles |
| --- | --- | --- | --- | --- |
| • | Chromosome | Hatsune Miku | July 16, 2018 | music, lyrics |
| • | memento mori | flower | November 18, 2018 | music, lyrics |
| • | ave | flower | February 26, 2020 | music, lyrics |
Compilations
[
]
| Affiliation | Title | Featuring | Date | Roles |
| --- | --- | --- | --- | --- |
| • | Heartache | flower, Hatsune Miku, Megurine Luka, Kasane Teto, Kagamine Rin, Kagamine Len | November 18, 2018 | music, lyrics (track 5) |
| Subcul-rise Record | "ベノマ" | Hatsune Miku, flower, Kaai Yuki, GUMI, Kagamine Rin | January 15, 2020 | arrangement |