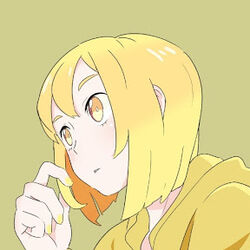 Affiliations
[
]
External links
[
]
Official
[
]
Unofficial
[
]
"Orangestar", also known as MikanseiP, is a well-known Japanese VOCALOID producer. He was born in August 20, 1997[1] in Miyagi Prefecture.
For the origin of his producer name: as the young musician had always been fond of the word Mikansei (未完成, lit. imperfect), he decided to go for the name Orangestar (蜜柑星, which is read mikansei).[2]
Orangestar's songs are known for their memorable and poetic melodies, and always strongly bear the theme of summer[2]. As described by Orangestar and his illustrator friend M.B, their songs aim to express Christian values in the most simple forms of lyrics and illustrations.[3]
His notable songs include Earphone to Semishigure, Asu no Yozora Shoukaihan, Amekigoe Zankyou, Kuusou Ressha, Alice in Reitouko, and DAYBREAK FRONTLINE. So far, he has released three major albums: Mikansei Eight Beats in April 2015, Mishuuroku OSC in November 2016, and SEASIDE SOLILOQUIES in January 2017.
Orangestar took a break from music activities from 2017 to 2019, during which he served as a missionary in Riverside, California, USA.[4] He announced his return to Japan in December 2019,[5] and has resumed his activities since then.
On December 2020, Orangestar announced his marriage to vocalist Kase (夏背).[6]
Works
[
]
| Links | Title | Featuring | Date | Roles |
| --- | --- | --- | --- | --- |
| • | ノラボク (Noraboku) | IA | April 01, 2013 | music, lyrics |
| • | オレンジスター (Orange Star) | IA | April 2, 2013 | music, lyrics |
| • | パラダイムバグ (Paradigm Bug) | IA | May 12, 2013 | music, lyrics |
| • | 真夏と少年の天ノ川戦争 (Manatsu to Shounen no Amanogawa Sensou) | IA | July 24, 2013 | music, lyrics |
| • | ヴァーミンキラー (Vermin Killer) | IA | July 24, 2013 | music, lyrics |
| • | 突風マニュアル (Toppuu Manual) | IA | August 02, 2013 | music, lyrics |
| • | 悪性新生物 (Akusei Shinseibutsu) | IA | August 06, 2013 | music, lyrics |
| • | 二次元の女の子に恋をしてしまって辛い…w (Nijigen no Onnanoko ni Koi o shite Shimatte Tsurai) | IA | December 19, 2013 | music, lyrics |
| | "未完成タイムリミッター" | IA | February 01, 2014 | music, lyrics, video |
| • | 午前四時半 (Gozen Yojihan) | IA | June 24, 2014 | music, lyrics |
| | "イヤホンと蝉時雨" | IA | July 17, 2014 | music, lyrics, video |
| • | 夏色アンサー (Natsuiro Answer) | IA | July 29, 2014 | music, lyrics |
| | "アスノヨゾラ哨戒班" | IA | August 19, 2014 | music, lyrics |
| | "雨き声残響" | IA | October 05, 2014 | music, lyrics, video |
| • | 牆壁 (Shouheki) | IA | January 1, 2015 | music, lyrics |
| | "空奏列車" | IA | February 21, 2015 | music, lyrics, video |
| | "CITRUS" | IA and ONE | April 4, 2015 | music, lyrics |
| | "残灯花火" | Hatsune Miku | July 25, 2015 | music, lyrics, video |
| | "キミノヨゾラ哨戒班" | IA | August 18, 2015 | |
| | "濫觴生命" | IA | August 29, 2015 | music, lyrics |
| | "時ノ雨、最終戦争" | IA | December 20, 2015 | music, lyrics, video |
| | "Alice in 冷凍庫" | IA | February 17, 2016 | music, lyrics |
| | "シンクロナイザー" | Hatsune Miku | August 11, 2016 | music, lyrics |
| | "回る空うさぎ" | Hatsune Miku | November 14, 2016 | music, lyrics |
| | "DAYBREAK FRONTLINE" | IA | December 03, 2016 | |
| | "スターナイトスノウ" | Hatsune Miku | January 6, 2017 | music, lyrics |
| | "Uz" | IA | May 22, 2020 | music, lyrics |
| | "快晴" | IA | August 31, 2017 | music, lyrics |
| • | Sea Side Dawn | IA | October 23, 2018 | illust |
| | "Henceforth" | IA | May 21, 2020 | music, lyrics |
| • | Nadir | IA | December 31, 2020 | music, lyrics |
| | "霽れを待つ" | Hatsune Miku | January 10, 2021 | music, lyrics |
| • | Surges | IA, Hatsune Miku | August 23, 2021 | music, lyrics |
Albums
[
]
Discography
[
]
Singles
[
]
| Affiliation | Title | Featuring | Date | Roles |
| --- | --- | --- | --- | --- |
| Independent | "イヤホンと蝉時雨" | IA | December 24, 2014 | music, lyrics |
| Independent | "アスノヨゾラ哨戒班" | IA | March 12, 2015 | music, lyrics |
| Subcul-rise Record | "未完成エイトビーツ" | IA and Hatsune Miku | April 22, 2015 | music, lyrics |
| • | 濫觴生命 (Ranshou Seimei) (single) | IA | August 29, 2015 | music, lyrics |
| • | Alice in 冷凍庫 (Alice in Reitouko) (single) | IA | February 17, 2016 | music, lyrics |
| Independent | "未収録OSC" | IA and Hatsune Miku V3 English | November 5, 2016 | music, lyrics |
| Dwango User Entertainment | "SEASIDE SOLILOQUIES" | IA and Hatsune Miku | January 18, 2017 | music, lyrics |
| Independent | "快晴" | IA | May 28, 2020 | music, lyrics |
| • | シンクロナイザー (Video Ver.) | Hatsune Miku | June 5, 2020 | music, lyrics |
| Independent | "Henceforth" | IA | June 5, 2020 | music, lyrics |
| • | Nadir (single) | IA | January 17, 2021 | music, lyrics |
| • | 霽れを待つ (Hare wo Matsu) (single) | Hatsune Miku | January 17, 2021 | music, lyrics |
Compilations
[
]
| Affiliation | Title | Featuring | Date | Roles |
| --- | --- | --- | --- | --- |
| TEAM Entertainment | "IA THE WORLD ~華~" | IA | February 11, 2015 | music, lyrics |
| EXIT TUNES | "EXIT TUNES PRESENTS Vocalofantasy feat. 初音ミク" | Hatsune Miku, GUMI, Kagamine Rin, Kagamine Len, IA, Camui Gackpo, MAYU, Megurine Luka, KAITO, and MEIKO | March 4, 2015 | music, lyrics |
| • | 夢の八番地 (Yume no Hachibanchi) | Hatsune Miku, GUMI, IA, and Kagamine Rin | April 25, 2015 | music, lyrics |
| • | ONE/00 | IA | May 22, 2015 | music, lyrics |
| EXIT TUNES | "EXIT TUNES PRESENTS Vocalocreation feat. 初音ミク" | Hatsune Miku, Kagamine Len, GUMI, Kagamine Rin, Megurine Luka, Camui Gackpo, KAITO, IA, MAYU, and MEIKO | September 21, 2016 | music, lyrics |
| KARENT | "KARENT presents Winterland's Anthology feat. 初音ミク" | Hatsune Miku | January 25, 2017 | music, lyrics |
| Dwango User Entertainment, Inc., U&R records | "Re:Start" | Hatsune Miku, Kagamine Len, Kagamine Rin, GUMI, Megurine Luka, KAITO, and MEIKO | August 30, 2017 | music, lyrics |
| • | Desktop Magicians | Otomachi Una, Hatsune Miku, Kagamine Rin & Len, Megpoid English, Yuzuki Yukari, flower, IA, KAITO, MEIKO, Megurine Luka | December 20, 2017 | music, lyrics |
| EXIT TUNES | "EXIT TUNES PRESENTS Vocaloseasons feat. 初音ミク ~Winter~" | Hatsune Miku, GUMI, Kagamine Len, Megurine Luka, Kagamine Rin, Camui Gackpo, KAITO, IA, MAYU, and MEIKO | January 17, 2018 | music, lyrics |
| • | IA/04 -STAR- | IA | March 28, 2018 | music, lyrics |
| • | ONE/01 -BLOOM- | IA | March 28, 2018 | music, lyrics |
| EXIT TUNES | "EXIT TUNES PRESENTS Vocaloseasons feat. 初音ミク ~Summer~" | Hatsune Miku, GUMI, IA, Kagamine Len, and Kagamine Rin | July 18, 2018 | music, lyrics |
| KARENT | "KARENT presents Snow White Record feat. 初音ミク" | Hatsune Miku | January 23, 2019 | music, lyrics |
| EXIT TUNES | "EXIT TUNES PRESENTS Vocalostream feat. 初音ミク" | Hatsune Miku, GUMI, Kagamine Rin, Kagamine Len, IA, flower, Megurine Luka, Camui Gackpo, KAITO, MEIKO, and MAYU | March 20, 2019 | music, lyrics |
| • | 初音ミク マジカルミライ2019 | Hatsune Miku, Kagamine Rin & Len, MEIKO, Megurine Luka, KAITO | January 8, 2020 | music, lyrics |
References
[
]