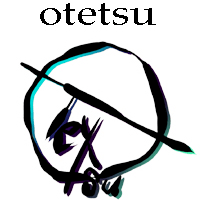 Affiliations
[
]
External links
[
]
Official
[
]
Unofficial
[
]
otetsu (born July 21st) is a producer known for his creation of numerous complex rock songs, usually featuring Megurine Luka or GUMI. He channels and deepens their voice, and is very experienced in making them sound more realistic. His songs are often praised for the combination of the addictive melodies and lyrics which create a sense of madness and sorrow.
He has earned the title "Legendary Luka Master" in several of his works such as "Graduation" and "Noraneko". "Hoshikuzu Utopia" is his most well-known song.
He is also active as a utaite, and occasionally makes self-covers of his own works.
Works
[
]
| Links | Title | Featuring | Date | Roles |
| --- | --- | --- | --- | --- |
| • | Good-bye | Hatsune Miku | May 12, 2008 | music, lyrics |
| • | happiness | Hatsune Miku | May 22, 2008 | music, lyrics |
| • | Existence | Hatsune Miku | May 31, 2008 | music, lyrics |
| • | 籠 (Kago) | Hatsune Miku | June 19, 2008 | music, lyrics |
| • | My useless Master | Hatsune Miku | June 19, 2008 | music, lyrics |
| • | 君を越えて (Kimi o Koete) | Hatsune Miku | July 07, 2008 | music, lyrics |
| • | 白灰砂の海 (Shirahaisuna no Umi) | Hatsune Miku | July 20, 2008 | music, lyrics |
| | "喪失モノクローム" | Camui Gackpo | July 31, 2008 | music, lyrics |
| • | ロンググッバイ (Long Goodbye) | Hatsune Miku | September 02, 2008 | music, lyrics |
| • | End of the Ache | Camui Gackpo | September 03, 2008 | music, lyrics |
| | "World's Crying" | Camui Gackpo | November 12, 2008 | music, lyrics |
| • | 追憶-滲む前の君と唄- (Tsuioku -Nijimu Mae no Kimi to Uta-) | Camui Gackpo | November 19, 2008 | music, lyrics |
| • | 恋紅綬 (Koikouju) | Hatsune Miku | December 10, 2008 | music, lyrics |
| | "星屑ユートピア" | Megurine Luka | January 30, 2009 | music, lyrics, video |
| • | transient future | Megurine Luka | January 30, 2009 | music, lyrics |
| | "graduation" | Megurine Luka | February 26, 2009 | music, lyrics |
| • | 五月十一日 (Gogatsu Juuichinichi) | Camui Gackpo | March 10, 2009 | music, lyrics |
| | "迷的サイバネティックス" | Megurine Luka | May 7, 2009 | music, lyrics |
| • | Good-bye(new mix) | Hatsune Miku | May 11, 2009 | music, lyrics |
| | "transient dream" | GUMI | June 26, 2009 | music, lyrics |
| • | スローモーション (Slow Motion) | Megurine Luka | August 20, 2009 | music, lyrics |
| • | 証 (Akashi) | Hatsune Miku | August 30, 2009 | music, lyrics |
| • | モノクロフィルム (Monochrome Film) | Camui Gackpo | October 26, 2009 | music, lyrics |
| • | Desire | Megurine Luka | November 09, 2009 | music, lyrics |
| | "wish" | SF-A2 miki | December 4, 2009 | producer |
| | "廃日" | Hiyama Kiyoteru | December 4, 2009 | music, lyrics |
| • | 殻 (Kara) | Megurine Luka | December 25, 2009 | music, lyrics |
| | "Child's Garden" | Megurine Luka | January 30, 2010 | music |
| | "飴と鎖" | Megurine Luka | April 19, 2010 | producer |
| • | Shell | Megurine Luka | May 11, 2010 | music, lyrics |
| | "ブラックゴールド" | Megurine Luka | December 20, 2010 | music, lyrics |
| • | 屍 (Shikabane) | Megurine Luka | December 24, 2010 | music, lyrics |
| • | レンズ (Lens) | Megurine Luka | December 27, 2010 | music, lyrics |
| • | speed | Megurine Luka, GUMI | January 12, 2011 | music, lyrics |
| • | チョコレート (Chocolate) | GUMI | February 15, 2011 | music, lyrics |
| | "カーニバル" | GUMI | March 7, 2011 | music |
| • | Rejection | Camui Gackpo | March 21, 2011 | music, lyrics |
| | "綱渡り" | Megurine Luka | May 9th, 2011 | music, lyrics |
| | "宙吊りダンシング" | Megurine Luka | July 29, 2011 | music, lyrics |
| • | Cosmos | GUMI | September 09, 2011 | music, lyrics |
| • | 蟲と桜、嘘とコンクリート (Mushi to Sakura, Uso to Concrete) | Camui Gackpo | September 26, 2011 | music, lyrics |
| | "御手繋ぎ" | Camui Gackpo | October 11, 2011 | music, lyrics |
| • | 大嫌い (Daikirai) | Megurine Luka | November 19, 2011 | music, lyrics |
| • | ハレバレバイバイ。 (Harebare Bye-Bye.) | GUMI | November 04, 2011 | music, lyrics |
| | "ルービックキューブ" | GUMI | December 3, 2011 | music, lyrics |
| | "ノラネコ" | Megurine Luka | December 20, 2011 | music, lyrics |
| | "オモチャ箱" | CUL | December 22, 2011 | music, lyrics |
| • | 穴 (Ana) | Megurine Luka | December 24, 2011 | music, lyrics |
| | "また明日" | Tone Rion | January 07, 2012 | music, lyrics |
| • | ナナイロ (Nanairo) | Megurine Luka | January 16, 2012 | music, lyrics |
| | "快楽と葬儀、満たされないディナー" | Megurine Luka | March 19, 2012 | music, lyrics |
| | "ネムラネーゼ" | GUMI | April 1, 2012 | music, lyrics |
| • | Escape | Camui Gackpo | July 13, 2012 | music, lyrics |
| | "見世物ライフ" | Megurine Luka | July 17th, 2012 | music, guitar |
| • | 愛の兵器 (Ai no Heiki) | GUMI | September 10, 2012 | music, lyrics |
| • | ロンリーチャイルド (Lonely Child) | IA | September 24, 2012 | music, lyrics |
| • | 小さな蛹は繭の中 (Chiisana Sanagi wa Mayu no Naka) | MAYU | November 13, 2012 | music, lyrics |
| | "シンガソン" | Hatsune Miku (V2 and Sweet), GUMI (Sweet and Whisper), IA, Kaai Yuki, Kagamine Len, Lily, Kagamine Rin, Megurine Luka, Nekomura Iroha, and Yuzuki Yukari | May 12, 2013 | Luka tuning |
| • | ピーマン (Piment) | Megurine Luka | July 05, 2013 | music, lyrics |
| • | birth | Megurine Luka | July 08, 2013 | music, lyrics |
| • | アンドロ (Andro) | GUMI | July 17, 2013 | music, lyrics |
| • | 才溢れ、欠落者 (Saiafure, Ketsurakusha) | Megurine Luka | July 24, 2013 | music, lyrics |
| • | 食物連鎖 (Shokumotsu Rensa) | GUMI | August 05, 2013 | music, lyrics |
| • | 忘却と南京錠 (Boukyaku to Nankinjou) | IA | September 23, 2013 | music, lyrics |
| | "ナイトアンドデイ" | Megurine Luka | November 24, 2013 | music, lyrics |
| • | 腐朽の都 (Fukyuu no Miyako) | Megurine Luka | December 04, 2013 | music, lyrics |
| • | セピア (Sepia) | Kobayashi Matcha, Masaoki Azuki | December 27, 2013 | music, lyrics |
| • | 水面の桜、夢は逆夢 (Minamo no Sakura, Yume wa Sakayume) | Megurine Luka | January 22, 2014 | music, lyrics |
| • | 抑圧錯乱ガール (Yokuatsu Sakuran Girl) | GUMI | May 09, 2014 | music, lyrics |
| • | 濫觴 (Ranshou) | Megurine Luka | January 24, 2015 | music, lyrics |
| • | state | Megurine Luka | January 30, 2015 | music, lyrics |
| • | 倦厭の鐘 (Ken'en no Kane) | Megurine Luka | February 06, 2015 | music, lyrics |
| • | ゆりかご (Yurikago) | Megurine Luka | June 26, 2015 | music, lyrics |
| • | 暗澹と空白 (Antan to Kuuhaku) | Megurine Luka | October 07, 2017 | music, lyrics |
| • | Laziness | Megurine Luka | November 14, 2017 | music, lyrics |
| • | 指 (Yubi) | GUMI | December 24, 2017 | music, lyrics |
| • | クネン (Kunen) | Megurine Luka | January 28, 2018 | music, lyrics |
| • | 空を泳いだ (Sora o Oyoida) | Megurine Luka | January 30, 2018 | music, lyrics |
| • | 白灰砂の海 (Shirahaisuna no Umi) | Megurine Luka | May 08, 2018 | music, lyrics |
| • | ERROR | GUMI | May 13, 2018 | music, lyrics |
| • | Breath | Megurine Luka | August 16, 2018 | music, lyrics |
| • | 彷徨えば夢現 (Samayoeba Yumeutsutsu) | Megurine Luka | August 28, 2018 | music, lyrics |
| • | 婉曲に沈む (Enkyoku ni Shizumu) | Megurine Luka | September 10, 2018 | music, lyrics |
| • | Patria | Yuzuki Yukari | September 21, 2018 | music, lyrics |
| • | memento | Megurine Luka | October 06, 2018 | music, lyrics |
| • | Samhain | GUMI | October 06, 2018 | music, lyrics |
| • | 罪喰らい (Tsumi Kurai) | Megurine Luka | November 11, 2018 | music, lyrics |
| | "枷鎖" | Megurine Luka | November 29, 2018 | music, lyrics |
| • | 魚 (Sakana) | GUMI | December 24, 2018 | music, lyrics |
| | "カエロスティウム" | Megurine Luka | January 16, 2019 | music, lyrics |
| • | 洞 (Hora) | Megurine Luka, Yuzuki Yukari | January 23, 2019 | music, lyrics |
| • | 棚引く厭世爍かす程 (Tanabiku Ensei Tokasu Hodo) | Megurine Luka | January 29, 2019 | music, lyrics |
| • | Law of the jungle | Megurine Luka | January 30, 2019 | music, lyrics |
| • | 金魚鉢 (Kingyobachi) | GUMI | February 10, 2019 | music, lyrics |
| | "窮鼠、猫ヲ噛ム" | Megurine Luka | March 20, 2019 | music |
| • | かげ (Kage) | GUMI | June 21, 2019 | music, lyrics |
| • | 窒息 (Chissoku) | Yuzuki Yukari | June 29, 2019 | music, lyrics |
| • | ブルースター (Blue Star) | GUMI | July 29, 2019 | music, lyrics |
| • | 別れの歌 (Wakare no Uta) | GUMI | September 30, 2019 | music, lyrics |
| • | 9月 (Kugatsu) | Megurine Luka | October 21, 2019 | music, lyrics |
| • | 宝箱 (Takarabako) | Megurine Luka | November 04, 2019 | music, lyrics |
| • | umbrella | Megurine Luka | November 11, 2019 | music, lyrics |
| • | 夢が終わる時 (Yume ga Owaru Toki) | GUMI | November 17, 2019 | music, lyrics |
| • | 声 (Koe) | Megurine Luka | December 24, 2019 | music, lyrics |
| • | BD | GUMI | January 18, 2020 | music, lyrics |
| • | 明日、世界が消えるなら (Ashita, Sekai ga Kieru Nara) | Megurine Luka | March 23, 2020 | music, lyrics |
| • | Stomach | Megurine Luka | March 30, 2020 | music, lyrics |
| • | Eyes | GUMI | April 06, 2020 | music, lyrics |
| • | 幻想と羅針盤 (Gensou to Rashinban) | Megurine Luka | April 12, 2020 | music, lyrics |
| • | 擬似餌 (Gijie) | GUMI | April 25, 2020 | music, lyrics |
| • | Bottom out | Megurine Luka | May 04, 2020 | music, lyrics |
| • | ご覧、蒔いた種が花を咲かせた。期待通りの汚い花。 (Goran, Maita Tane ga Hana o Sakaseta. Kitaidoori no Kitanai Hana.) | GUMI | May 10, 2020 | music, lyrics |
| • | 殷い (Akai) | Megurine Luka | April 12, 2020 | music, lyrics |
| • | 錆びついたメリーゴーランド (Sabitsuita Merry-Go-Round) | GUMI | May 12, 2021 | music, lyrics |
| • | 残滓と共に (Zanshi to Tomo ni) | Megurine Luka | May 17, 2021 | music, lyrics |
| • | そんな夜でした (Sonna Yoru Deshita) | Megurine Luka | June 23, 2021 | music, lyrics |
| • | 涎菊 (Yodarekiku) | Megurine Luka | July 24, 2021 | music, lyrics |
| • | Tinnitus Mockery | GUMI | August 24, 2021 | music, lyrics |
Albums
[
]
Discography
[
]
| Affiliation | Title | Featuring | Date | Roles |
| --- | --- | --- | --- | --- |
| KARENT | Utopia (album) | Hatsune Miku, Megurine Luka, Camui Gackpo | May 01, 2009 | music, lyrics |
| KARENT | STARLET | Hatsune Miku, Megurine Luka, Camui Gackpo | September 06, 2009 | music, lyrics |
| KARENT | SHELL | Hatsune Miku, GUMI, Megurine Luka, Camui Gackpo | May 09, 2010 | music, lyrics |
| KARENT | CORE (otetsu album) | Hatsune Miku, GUMI, Megurine Luka, Camui Gackpo | May 09, 2010 | music, lyrics |
| KARENT | LENS | Hatsune Miku, Megurine Luka, Camui Gackpo | January 16, 2011 | music, lyrics |
| KARENT | Carnival (album) | GUMI, Megurine Luka | June 06, 2011 | music, lyrics |
| KARENT | NUDE | GUMI, Hatsune Miku, Megurine Luka, Camui Gackpo | September 04, 2011 | music, lyrics |
| EXIT TUNES | EXIT TUNES PRESENTS THE BEST OF Otetsu | GUMI, Hatsune Miku, Megurine Luka, Camui Gackpo | January 11, 2012 | music, lyrics |
| KARENT | Muse | CUL, GUMI, Megurine Luka, Camui Gackpo | February 05, 2012 | music, lyrics |
| KARENT | UNDER | GUMI, Hatsune Miku, Megurine Luka, Camui Gackpo | April 28, 2012 | music, lyrics |
| KARENT | Seed | IA, MAYU, Hatsune Miku, Megurine Luka, Camui Gackpo | April 27, 2013 | music, lyrics |
| KARENT | sleep | Megurine Luka, GUMI, IA | November 17, 2013 | music, lyrics |
| KARENT | 濫觴 (Ranshou) | GUMI, IA, Megurine Luka, Camui Gackpo | April 26, 2015 | music, lyrics |
| KARENT | memento mori | Megurine Luka | November 12, 2017 | music, lyrics |
| KARENT | Unbalance | Megurine Luka, GUMI | November 12, 2017 | music, lyrics |
| KARENT | 胃袋 (Ibukuro) | Megurine Luka, GUMI, Yuzuki Yukari | November 18, 2017 | music, lyrics |
| KARENT | Flag | Megurine Luka, GUMI | April 28, 2019 | music, lyrics |
| KARENT | 宝箱 (Takarabako) | Megurine Luka, GUMI, Yuzuki Yukari | October 27, 2019 | music, lyrics |
| KARENT | Residue | Megurine Luka, GUMI | May 25, 2021 | music, lyrics |
| KARENT | 供養 (Kuyou) | Megurine Luka, GUMI | November 20, 2021 | music, lyrics |
E.Ps
[
]
| Affiliation | Title | Featuring | Date | Roles |
| --- | --- | --- | --- | --- |
| KARENT | Child's Garden | Megurine Luka | January 30, 2010 | music, lyrics |
| KARENT | 生温く真紅い歪な果実、蜜を啜るのは飽きたから腐る前に残さず食べましょう。仮に愛せなくても。 (Namanuruku Akai Ibitsu na Kajitsu, Mitsu wo Susuru no wa Akita kara Kusaru Mae ni Nokosazu Tabemashou. Kari ni Aisenakute mo.) | GUMI, Megurine Luka, Camui Gackpo, otetsu | March 27, 2011 | music, lyrics |
| KARENT | Rest | Megurine Luka, GUMI | April 26, 2014 | music, lyrics |
| Independent | 空を泳いだ (Sora wo Oyoida) | Megurine Luka | January 30, 2010 | music, lyrics |
| Independent | 狐の嫁入り (Kitsune no Yomeiri) | Megurine Luka, miho** | April 13, 2019 | music, lyrics |
| Independent | 手焼きの何か (Teyaki no Nani ka) | Megurine Luka, GUMI | November 17, 2019 | music, lyrics |
Singles
[
]
| Affiliation | Title | Featuring | Date | Roles |
| --- | --- | --- | --- | --- |
| KARENT | No Answer | Hatsune Miku | August 31, 2009 | music, lyrics |
| KARENT | 大嫌い (Daikirai) | GUMI | November 19, 2011 | music, lyrics |
| KARENT | Feb.14 | Megurine Luka | January 30, 2014 | music, lyrics |
| KARENT | ゆりかご (Yurikago) | Hatsune Miku | March 05, 2014 | music, lyrics |
| KARENT | 棚引く厭世爍かす程 (Tanabiku Ensei Tokasu Hodo) | Megurine Luka | January 25, 2019 | music, lyrics |
| KARENT | Bottom out | Megurine Luka | April 03, 2019 | music, lyrics |
| KARENT | かげ (Kago) | Hatsune Miku | June 24, 2019 | music, lyrics |
| KARENT | ご覧、蒔いた種が花を咲かせた。期待通りの汚い花。 (Goran, maita tane ga hana wo sakaseta.) | GUMI, Megurine Luka | December 11, 2019 | music, lyrics |
| KARENT | 幻想と羅針盤 (Gensou to Rashinban) | Megurine Luka | January 30, 2020 | music, lyrics |
Compilation albums
[
]
| Affiliation | Title | Featuring | Date | Roles |
| --- | --- | --- | --- | --- |
| Y_Project | 籠の中の雛龍 (Kago no Naka no Hinaryuu) | Hatsune Miku, GUMI, Megurine Luka, Camui Gackpo | September 06, 2009 | music, lyrics |
| Olivia | "12STARS" | GUMI | November 15, 2009 | music, lyrics |
| EXIT TUNES | "EXIT TUNES PRESENTS Supernova" | Hatsune Miku, Kagamine Len, Kagamine Rin, Megurine Luka, Camui Gackpo, KAITO, and MEIKO | December 2, 2009 | music, lyrics |
| EXIT TUNES | "EXIT TUNES PRESENTS Vocalolegend feat. 初音ミク" | Hatsune Miku, Kagamine Rin, Kagamine Len, and Megurine Luka | January 20, 2010 | music, lyrics |
| EXIT TUNES | "EXIT TUNES PRESENTS STARDOM 3" | Hatsune Miku, Kagamine Len, Kagamine Rin, GUMI, Megurine Luka, and Deptan | February 3, 2010 | music, lyrics |
| EXIT TUNES | "EXIT TUNES PRESENTS Supernova 3" | Hatsune Miku, Kagamine Len, Kagamine Rin, GUMI, Megurine Luka, and MEIKO | July 7, 2010 | music, lyrics |
| FARM RECORDS | "VOCAROCK collection feat. 初音ミク" | Hatsune Miku, Kagamine Rin, and Megurine Luka | July 21, 2010 | music, lyrics |
| creazuma | "Try!" | Hatsune Miku, Kagamine Len, Kagamine Rin, GUMI, Megurine Luka, Camui Gackpo, and BIG AL | August 14, 2010 | music, lyrics |
| YAMAHA Corporation, Bplats, Inc. | "feat.VY1" | VY1 | September 1, 2010 | music, lyrics |
| Innovate Sounds | "Innovator-gaku" | Hatsune Miku, Kagamine Rin, GUMI, and Megurine Luka | October 31, 2010 | music, lyrics |
| KARENT | KarenT Songs MEGURINE LUKA | Megurine Luka | November 09, 2010 | music, lyrics |
| BinaryMixx Records | ニコニコ東方見聞録 原曲集 (Nico Nico Touhou Kenbunroku Genkyokushuu) | Hatsune Miku, GUMI, Megurine Luka, Camui Gackpo, Kagamine Rin | January 05, 2011 | music, lyrics |
| Logic Strike | "STRIKE PARTY - high speedy boon!!!!!" | Hatsune Miku, Kagamine Rin, Kagamine Len, GUMI, and Megurine Luka | January 16, 2011 | music, lyrics |
| Dreamusic Inc., Akiba Koubou | VOCALO LOVERS feat. 初音ミク | Hatsune Miku, KAITO, MEIKO, Megurine Luka, Kagamine Rin & Len | March 02, 2011 | music, lyrics |
| avex trax, Akiba Koubou | Digital Trax presents VOCALO★POPS BEST feat. Hatsune Miku | Hatsune Miku, KAITO, Megurine Luka, Kagamine Rin | March 09, 2011 | music, lyrics |
| EXIT TUNES | "EXIT TUNES PRESENTS GUMism from Megpoid" | GUMI | March 16, 2011 | music, lyrics |
| EXIT TUNES | "EXIT TUNES PRESENTS 煌百花繚乱舞踏会 feat. 神威がくぽ from がくっぽいど" | Camui Gackpo | April 20, 2011 | music, lyrics |
| luminouscore | 青春スペクトラ (Seishun Spectra) | Hatsune Miku, GUMI, Megurine Luka | June 12, 2011 | music, lyrics |
| egamyer, Iromegane Log | Slackline | Hatsune Miku, GUMI, KAITO, CUL, Megurine Luka, Camui Gackpo, Kagamine Rin & Len | June 12, 2011 | music, lyrics |
| BinaryMixx Records | "VOCALOID BEST from ニコニコ動画 (あお)" | Hatsune Miku, Kagamine Rin & Len, GUMI, Megurine Luka, and KAITO | June 22, 2011 | music, lyrics |
| Bplats | VY The Songs | VY1, VY2 | July 13, 2011 | music, lyrics |
| Bplats | TOXICOSIS | Hatsune Miku, Megurine Luka, Camui Gackpo, Kagamine Rin & Len | August 13, 2011 | music, lyrics |
| BinaryMixx Records | universe | Hatsune Miku, Megurine Luka, GUMI, Kagamine Rin | October 05, 2011 | music, lyrics |
| EXIT TUNES | "EXIT TUNES PRESENTS 煌千紫万紅大雅宴 feat. 神威がくぽ from がくっぽいど" | Camui Gackpo | October 5, 2011 | music, lyrics |
| EXIT TUNES | "EXIT TUNES PRESENTS Vocalocluster feat. 初音ミク" | Hatsune Miku, Kagamine Len, Kagamine Rin, Megurine Luka, Camui Gackpo, KAITO, GUMI, and MEIKO | October 19, 2011 | music, lyrics |
| Avex Trax | "初音ミク -Project DIVA Arcade- Original Song Collection Vol.2" | Hatsune Miku, Kagamine Rin & Len, Megurine Luka, and KAITO | October 26, 2011 | music, lyrics |
| Sony Music Direct | "初音ミク -Project DIVA- extend Complete Collection" | Hatsune Miku, Kagamine Rin & Len, Megurine Luka, KAITO, and MEIKO | November 9, 2011 | music, lyrics |
| FARM RECORDS | "VOCAROCK collection 3 feat. 初音ミク" | Hatsune Miku, Kagamine Rin, Megurine Luka, GUMI, and Kagamine Len | December 7, 2011 | music, lyrics |
| EXIT TUNES | EXIT TUNES PRESENTS GUMish from Megpoid | GUMI | December 21, 2011 | music, lyrics |
| EXIT TUNES | SHUFFLE!!!!! | GUMI, MEIKO, Megurine Luka, Kagamine Rin | December 31, 2011 | music, lyrics |
| FARM RECORDS | "VOCAROCK collection 3 feat. 初音ミク" | Hatsune Miku, Kagamine Rin, Megurine Luka, GUMI, and Kagamine Len | December 7, 2011 | music, lyrics |
| BinaryMixx Records | "VOCALOID from ニコニコ動画 ボカロ超特急 SUPER EXPRESS COMPILATION 03" | GUMI, Megurine Luka, Kagamine Rin & Len, Hatsune Miku | February 22, 2012 | music, lyrics |
| Celo Project | 神威がくぽコンピレーションアルバム「神威夢奏」 (Camui Gackpo Compilation Album "Kamui Musou") | Camui Gackpo | March 25, 2012 | music, lyrics |
| K-BOOKS | "Triangle vol. 2" | Megurine Luka, Hatsune Miku, Kagamine Rin | April 28, 2012 | music, lyrics |
| EXET TONES | EXET TONES PRESENTS Supemova | GUMI, IA, SF-A2 miki, Hatsune Miku, Kagamine Rin | April 29, 2012 | music, lyrics |
| BinaryMixx Records | V Love 25~cantabile~ | Hatsune Miku, Kagamine Rin & Len, GUMI, Megurine Luka, IA, Camui Gackpo, KAITO, and MEIKO | June 13, 2012 | music, lyrics |
| VR+ | VR+サウンドムック『兎眠りおん』 (VR+ Sound Mook "Tone Rion") | Hatsune Miku, Kagamine Rin & Len, GUMI, Megurine Luka, IA, Camui Gackpo, KAITO, and MEIKO | June 24, 2012 | music, lyrics |
| EXIT TUNES | "EXIT TUNES PRESENTS Megurhythm feat. 巡音ルカ" | Megurine Luka | July 18, 2012 | music, lyrics |
| EXIT TUNES | "EXIT TUNES PRESENTS Vocaloconnection feat. 初音ミク" | Hatsune Miku, GUMI, Kagamine Rin, Kagamine Len, Camui Gackpo, KAITO, Megurine Luka, MEIKO, and IA | August 1, 2012 | music, lyrics |
| K-BOOKS | "Triangle vol.3" | Megurine Luka, Hatsune Miku | August 9, 2012 | music, lyrics |
| U-Rythmix records | Birthday Songs For 初音ミク | Hatsune Miku | August 31, 2012 | music, lyrics |
| dmARTS | GUMI ROCK | GUMI, VY1, VY2 | September 26, 2012 | music, lyrics |
| TEAM Entertainment | "IA THE WORLD ~風~" | IA | September 26, 2012 | music, lyrics |
| avex trax | Celebration -GACKPOID V3 SONG COLLECTION- | Camui Gackpo | October 31, 2012 | music, lyrics |
| Geneon Universal Entertainment | 創造Endless (Souzou Endless) | Kagamine Rin & Len, KAITO, Hatsune Miku, Megurine Luka | November 28, 2012 | music, lyrics |
| EXIT TUNES | "EXIT TUNES PRESENTS VOCALOID™3 Library MAYU SPECIAL 2CD" | MAYU | December 5, 2012 | |
| K-BOOKS | "Triangle vol.4" | Camui Gackpo, Hatsune Miku, Megurine Luka | February 9, 2013 | music, lyrics |
| Yamaha Music Communications | "The Legend of 超絶調声師" | Hatsune Miku, Kagamine Len, Kagamine Rin, GUMI, Megurine Luka, IA, Camui Gackpo, Lily | March 20, 2013 | music, lyrics |
| EXIT TUNES | EXIT TUNES PRESENTS Vocaloextra feat. GUMI, IA, MAYU | GUMI, IA, MAYU | June 05, 2013 | music, lyrics |
| FARM RECORDS | "VOCAROCK collection love IA" | IA | July 3, 2013 | music, lyrics |
| • | 1分間コンピ (1-Funkan Konpi) | GUMI, IA, Lily, Kagamine Rin & Len, Hatsune Miku, Megurine Luka, Kaai Yuki, Nekomura Iroha, Yuzuki Yukari, SF-A2 miki, VY1, *Shimi, 148cm, Satou Sasara, Naki, Panaman | July 07, 2013 | music, lyrics |
| EXIT TUNES | "EXIT TUNES PRESENTS GUMity from Megpoid" | GUMI | August 7, 2013 | music, lyrics |
| TEAM Entertainment | "IA THE WORLD ~刻~" | IA | October 2, 2013 | music, lyrics |
| BinaryMixx Records | "V♥25 -Hearts-" | Hatsune Miku, Kagamine Len, Kagamine Rin, GUMI, Megurine Luka, IA, Camui Gackpo, KAITO, MEIKO, Lily | October 23, 2013 | music, lyrics |
| Independent | "地獄型人間動物園" | GUMI, Hatsune Miku, IA, Kagamine Rin | November 08, 2013 | music, lyrics |
| Dwango User Entertainment, Inc. | "初音ミク -Project DIVA Arcade- Original Song Collection Vol.3" | Hatsune Miku, Kagamine Len, Kagamine Rin, Megurine Luka, MEIKO, and KAITO | December 18, 2013 | music, lyrics |
| ASCII Media Works | MIKU-Pack 05 Song Collection "夢見るチョコレート" (MIKU-Pack 05 Song Collection "Dreaming Chocolate") | Megurine Luka | January 15, 2014 | music, lyrics |
| EXIT TUNES | "「うた結い575」小豆と抹茶 きゃらそんこれくしょん!!" | Masaoka Azuki and Kobayashi Matcha | February 5, 2014 | music, lyrics |
| VOCALOID RECORDS, YAMAHA MUSIC COMMUNICATIONS, Inc. | "天響ノ和樂2" | Hatsune Miku, Kagamine Rin & Len, GUMI, Megurine Luka, Nekomura Iroha, Kaai Yuki, VY2, and VY1 | February 26, 2014 | music, lyrics |
| SPUTONIC | Memories of GUMI 2009-2013 feat. Megpoid 上巻 | GUMI | June 26, 2014 | music, lyrics |
| SPUTONIC | Memories of GUMI 2009-2013 feat. Megpoid 下巻 | GUMI | June 26, 2014 | music, lyrics |
| TEAM Entertainment | "IA THE WORLD ~蒼~" | IA | July 2, 2014 | music, lyrics |
| EXIT TUNES | "EXIT TUNES PRESENTS THE BEST OF GUMI from Megpoid" | GUMI | February 4, 2015 | music, lyrics |
| TEAM Entertainment | "IA THE WORLD ~雨~" | IA | May 13, 2015 | music, lyrics |
| U/M/A/A | "VOCALOID Masterpiece Collections feat. GUMI 09-11" | GUMI | June 26, 2015 | music, lyrics |
| U/M/A/A | "GOTHIC & HORROR" | Hatsune Miku, Kagamine Rin, Kagamine Len, KAITO, Megurine Luka | October 28th, 2015 | music, lyrics |
| EXIT TUNES | "EXIT TUNES PRESENTS Megurinemotion feat. Megurine Luka" | Megurine Luka | January 30, 2019 | music, lyrics |
| KARENT | "巡音ルカ 10th Anniversary - Fabulous∞Melody -" | Megurine Luka | January 30, 2019 | music, lyrics |
| EXIT TUNES | "EXIT TUNES PRESENTS GUMIssimo from Megpoid ―10th ANNIVERSARY BEST―" | GUMI | June 19, 2019 | music, lyrics |
Gallery
[
]